Why Choose Nazareth for Italian?
The study of Italy's urban culture, its 20th century literature, the Italian cinema, classical works such as the Divine Comedy, study abroad, and of course, learning the language are just a few of the ways Nazareth students visit Italy from all perspectives.
The Italian program at Nazareth College is not simply about conjugating verbs or sitting in language labs—it is an immersive experience in the culture, literature, art, and people of Italy.
Study abroad is a requirement for all foreign language majors. Through Nazareth's affiliation with the Universita degli Studi 'G. D'Annunzio' in Pescara, Italy, our students live and study Italian culture for a year or a semester. Nazareth students take courses with Italian students and are hosted by Italian families for a genuine experience of life in Italy. Additional excursions in Italy include Venice, Florence, Rome, and Aquila.
Program Highlights
Study abroad program in Pescara, Italy.

Study abroad program in Florence, Italy.

Casa Italiana, our dedicated campus center for Italian-themed studies, art exhibitions, special events, guest speakers, Italian dinners, festivals, and more. 

Gamma Kappa Alpha Italian Honor Society member.

Award-winning faculty; small classes.

The SITE (Student Internship Teaching Experience) Program of Lombardy, Italy, an opportunity for recent Italian graduates to apply as English teaching assistants.
Program Options
Typical Class Schedule
Freshman
Sophomore
Junior
Senior
Contact Information Maria Rosaria Vitti-Alexander

Professor of Italian / Director of the Study Abroad for Pescara & Florence Italy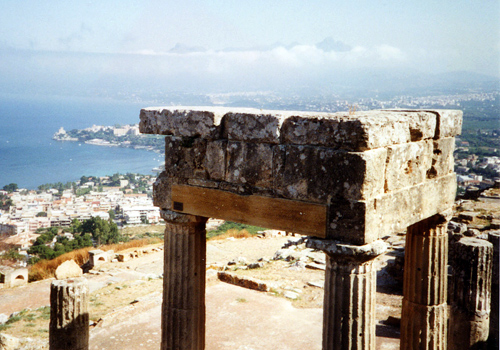 Alumni Spotlight: Katherine de la Rionda '02
United States Foreign Service, U.S. AID, executive officer in the area of population, health, and nutrition programs abroad
"Learning Italian at Nazareth laid a foundation from which I could learn other languages. I have gone on to learn (at varying levels of proficiency) Portugese, Spanish, Arabic, and French—though my first love will always be Italian."
Example Careers
Translator
ESL teacher
Historian
Bilingual professional
Tour guide
Travel writer
Internships/Field Experiences
U.S. Department of State, Rome, Italy
Cast Industries, Rochester, NY
 Allworx, Rochester, NY
Graduate Schools/Employers
Florida Atlantic University
U.S. Agency for International Development
Auburn School District
East Rochester School District
East and West Irondequoit Central School District
Gates Chili School District
Greece Central School District
McQuaid Jesuit High School
The Casa Italiana is a center for the study of Italian language, literature, and culture. Whether you are of Italian ancestry yourself or are a "citizen of the world" interested in learning more about this dynamic country and its people, the Casa Italiana has something to offer you.