Why Choose Nazareth for Spanish?
Nazareth's on-campus and international opportunities help you become fluent in Spanish and knowledgeable about the cultural diversity of Spanish-speaking societies. Nazareth's degree better positions you in the local and global job market, which increasingly seeks bilingual skills.
Study abroad is required of all language majors, providing transformational experiences and preparation for both your work life and as a citizen of the world. Our longest-standing program is in Valencia, Spain, and other programs include Chile and Peru. In collaboration with health and human service programs at Nazareth, we also offer a one-month immersion course in Peru. While abroad, you also can take required courses, to graduate on time.
At the heart of the program is the Casa Hispana, a lively place where students and community members enjoy films, conversation, art exhibitions, and a variety of events relating to the culture of Spain and the Latin American countries. The Casa also houses the offices of the Valencia program, the LASMA Spanish club, a library, and classrooms.
The degree program contributes a significant number of the Fulbright student awardees at Nazareth College, which is recognized among colleges as a top producer of Fulbright recipients in the nation.
Program Highlights
You can double major in Spanish and any other discipline.
Internship opportunities are lined up locally as well as in Spain, Peru, Chile, and Argentina, in disciplines such as education, health care, business, anthropology, social work, human rights and women's rights.
You have the option to do service learning work with Spanish-speaking migrant communities through a course called Border Cultures: Mexico and the United States.
Pairs well with other majors to prepare you with bilingual skills (language and cultural understanding) for the job market.
Spanish professors collaborate with other disciplines, such as physical therapy, speech therapy, and education.
Program Options, Requirements, and Course Descriptions
Contact Information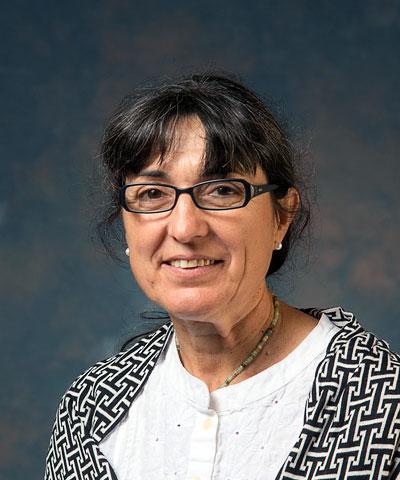 Esperanza V. Roncero

Professor of Spanish in Foreign Languages & Literature
Bio

Education: B.A., Spanish, Southern Connecticut State University; M.A., Spanish, Emory University; Ph.D., Comparative Literature, Emory University.

Teaching and Research Interests: Linguistics; human rights; translation; and how language shapes the human experience, consciousness, and cultures. Connects students to Peru to work with indigenous communities in schools, clinics, and communities, through service, health campaigns, and research projects, and promotes civic engagement. Leads courses and directs internships in Spanish-speaking countries. Emphasizes that language is more than a tool, but also what we are made of. Awarded a grant from the U.S. Department of Education to develop a program to enable students to work and study in Peru for one month. Currently developing a certification program in interpreting.