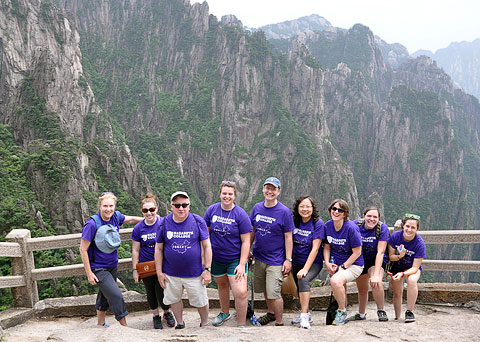 Dr. Ruffer at the Great Wall of China with Nazareth students and faculty members Yuanting Zhao and Nevan Fisher.
Economics of life
"I love economics because it is applicable to everyday life. Economists believe there is no such thing as a free lunch, and that simply means that every choice we make has a cost associated with it. The study of these decisions leads to interesting applications in social sciences as well as business fields. I have researched social issues like poverty to try and formulate remedies; economics gives me tools to think broadly, analyze, and seek solutions."
Loving the classroom
"I love being around people who are excited about economics and you won't find that more than in the classroom. Because I love teaching, my research has also centered around teaching economics, starting with the Carnegie Academy for the Scholarship of Teaching and Learning in 2001-2002. Since then, I have participated in multiple grants funded by the National Science Foundation to pilot different methodologies and technology.
To this day, I try to find exciting new ways to present economics to students, including active learning, group work, or the latest up-to-date data and news."
Student Perspective
"Dr. Ruffer always challenged me to go the extra mile both inside and outside of the classroom. The faith she had in me and my abilities encouraged me to pursue new opportunities and helped me get an internship (which turned into a full-time job). The work I did in her classes provided me with the research background and skills needed to succeed in my internship and beyond. Though her classes were never easy, I became a better student, and employee, as a result of them."
— Anna Vitale '16, Manning and Napier
My favorite courses
"I love to teach at all levels, but I especially love teaching the Senior Seminar and seeing students — at the end of their economics coursework — create a question, collect data, and analyze the data to try to answer their research question.
On a regular basis, my favorite course is principles of microeconomics, where students first learn economic theory. I especially get excited when I see some students realize that they, too, love economics."