Feature Story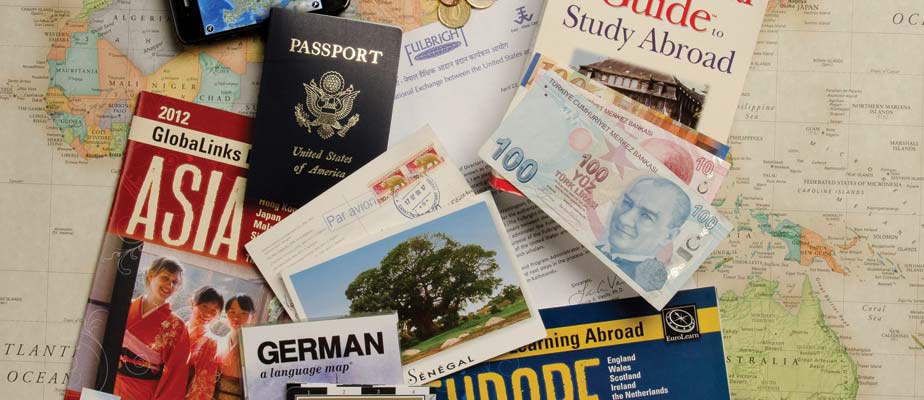 Global Citizens
Nazareth's Fulbright program gains national notice for international studies
by Robin L. Flanigan
---
Nazareth College's Fulbright Program scholars make an impact around the world—and now, the world knows it.
The institution has earned the number-one spot in the "Master's Institutions" category in The Chronicle of Higher Education's most recent Top Producers of U.S. Fulbright Students list. (Nazareth is tied for first with Saint Edward's University and the University of Portland.) In 2011-12, 17 students applied for grants, more than double any previous number of applicants from Nazareth; an unprecedented six students received Fulbright scholarship awards for 2012-13. Nine students applied this academic year, the second-highest number of Fulbright hopefuls in Nazareth's history. Seventeen students have received awards in the last five years.
Established in 1946 under legislation introduced by the late Sen. J. William Fulbright of Arkansas, the Fulbright Program is the largest U.S. exchange program and is sponsored by the U.S. Department of State's Bureau of Educational and Cultural Affairs. The highly competitive, internationally celebrated program offers the opportunity to study and conduct research around the globe. Chosen for their leadership potential, award recipients work to build a mutual understanding between the people of the United States and the rest of the world.
"Experiences like Fulbright are so phenomenally valuable because they force you to step into situations in which you aren't comfortable," says Liam Connolly '12, a history and philosophy double major from Stratham, N.H.
Currently on his Fulbright year in South Korea, he teaches conversational English to 600 students at an all-boys middle school. "I work for about 65 hours a week, live with a Korean family that doesn't speak more than 10 words of English, and deal with what is commonly considered to be the most difficult academic demographic—middle-school boys. And I'm representing America on a daily basis."
Having grown up playing soccer, and as a midfielder for the Nazareth men's soccer team, Connolly says he knew the sport was "a great avenue to bridge cultural divides," so he started coaching at a local club on weekends. "I'm doing the best I can to associate English and American culture with creativity and fun," he explains, "and I'm trying to be an appropriate role model to every one of my students."
Since 1990, Nazareth's Fulbright scholars like Connolly have traveled to 23 countries.
"One of the things that sets us apart is the support that we get from everyone on campus, from the administration to the faculty, who have made Fulbright a priority for Nazareth," says Professor of English Mark Madigan, Ph.D., the Fulbright program advisor and a 2004 Fulbright scholar in Slovenia.
Alec Sutherland, Ph.D., professor emeritus of English and two-time Fulbright scholar, created a Fulbright committee on campus more than a decade ago to help guide students through the arduous application process. Joseph Kelly, Ph.D., professor emeritus in religious studies, built upon the committee's foundation as advisor until Madigan took over the role in 2006.
The committee, whose roster changes occasionally, currently includes Madigan; Professor of Mathematics Heather Lewis, Ph.D.; Associate Professor of Spanish Hilda Chacon, Ph.D.; Associate Professor of Philosophy and Chair Scott Campbell, Ph.D.; and Associate Professor of History Nevan Fisher, Ph.D.
Committee members dedicate long hours over months to reading and making suggested changes to the two one-page essays candidates must submit. One is a narrative personal statement; the other, a statement of grant purpose, outlines the candidate's driving motivation and aspirations. (A former Fulbright scholar from Nazareth describes the essays as "some of the most concise bits of writing you'll ever do in your life.")
"Fulbright is the premiere student international grant program in the country, so it truly is a prestigious award," Madigan adds. "And for Nazareth to finish first in its category also speaks to the seriousness of the academic achievements of its students."
Professors usually identify and approach students who would do well in the Fulbright competition. In addition to stellar grades, good candidates typically have studied abroad or demonstrated a keen interest in studying other cultures, often speak a foreign language, and have a strong background or certification in education or coaching—all traits that Nazareth nurtures through its academic programs and extracurricular offerings. Less tangibly, they also need to be adaptable to a wide variety of unforeseen circumstances, willing to engage with new communities, and able to think critically about the arts, customs, and social institutions of different countries (including their own).
Fulbright scholar Alison Crossley Vacca '05 triple majored in history, religious studies, and international studies and minored in multicultural studies. While at Nazareth, she spent four semesters abroad—in Ghana, New Zealand, Morocco, and Turkey—and was introduced to both Armenian and Islamic culture, which eventually led to a 2005-06 Fulbright year in East Jerusalem to research the Dome of the Rock, a 7th-century shrine that is the most famous Islamic site in Jerusalem and the oldest Islamic monument still standing today.
"I'd been reading about it for years, and then to go there and see it and walk up to it … You get a sense of where you fit into history," says Vacca, from Webster, N.Y., who studied Hebrew, Arabic, and Armenian during her time there. "It wasn't just a question anymore of being able to have all these experts to turn to for help. It was about being pushed to work in a different way, to start to notice things differently."
Vacca wound up staying an extra year to continue studying with her advisor, an expert on early Islamic Jerusalem. She made contacts in her field that led her to study early Islamic history, specifically Armenia under Arab rule in the 8th and 9th centuries, at the University of Michigan, where she is pursuing a Ph.D. in Near Eastern Studies. Back in Armenia last spring, she met with scholars to gather data at the national museum (with a certificate in Museum Studies, she tries to incorporate material culture into her work). She's also applying for tenure-track and post-doctoral positions in history.
"I wouldn't be able to do what I'm doing right now without the Fulbright experience," she says. "That said, I wouldn't have been able to have the Fulbright experience without Nazareth."
Eric Eggleston '03, who majored in religious studies and sociology and minored in literature and honors, was based in Delhi, India, during his Fulbright venture.
"It was 2003, we'd just invaded Iraq, and here's this very suspicious white boy turning up seeking to learn about Islamic education movements," says the Binghamton, N.Y., native. "Understandably, it took time to build trust with my contacts in that environment."
Eggleston spent nine months in India doing a comparative study of the philosophical and practical implications of secular and religious indoctrinations, inspired by one paragraph of a book that mentioned Indian Muslim philosopher and social activist Sir Syed Ahmad Khan. In that time, he found residents to be "amazingly hospitable" despite suspicions about his political agenda.
Building on that experience, and those at Nazareth that shaped his view of the human condition (studying the Holocaust through the inaugural March of Remembrance and Hope, for instance), Eggleston then spent a year in an intensive Arabic program in Cairo, received a six-month internship at a joint Israeli-Palestinian non-governmental organization in Jerusalem, and earned a master's degree in peace and conflict studies at Notre Dame University. No longer harboring longtime plans to earn his doctorate and stay in academics, he now works with the United States Holocaust Memorial Museum's Center for the Prevention of Genocide, and with the Responsibility to Protect Working Group, jointly organized by the museum, the United States Institute of Peace, and the Brookings Institution. In the future, he hopes to move into conflict management, conflict mitigation, or transition initiatives with a government agency such as the U.S. Department of State or the United States Agency for International Development.
"I see myself working with amazing people in some of the most difficult places to operate in the world," he says. "That definitely wouldn't have come out of my mouth before I went to India."
That sort of evolution is an honor to watch as a member of the on-campus Fulbright committee, according to Chacon. "This is an opportunity for students to be real citizens of the world, to understand how the U.S. is perceived and to conjugate a positive image of this country abroad," she says. "This is something we strive for in a global society, especially when the dynamics of relations among countries can be very complicated."
That's exactly why potential Fulbright scholars need to be self-starters with lots of confidence, notes Professor of German William Hopkins, Ph.D., who has had nearly a dozen of his students go on to become recipients over the past two decades.
One of them, Natasa Racic-Popovic '06, developed these characteristics as a child when, at age 12, she escaped with her family from Bosnia to Germany, where she went on to win a national essay contest and become a weekly teenage adviser on the radio. After immigrating at 16 to Rochester and graduating from Nazareth with a double major in German and Spanish, she returned to Germany during her Fulbright stint to serve as a teaching assistant. The native Serbo-Croatian speaker helped teach English, taught Spanish to German students in an after-school program, and completed an internship at the Loenigen town hall, which allowed her to work on the school budget.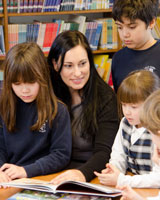 Racic-Popovic now works in Connecticut as director of development for Villa Maria School, a private day school for young students with learning disabilities; she also teaches German once a week to ninth-graders. Drawing upon her own less affluent, less privileged background (her teacher in Bosnia held class in a basement while shells fell outside), she recognizes the importance of focusing on individualized instruction "so that every student is cared for and given the education that they deserve." And she encourages students at Nazareth to consider following in her Fulbright footsteps. "Yes, it is a grueling process, but with such a great, supportive faculty, there's no reason not to try," she says.
Hopkins credits students for putting their "blood, sweat, and tears" into such a rigorous application while keeping up with regular coursework. He spends 40 to 60 hours with each applicant, offering advice on draft upon draft. Applicants to Germany must apply twice, first in English, and then all over again, in German, following German guidelines. Then, once the application is complete and the waiting begins, Hopkins offers a broader perspective of the time they spent preparing for the award.
"I tell our students, 'We've done all of our work, and if you don't get this, look at how much you've learned,'" he says. "This is not a win-or-lose game. Everybody should be so lucky as to be enticed into going after one of these."
Connolly says he came out of that process, and his years at Nazareth, with "a more accurate self-perception and personal awareness."
"I learned to be proud of everything I do," he explains. "I learned that at the end of the day, I will be the only one who truly knows if I put in everything I could. And I learned that knowing that I committed myself fully—whether I succeed or fail—is a fantastic feeling."
Click for more about Nazareth's Fulbright program.
---
Robin L. Flanigan is a freelance writer in Rochester, New York.