Screening & Kiosks
May 2021: These protocols continue for now. We will provide an update when available.
---
Campus visitors use a different process: See Visitors.
Accessibility: If you need an accessibility accommodation for the spring semester COVID-19 screening/check-in process, please contact Campus Safety for assistance at 585-389-2850.
Key things to do
1. SCREEN ONLINE DAILY
Students, faculty, and staff: Each day you'll be on campus, during the 2 hours before coming to campus or leaving your room on campus, complete Nazareth's daily COVID-19 screening. (So if you will arrive on campus or head to breakfast on campus at 8 a.m., fill it out anytime between 6 a.m. and 8 a.m.):
screening.naz.edu (The link is emailed to you early each morning. The screening link is also on the homepage of the Naz Mobile App. If you don't see it, restart the app, or select About, Update.)
Use your MyNaz credentials to log in.
The screening remembers your results all day, so you can return to it anytime to show your results.

Students: Even if you are not going to be on campus, also fill out the screening any day you develop at least 2 of the symptoms listed on screening.naz.edu, or if you believe you have been in close contact with someone who has tested positive. And see What happens if I get a red badge result? below.
Tech tip: Add the link to your device's home screen
Also know the visitor process: If you want to invite a family member or a guest speaker to campus, the two-step process for campus visitors is for them to register at least 24 hours in advance, and then complete the visitor screening that's emailed to them on their visit day. See the Visitor webpage.
Your screening results: You will immediately see your results in the form of a QR coded badge with a unique reference number. If you go to screening.naz.edu again anytime the same day, even on a different device, you'll continue to see your badge.
A "red badge" means you are unable to be out on campus. Stay home or in your room. You will get instructions about what to do next.

Students: As the red badge screen says, contact Health and Counseling at 585-389-2500, or after hours the state Health Department at 888-364-3065 or its COVID-19 online assessment, for guidance on next steps. If you live on campus and need quarantine or isolation, Residential Life will assist. Also see: What happens if I get a red badge result? below.
Faculty and staff: Notify your manager or department chair that you are unable to come to campus. Human Resources will contact you to review your situation and discuss the next steps.
A "green pass" badge means you are cleared to be out on campus. Your badge will continue to be available at screening.naz.edu all day, to show at a kiosk. (You also could print it.)
2. CHECK IN DAILY at a kiosk
All students, faculty, and staff: Stop once a day at any self-check-in kiosk on campus. Hold your "green" badge a few inches above the kiosk screen, parallel to the iPad, and centered over it. More kiosk details.
KEY THINGS TO KNOW
Golden Flyer Drive (entrance from French Road) has re-opened.
Off hours: Students living on campus have access to the campus grounds and facilities, including their residence hall, at all times — and must follow Nazareth's guest/visitor policies.
Which days: You only need to complete the screening and check-in if you will be on campus that day.
About the questions: The screening questions (see photo below) are based on guidance from the Centers for Disease Control and Prevention and evaluate coronavirus risk factors, to determine your eligibility to report to campus for work (all faculty and staff); class (all residential and commuter students); and campus events and activities (all faculty, staff, students, and invited guests/visitors).
If symptoms change: If you screen green but then begin to feel ill during the day, you should return home, screen again, and monitor your symptoms closely. If you complete the screening process with a red result, follow the next step on your results screen.
Privacy: The screening information you submit will only be accessible to restricted members of Human Resources (for employees) and Health & Counseling (for students). Data will be stored securely in a non-identifiable format.
Accountability: Every student, faculty, and staff member shares responsibility and accountability for the health and safety of our campus community. As guided by the College's Code of Conduct/Ethics for students and for faculty and staff, honesty is expected in your completion of the screening questions. Providing accurate responses demonstrates our collective commitment to the sizable responsibility we share, together, in creating and maintaining a safe and healthy campus community. Daily screening includes both completing your online screening and using a kiosk. To ensure we are working together and completing our screens on a daily basis, select staff and student health ambassadors will be on campus performing random badge checks every day. Screening checks will occur in the academic, residential, dining, and outdoor areas. Faculty may also perform badge checks in classrooms. Be prepared to show your badge and join us in keeping our campus healthy! Thank you for your understanding, cooperation, and support.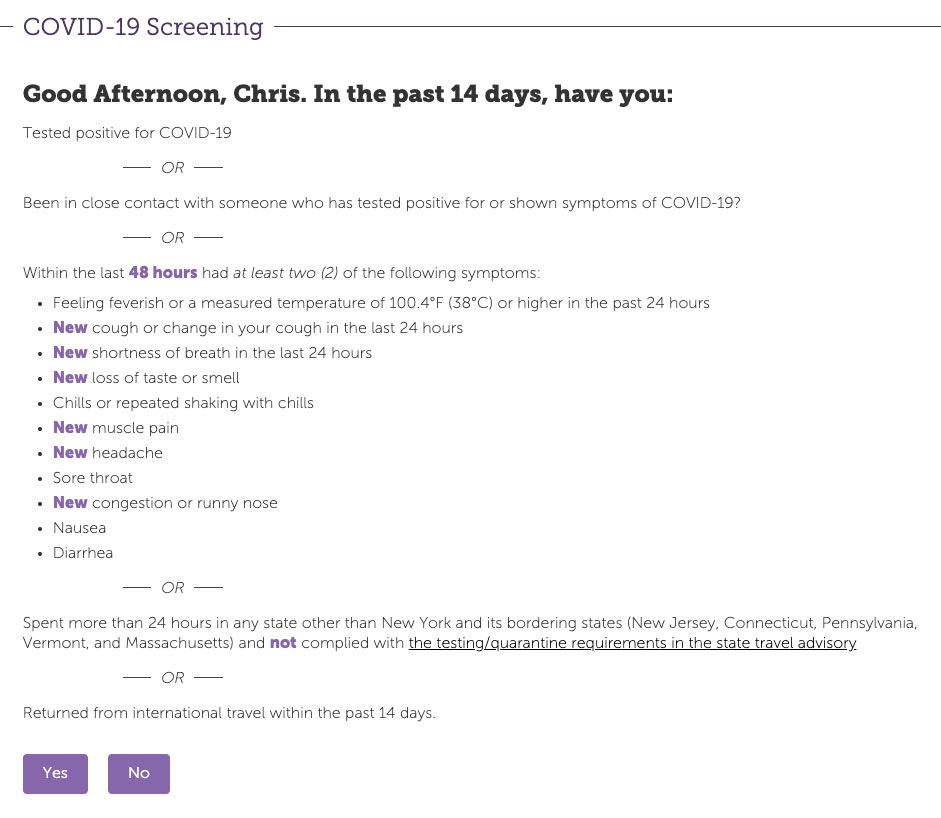 Screening Questions
The COVID-19 screening asks if any of these are true for you in recent time periods. The screening is updated as needed. It links to the New York state travel advisory.
Screening FAQs
How and when do I use a kiosk?
Hold your device showing your green badge from your daily screening (or you can print your daily badge QR code at any NazPrint release station or computer lab) a few inches above the kiosk screen, parallel to the iPad, and centered over it.
At the chapel: Anytime you enter the chapel, scan your green badge at the kiosk by the chapel doors.

Elsewhere: All students, faculty, and staff, each day that you are on campus — and just once a day — scan your green badge at any campus building's indoor kiosk.
Watch: three-second video showing kiosk use.
Problem? If a kiosk isn't working, call our Technology & Media Service Desk, 585-389-2111, to report the issue.
Where are the kiosks for self-check-in?
Academic buildings
Student life buildings
Residence halls
Admissions House
What if I did the screening online but don't have a working portable device?
Students, you can print your daily badge at any NazPrint release station or computer lab (see Campus Printing) and scan the printed QR code at a kiosk.
What happens if I get a red badge result?
Students: As the red badge results screen says, contact Health and Counseling at 585-389-2500, or the Health Department COVID Hotline at 888-364-3065 after hours, to get guidance on next steps. Stay home/in your room. If you are not able to immediately reach the Nazareth Health Center and you have in-person classes today, notify those instructors that you may miss class. If consultation with the Health Center results in the need to quarantine or self-isolate, your instructors will receive an email through Nazareth's Starfish system with guidance on developing a plan to help you maintain course progress. You will not be penalized for missing class if you need to quarantine or isolate.

Employees: As the red results screen says, Human Resources will contact you to review your situation and discuss the next steps.
What if I get a red badge by mistake — because I selected a choice I didn't mean to select?
While completing the screening, you have the option to change your answer. If you're past that stage, to restore your green badge:
How will I remember to use the screening tool?
Students, staff, and faculty get a daily reminder by email, 7 days a week (subject line: Complete your Naz daily health screening). See the top of this page for details about when to fill it out.
If you choose to unsubscribe from the daily reminder email, you are able to, with the understanding that completion of the screening is required for access to campus facilities and grounds.
See the "tech tip" near the top of this page for the steps to add the screening link to your device's homescreen.
What do I do if I want to have a visitor come to campus? How are campus visitors screened?
For access to campus facilities and grounds, invited visitors must register in advance using an online form with contact information and the purpose of the visit. Then they will get an email the morning of the visit to complete a COVID screening online. See the Visitors webpage. Prospective students register through the Admissions Daily Visits webpage and are contacted to complete a COVID screening.
Who is defined as a "visitor"? Parents of a student? Client of a campus clinic? Alumni invited to speak to a class?
Yes to all of those. See the Visitors webpage.
Do students and employees do the screening more than once a day if they leave campus during the day?
No. Screening is required only once every 24-hour period and no earlier than 2 hours before arriving on campus (or before leaving your residential room each day). However, on any day, you can and should complete the screening process again if you become ill while on campus (go right home first) or at a time when you plan to return to campus.
Do students/faculty/staff need to report travel?
The daily screening asks students, faculty, and staff about risk factors and leads to next steps when needed.
What about temperature checks?
Nazareth is not conducting temperature checks as part of the daily screening process. If you are a student and you become ill, contact the Health and Counseling Center at 585-389-2500 to set up an appointment for an assessment. This assessment may include a temperature check.
Do you track students' whereabouts (GPS tracking)?
No. The daily screening is a form. It can only collect your answer and who you are. (You use your Naz login.)
Are outdoor welcome stations operating now?
The tents near the campus entrances, which are not feasible during winter weather, were discontinued at the end of the fall semester. COVID-19 health screening and monitoring (using indoor kiosks) continues, as outlined above.