Why we give
Karen '92 & Todd McNutt '93
Karen and Todd McNutt's story began when they met at Nazareth. They were both inspired to attend by the beauty of campus, but had no idea the impact their college experiences would have on their lives, their work, and their families.
Todd owes his successful career to his education at Naz, and to alumna Joanne Augustine Fredenberg '66, who hired him upon graduation after meeting him at an on-campus job fair. Joanne and her husband Jeff owned an insurance agency and taught Todd everything he knows about insurance sales. Twenty-nine years and several corporate buyouts later, Todd now serves as a vice president for NFP Corp, the 13th largest global insurance broker.  
Todd and Karen have been supporters of Nazareth regularly since 1993. From their first modest donation 30 years ago to their Council Oak Leadership Society level giving today, their reason remains the same: "We love Nazareth! Many of the benefits we received from Naz are intangible. It is where we met. It is where we formed amazing friendships, many which continue to be strong today. We each have a treasure trove of memories from our years at Naz, so it goes without saying that we want to see Nazareth continue to flourish."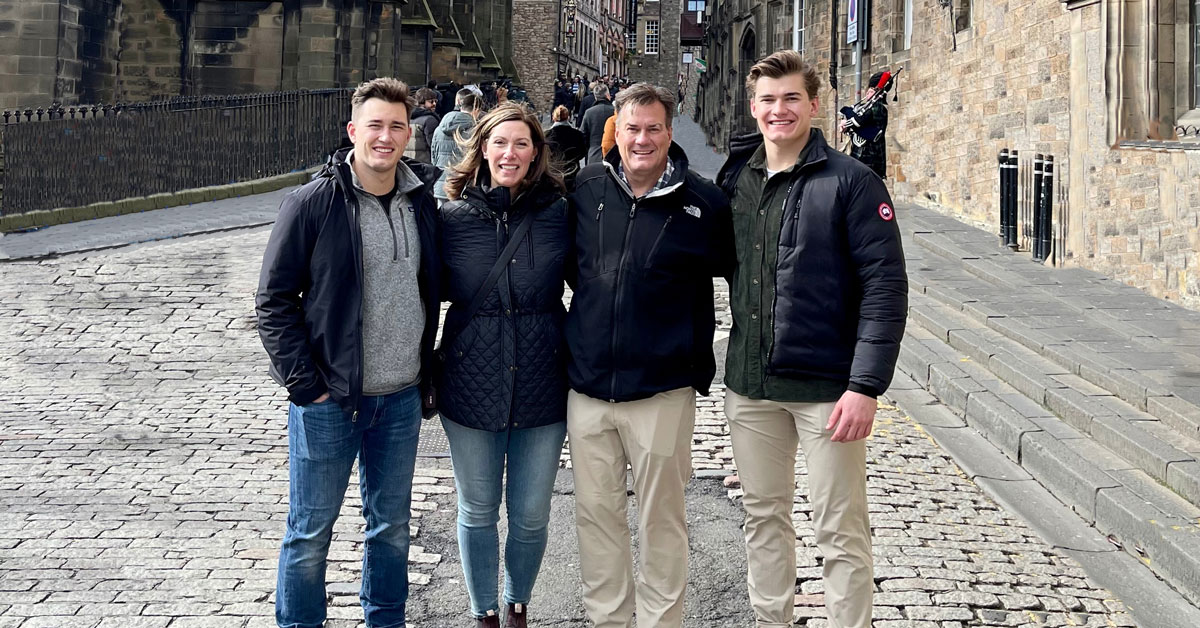 The McNutt Family, from left to right: Joshua '21, Karen '92, Todd '93, and Jacob
The McNutts are particularly committed to supporting student financial aid because they know every little bit helps. "If what we do helps even just one student have an experience like we did, then we feel our objective has been achieved."
Like his parents, Karen and Todd's son Joshua immediately felt at home on the Nazareth campus when he visited during his college search process. Bolstered by the stories he'd heard of their days at Naz, he enrolled as a freshman in 2017. Today, he is in the final stages of earning his Doctor in Physical Therapy degree. The family legacy also extends to a niece, who began her first year this fall.
Todd and Karen's personal, career, and emotional connections to Nazareth remain strong. It is here where their story began and what continually motivates them to give back.