Alum Coordinates Logistics for Rochester International Jazz Festival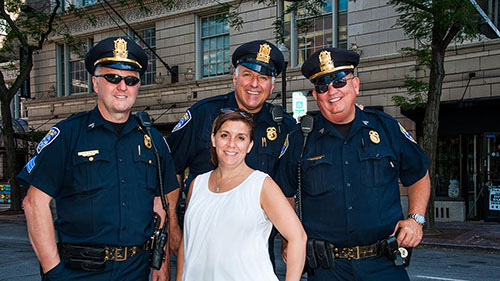 Managing People and 1,000 Details
Coordinating police officers, permits, venues, staff, and volunteers is the work of Rochester International Jazz Fest Logistics Coordinator Jenna Knauf, shown with members of Rochester Police Department at the festival. Photo for RIJF by Garry Geer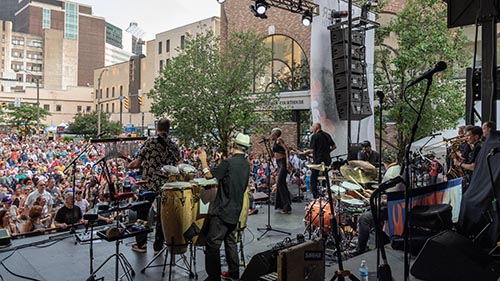 All That Jazz
More than 200,000 people attend the Rochester International Jazz Festival, including free shows such as Community Soul Project, which performed in 2018 at the East Avenue and Chestnut stage. Photo for RIJF by Dick Bennett
By Sam Peebles '18, '20G
Jennafer "Jenna" Manetta-Knauf '98, the logistics coordinator of the CGI Rochester International Jazz festival, began her career coordinating game management for the Nazareth Athletics Department. She discovered a love for event planning and worked her way up to coordinating one of the most respected and popular jazz festivals.
"I'm super proud to be a part of it," she says. "It's on list for jazz festivals in the world. We really love putting Rochester on the map."
The Jazz Festival is a nine-day event full of music performances in 20 venues around the city of Rochester. Parts of downtown shut down for over a week each June to bring the community together for live music.
Manetta-Knauf '98 has been an event planner for 20 years, and has owned Bella Events Group for 10. She is contacted by companies large and small to run specific events.
Similar to other events, coordinating the annual Jazz Festival is a year-long process. Through her work, Manetta-Knauf has deadlines for each event, and specific timelines for everything to be completed on time on a year-round basis. She builds sponsorships and relationships, rounds up staff and volunteers, and obtains all of the permits required to run the festival.
As the logistics coordinator for 16 years, Manetta-Knauf is considered the "headquarters" of the festival. This means that she is in charge of all of the physical pieces that must come together to make this event possible, such as coordinating with the fire and police departments, venues, hospitality for the artists (food/transportation), permits needed for the festival, the staff and volunteers.
"We bring in people from all over the world. The little moments make it special."
Although she is responsible for multiple events each year, The Jazz Festival is special to Manetta-Knauf. "For nine days, the city feels like a different place. Everyone comes together, and it's extremely inclusive," she says. "It doesn't matter if you're young or old, what ethnicity you are, what your income level is. Everyone is welcome to come and enjoy the music."
Manetta-Knauf received her undergraduate degree from Nazareth College in sports administration and finance and thought she wanted to become a college athletic director.
As the head of Nazareth's game management, she coordinated who worked at each game, and was in charge of planning each sporting event. She also was tasked with communicating with the coaches, players, event staff, and officials. When she didn't think everything was running as smoothly as it should have been, Manetta-Knauf created a game management handbook explaining how each event should be organized — which is still used by the College.
Her job now is similar but on a larger scale. "Every opportunity you find turns out to be an opportunity to learn something new about yourself. That's kind of the path that I took," she said.