Naz Yoga Kula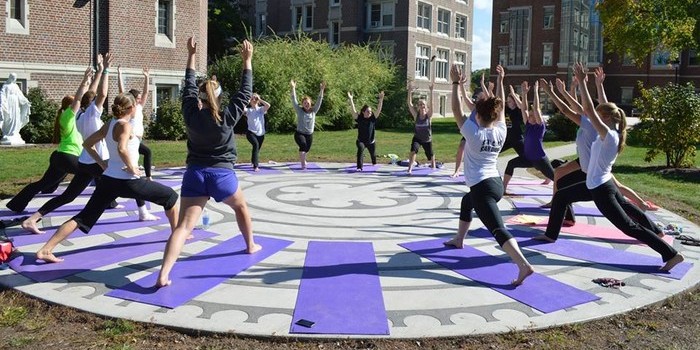 Yoga provides an accessible spiritual path for students of all beliefs and perspectives.  Yoga at Nazareth responds to students' desire to explore and strengthen their spirituality by integrating spiritual themes, meditation, and self-reflection into yoga experiences.
The nationally award-winning "Yoga Revolution" on campus is characterized by a depth and breadth of programs, both curricular and co-curricular. Co-curricular programs include five free classes per week, weekly sessions for athletes, and a wide array of creative events, including: Yoga Festival, Yoga Retreat, workshops for aerial yoga and acro yoga, and an emerging yoga service program. Curricular programs are offered by Physical Therapy, Creative Arts Therapy, and Social Work departments.
Yoga classes at Nazareth bring together students, faculty and staff from various faiths, ages, cultures, genders, sexual identities and abilities and help to foster a sense of community within a diverse campus community. Yoga students are encouraged to step out of their comfort zones and develop new confidence, skills and awareness. Themes such as gratitude, peace, balance  and teamwork help students to reflect on their hopes, fears, values and passions. In this way, the Yoga Revolution at Nazareth has a positive influence on the bodies, minds and spirits of hundreds of yoga practitioners on campus.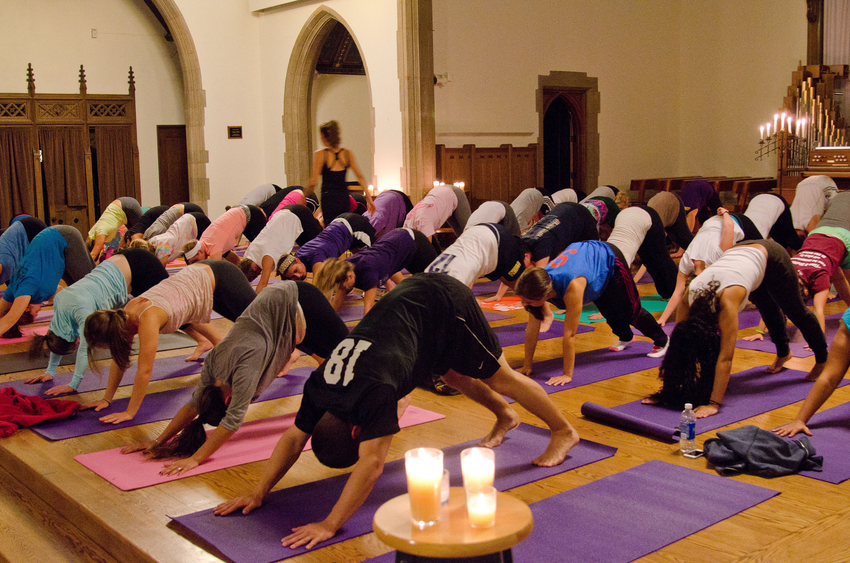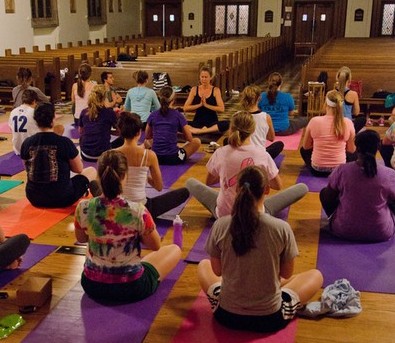 OPEN YOGA CLASSES
Stretch. Strengthen. Center.
FREE for students, faculty, staff and alumni. All levels are welcome.
Bring your own mat or use one of ours.
WEEKLY CLASSES – SPRING 2017:
Monday Evening - First Class 7:30 pm – 8:30 pm, Second Class 9:00 pm - 10:00 pm  "Night Light Yoga" with Lynne Boucher
Tuesday Afternoon 12:10 pm – 1:00 pm "Mid-Day Yoga" with Susan Smelt
Wednesday Evening 8:00 pm – 9:15 pm "Night Light Yoga" with Rebecca Stapley
Thursday Afternoon 12:10 pm – 1:00 pm "Mid-Day Yoga" with Lynne Boucher and Rebecca Stapley
Thursday Evening 8:00 pm – 9:15 pm "Night Light Yoga" with Erin Garvin
All are classes in the Linehan Chapel - 1st floor of GAC Sponsored by the Center for Spirituality and the Office of Intramurals.