Corinne Shaffer Hopkins '12 admits, "I had no idea that the career I'm in even really existed in the modern world and certainly never considered I could thrive in it."
The B.A. music major, business minor has found a career repairing and restoring stringed instruments like violins, cellos, and violas. It's a niche field of work but not something that can be easily automated. "It's one of those things that will always be necessary," Corinne says.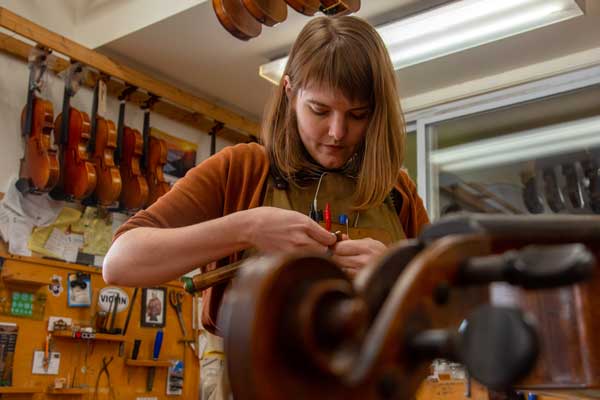 Corinne reflects that "the work I do day-to-day wasn't taught in any of my college classes; yet I wouldn't have skills necessary to do my job without the experiences from Naz." She's referring to competences like meeting deadlines, developing communication with peers and superiors, thinking critically, and learning how to learn. Regardless of the subject matter, Corinne says that the fundamentals are the same.
"One of my favorite classes was a German literature course with the legendary Dr. William Hopkins," she says. And though she's hard-pressed to recall a time since graduating when she's needed to call on knowledge of German words, Corinne says she still thinks about his class fairly often. "I use those skills all the time."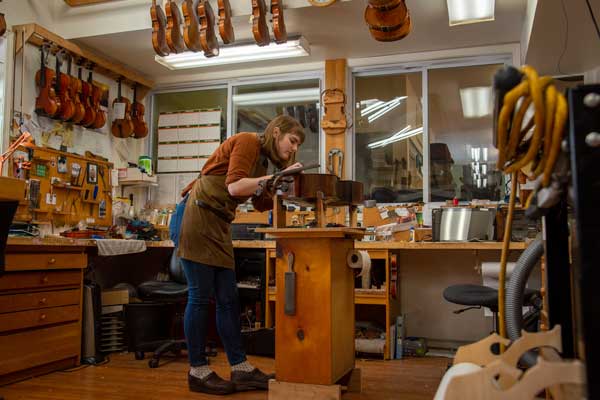 In the fall of 2020, Corinne will return to school: She has been accepted to the Chicago School of Violin Making to pursue a three-year program to learn traditional methods of stringed instrument craftsmanship. In that time, she will construct at least six stringed instruments, take courses on sound production and instrument design, and practice playing the violin herself.
Corinne's advice: "Just keep showing up and working hard, and opportunities will present themselves. Follow your interests and be bold."