Celebrate Teachers
by Daan Braveman, President of Nazareth College
On this Teacher Appreciation Week, and we should take this opportunity to thank those who devote their lives to educating our children. It is difficult to imagine a more important endeavor than education, which has the power to transform lives and create opportunities. Nelson Mandela is reported to have observed, "Education is the most powerful weapon which you can use to change the world." And, as others have noted, teachers are leading that change, "one student at a time."
Most of us can recall the many teachers who inspired us along the way. I still have fond memories of so many of my teachers—Ms. Greenstone, my second grade teacher at School 8, Ms. Mindel, my seventh grade teacher at that school, Mr. Marling, my history teacher at Brighton, and many others. These are individuals who taught not simply the content of a course or the material on an exam but instilled excitement about the value of learning.
Because of the vital role played by teachers, I am especially proud of the fact that Nazareth College has been a leader in this community in preparing teachers for over 90 years. Our School of Education faculty is committed to preparing teachers who make a difference in the lives of their students. Our teacher candidates have a foundation to teach in a wide variety of contexts—public, private, charter, urban, suburban, and rural schools in New York State and, other states, as well as international schools. Our Teacher Opportunity Corps prepares teachers of color to address the learning needs of students in high-need schools, and since 1989 more than 120 graduates of this program have taught in RCSD schools. We recognize that teaching is a complex and noble profession, not measured by a number, but by the transformation that occurs in children. It is a skill that develops throughout a professional life, and we strive to prepare teachers who continue to learn, question, advocate, and grow during their entire careers.
It is terribly unfortunate that in recent times teachers and the teaching profession have come under unwarranted attack. This is one of the reasons we are witnessing a decrease in the number of people interested in pursuing a teaching career. During this week, we have an opportunity to reset the narrative. Teaching is an essential profession, and we should celebrate those who work daily to enable our children to reach their dreams. Take a moment to remember a teacher who inspired you, or reach out and thank teachers you know. I thank all our alums as well as the many others who have been, and currently are, teachers.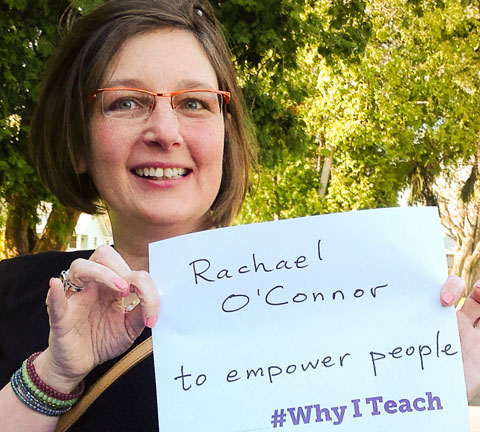 Teachers have shared #WhyITeach reasons on social media.
The Educators
TOP BANNER IMAGE
Standing: Erin Hathaway, '93, '98G, reading specialist, Spencerport; Renée Schneider, '08, '10G, literacy specialist, Sodus; Brian Bailey, Ph.D., '01G, associate professor, Nazareth College; Heather Raes, '89, '92G, special education, Lyons; Jess Flanders, '08, 4th grade, School #29; Brandi Bishop, '04G, kindergarten, Naples; John O'Gorman, N.B.C.T., '85, '90G, 6th grade, Fairport; and Katrya Cichanowicz, '14, orchestra conductor, 4th-7th grades, West Irondequoit. Seated: Katie Mooney, '02, '06G, head of alternative education program and 9th-12th grade English, Gates Chili; Gina Carrozziere, '98, 3rd grade, East Irondequoit; Teresa Nicosia, '78, '82G, retired, Pittsford; Nicole Lombardi, '13, middle school social studies, Our Lady of Mercy; Erin DiCaro, '07, sign language, Rush-Henrietta; and Julie Brennan, '07, 10th and 12th grade English, Spencerport.