The Third Act
Grant Richards '17 Creates Universal Connections Onstage in Cinderella
By Julia Smith '20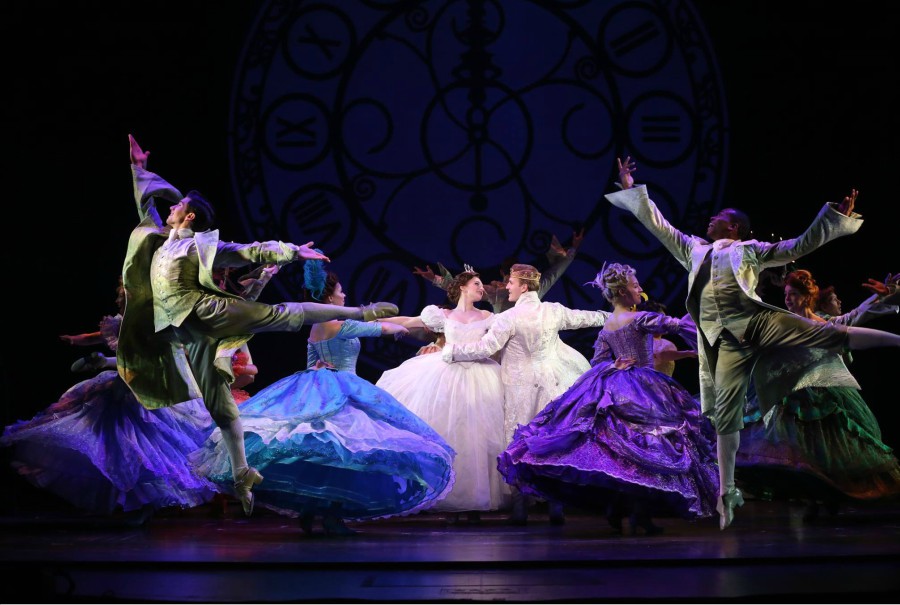 The show isn't always kind to the dancers' bodies. Repeatedly lifting other dancers led to a shoulder injury for Richards. "This is the hardest physical show I've ever done in my life," he says, reached by phone in Maine after his 90th performance. "The choreography is very intense. Everyone has to be incredibly physically fit." The cast regularly visits physical therapists during tour stops, and the performers work out offstage to keep their muscles in balance.
In the age of digital detachment, Richards hopes to inspire true connection between the audience and the characters. After the scheduled Act 1 and Act 2 comes the audience's applause, emotional responses, and interaction at the stage door. "I like to call it the third act," he says.
In Montana, the cast — many of them liberal artists from the northeast — noticed audience members wearing Make America Great hats. They weren't sure how well they would connect. But that was the first audience among 90 performances to immediately rise for a standing ovation at the beginning of the performers' bows. "It was a beautiful moment for all of us, to be connected with people in a way that was so true."
"The arts are so vital and affective to people," Richards adds. "If I can go onstage and affect one person in the audience — if they are changed from the moment they walk into the venue to the end of the show — then I feel I've done my job as a performer and human being."
Grant Richards '17 — touring nationwide in Cinderella in 2018 — almost rejected the performing arts as a viable career. He danced and performed in musical theatre shows in high school, but he heard stereotypes that the arts are competitive or very unstable.
When his mother (a former dancer herself) fell ill, she asked her son to play his keyboard for her. "She said it made her feel better," he recalls. "It was a huge revelation for me." The arts, he realized, can connect with people emotionally and change them. Performing could be his way to both make a living and make a difference in the world.
Fortunately, his stage dreams were encouraged: "My family and many of my mentors instilled in me that if I was passionate and loved what I did, I would inevitably find success in what I chose to do."
As a Nazareth College musical theatre major, he particularly loved dancing in New York City dance festivals and taking master classes at Nazareth with Broadway creators and performers. For his final semester, Richards was accepted into The Tepper Semester, an honors drama program through Syracuse University through which he lived, studied, and performed in New York City. Richards juggled classes, booked an agent, and landed a role in an off-Broadway revival of "Amerike: The Golden Land" before he graduated. Shortly after, he was cast in the touring production of the Tony Award-winning Rodgers + Hammerstein's Cinderella.
In this updated version of the classic fairytale, Cinderella changes the castle through kindness, a theme that Richards carries with him in his day to day life. "Be a kind person," Richards says. "At a certain point, everyone is talented and everyone knows the same people, so it really comes down to who people want to work with."