Innovative teaching and learning during a pandemic
Customized masks for musicians, combined in-person and remote student groups, outdoor classes, physical distancing, individual materials, smaller classes, additional ensembles, and multimedia engagement — along with frequent disinfecting — are making the fall semester not only possible on campus but dynamic and creative.
Faculty are committed to high-quality teaching and continue to innovate to provide engaging and safe learning experiences for students during the COVID-19 pandemic.
Here are more than a dozen examples.
---
In-person dance energy
"Being in the same room dancing, even though we can't be close, is a treat. Feeling each other's energy allows us new ways to communicate dancing together," says dance instructor Fidel Orrillo Puga. "I am always very aware of the distance between me and the dancers. Classes are always taught with masks on (students, piano player, and teacher), and we always clean the space before class and at the end."

In addition to the dance studio in George Hall, dance classes are using the Callahan Theater stage on campus, outfitted with mirrors and barres. "We have the mirrors to look at, but we can turn around at any moment and simulate performing for an audience," says Dereck Atwater '22, a musical theatre major and dance minor. "My favorite part about having class in Callahan is being able to use the space and spread out as if we are actually performing while feeling safe."
Videos: Dance performances »
---
Band and orchestra
Special masks — including for the instruments — as well as smaller ensembles and music-specific safety guidelines in the School of Music are enabling musicians to create music together safely. Story: Masks Don't Stop the Music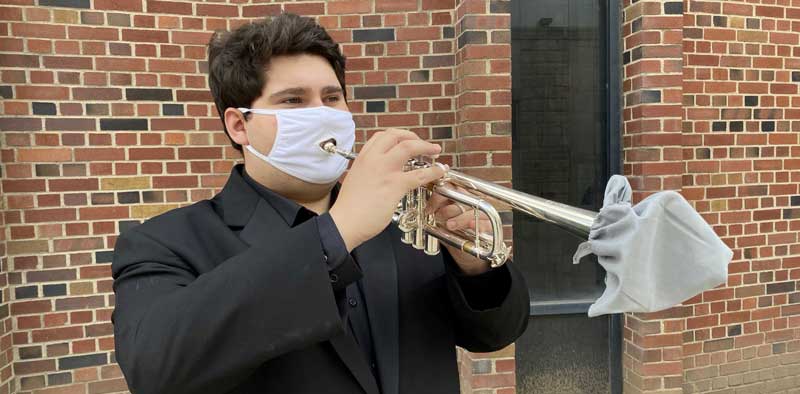 ---
Small-group marketing work
School of Business and Leadership Professor Bryan Adams' content marketing class students worked in small groups — spaced apart in the classroom — and had their laptops open using Zoom breakout rooms to both include some students participating remotely and be able to share their screen, as they created a content marketing calendar together.
---
Short Story into Film — Outdoors
Professor Ed Wiltse chose to teach several classes outdoors, including Short Story into Film (a seminar course for first-year students on short stories and their film adaptations). 
"While we can do amazing things with online education these days, we also know how much our students appreciate in-person classroom experiences and the relationships they build there with each other and their professors," said Wiltse, part of the English and Communications Department. "We also know that outdoor experiences, accompanied by masks and distancing, are safer in terms of COVID-19 transmission. So this semester I have worked with our amazing facilities staff at Nazareth to convert a picnic pavilion into an outdoor classroom, with tablet desks, a rolling chalkboard, and a bedsheet tacked to the pavilion wall as a projector screen. Outdoorsy students are helping their classmates learn how to stay warm as the temperatures drop, and we're working together to have a great semester despite (or even partly because of) these new challenges."
Dyllan Sarich '24 says the approach is working well. "I am learning so much! From short stories to movies relating to deep topics, all of the genres make me think a lot about the real world and how people are inspired to write and share their stories based off of their beliefs." Dyllan, who also has indoor classes where students are spread out in classrooms, says, "Nature really is all around me" during class outdoors, including bees and butterflies and seeing how the light changes as the days go along.
Allison Evans '24 says she was "surprised by how relaxed I feel while working outside" with peers and her professor — and she has a winter jacket, heavy sweatpants and a hat ready for cooler days.
---
Individual, hands-on materials
Instead of passing around her model of the molecule cyclohexane as in a typical year, Prof. Amber Charlebois avoided sharing materials by having her organic chemistry students each make their own model to hold and refer to.
"I usually suggest it, but this time I assigned it. It keeps students involved in the discussion of cyclohexane because they can personally see how the bonds rotate to form the different confirmations. Once we make each confirmation, we discuss its stability. This is one of my favorite topics to teach because it is so visual and is a perfect application of the molecule model kits." 
— Amber Charlebois, assistant professor of chemistry and biochemistry