Huge Support for Success
Lakisha Sims '20, '21G credits Naz faculty & staff for helping her get through adversity and a broken leg toward her dream of helping others
"I am proud to be headed for graduation as a dean's list student and then go on for my master's in social work at Nazareth."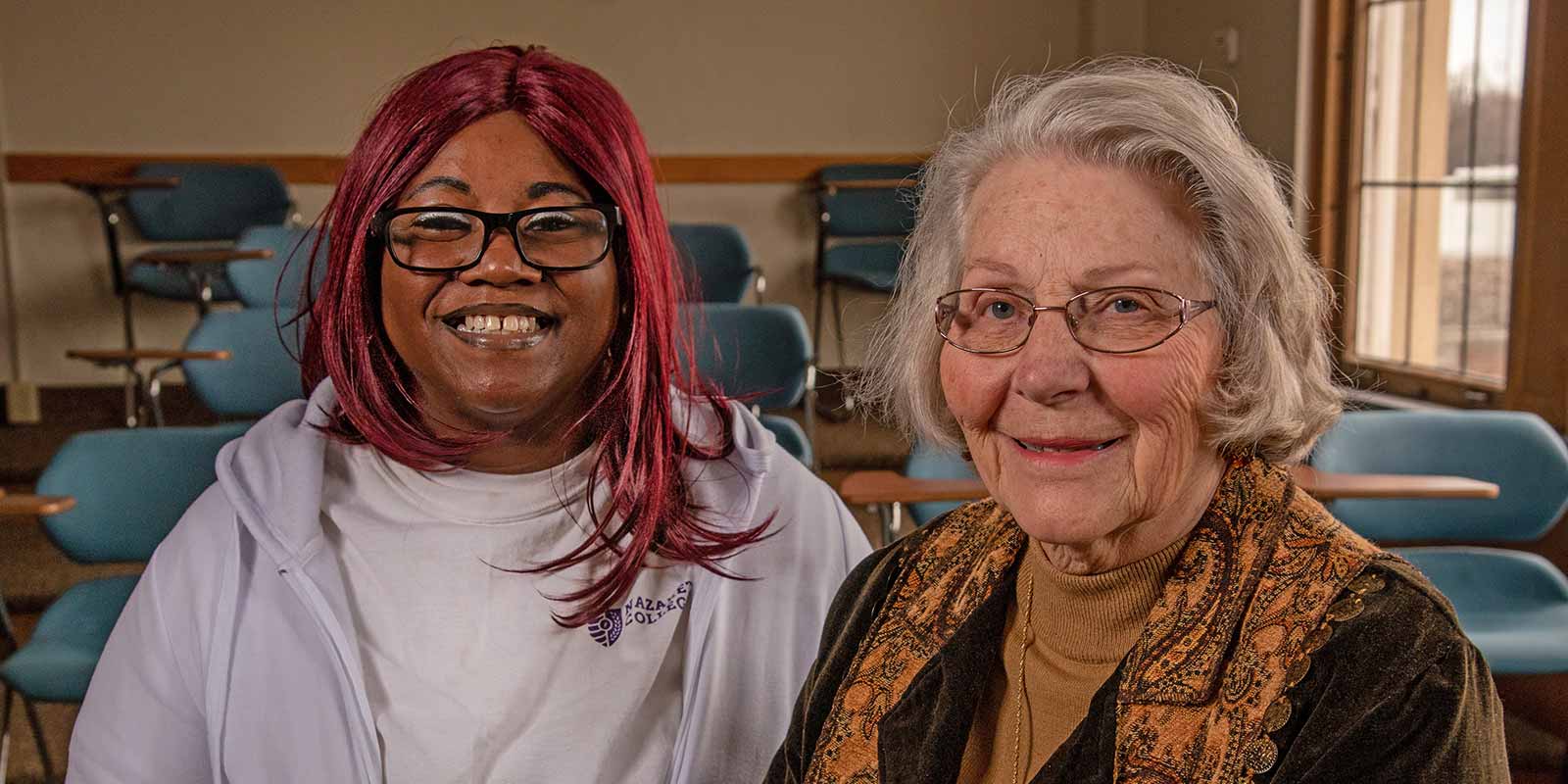 Lakisha Sims (left) with Shirley Sharp, one of the Nazareth social work professors who's been an especially supportive mentor to Lakisha.
A goal of service
Lakisha Kenyatta Brown Sims '20, '21G wants to serve returning veterans and people who are homeless and struggling with mental illness and chemical addiction so that they can sustain themselves independently "while remaining clean and sober." She says her passion for the work comes from experiencing drug addiction and homelessness herself, as well as child abuse, and to make sure others get better help.
"I am on a mission to find out where the Diagnostic and Statistical Manual of Mental Disorders (DSM-5) and the system failed my family and how I can help others so they will not feel let down," she says, adding that the system also failed her Marine Corps brother when he tried to quit drinking.
Why Nazareth?
"I transferred to Nazareth College because of the comfortable feeling and the support network that the faculty gives the students even when you just inquire about an educational program at Nazareth."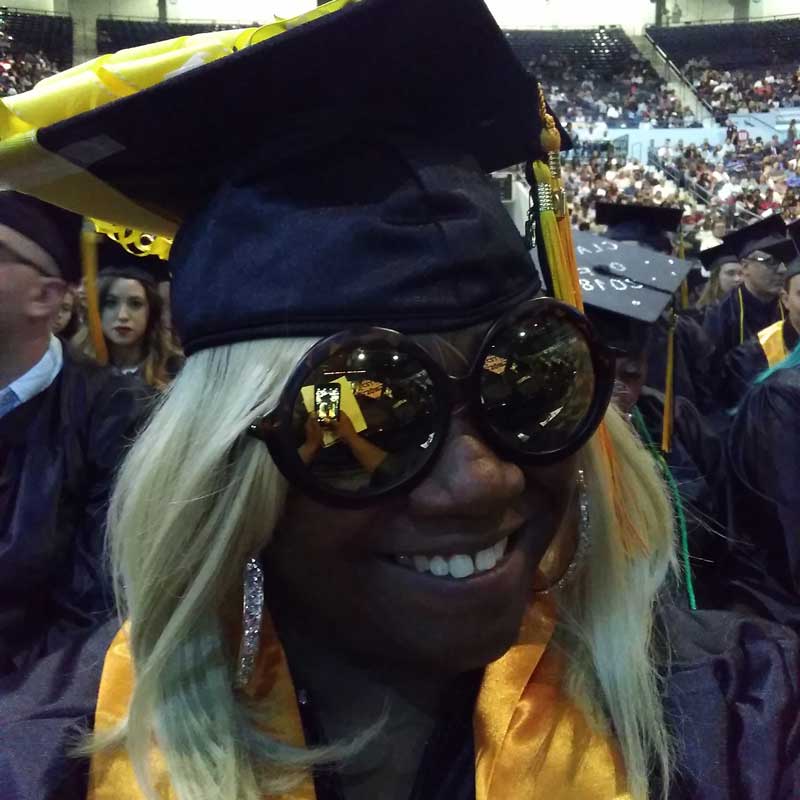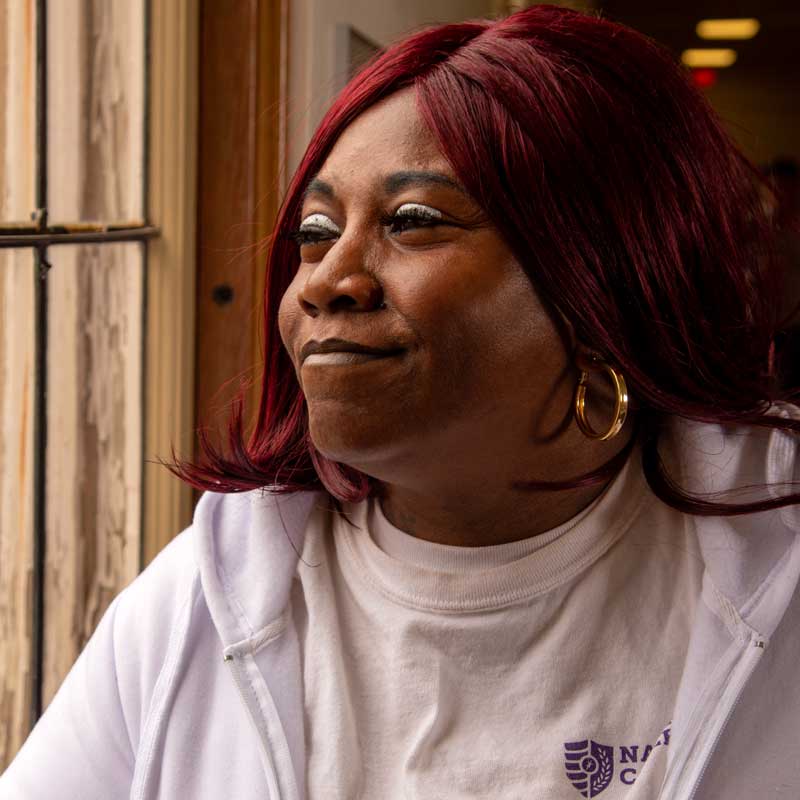 How is your experience?
"What makes Nazareth a good fit for me is the smaller classroom settings as well as the empathy, empowerment, resources, and time that the faculty have for each student who walks through the doors. Also the completion and success rates of the students once their educational journey is fully completed.
As a returning adult student and a single mother of five, I found Nazareth College helps students to climb each hurdle — standing by our side in the face of adversity, weariness, or self-defeat as we attempt to reach our goals.
Nazareth has been one of the best social and formal supports — people who stand by my side and believe in my dreams of helping the world."
What's an example?
"Last February after leaving campus, I slipped and fell, breaking two bones in my ankle as well as snapping my fibula in half. My right leg was in a cast from the knee down and I was ordered bed rest until surgery. Surgery could not happen until April because of the swelling in the whole leg.
But the Social Work Department — Professor Charlesworth, Professor Sharp, and Professor Primus — as well as Erika Hess in Student Accessibility Services planned how I could continue my education at Nazareth without withdrawing. As a Golden Flyer, I dug into my basket of resilience, which I learned from the Social Work Department in terms of self-determination. With a power scooter and cane, I returned to school the week after my injury.
A week after surgery, I returned to campus again with a cast, scooter, and crutches to complete my spring semester. How about that for self-motivation with the right social supports standing behind you?
Now I am proud to be headed for graduation as a dean's list student and then go on for my master's in social work at Nazareth. Nazareth College is one of the best educational institutions in the world.
I had gone back to school after 24 years of dealing with life challenges. I would say the wait was worth it. I earned two degrees at Monroe Community College — associate's in human services and in addiction counseling with re-entry and mental health disabilities, along with being an honor student and vice president of Phi Theta Kappa, and then transferred to Nazareth. The other bachelor's degree schools I looked at would not have provided the joy and wholeness that I have at Nazareth College."