Meeting the Challenge
We did it! Thanks to the generosity of Nazareth College's alumni and friends, we have surpassed our goal of 5,500 donors in the Ewing Challenge.
Now that we have reached our goal, Joan Ewing '55 is ready to fulfill her commitment of $100,000 to Nazareth College.
A special message from Kelly Gagan, Vice President for Institutional Advancement:
I am extremely pleased to announce that we have not only met, but exceeded our Ewing Challenge goal of 5,500 donors by June 30, 2010. To be exact, 6,071 alumni and friends contributed to the Challenge! This was due in no small part to you—and for that I thank you.
Joan Ewing '55 sponsored the Ewing Challenge for several reasons. First, she believes in giving back to her alma mater - a place that gave her much during her time here. Second, she wished to show her fellow Nazareth alums that every contribution counts - no matter the amount.
Once again, my thanks to each and every one of you who contributed to the Ewing Challenge.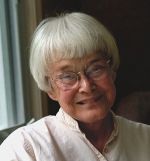 And a special thank you from Joan herself: "I am thrilled at the wonderful response from my classmates, friends, and the many people who care about and support Nazareth College."
We want you to know that every single gift to Nazareth counts. Joan's own $100,000 sponsorship of the Ewing Challenge will be put toward the Integrated Math and Science Center, since math and science are still close to Joan's heart - even in retirement. She recalls learning from Nazareth professors that people have potentials that can be converted into actuals. Well, 6,071 potential donors accepted Joan's challenge and became actual donors to Nazareth College. Thank you for helping us to achieve this goal; we couldn't have done it without you.
Best,
Kelly Gagan
Vice President, Institutional Advancement