Taking on toxins
Marine lab internship prepares Melissa Wilkinson '17 for a career as a scientist
Don't ask Melissa Wilkinson '17 about the top secret experiments happening at the Pacific Northwest Marine Sciences Laboratory in Washington state. Those are classified. But the toxicology and biology double major will gladly detail her own successful research there as a full-time, paid summer intern.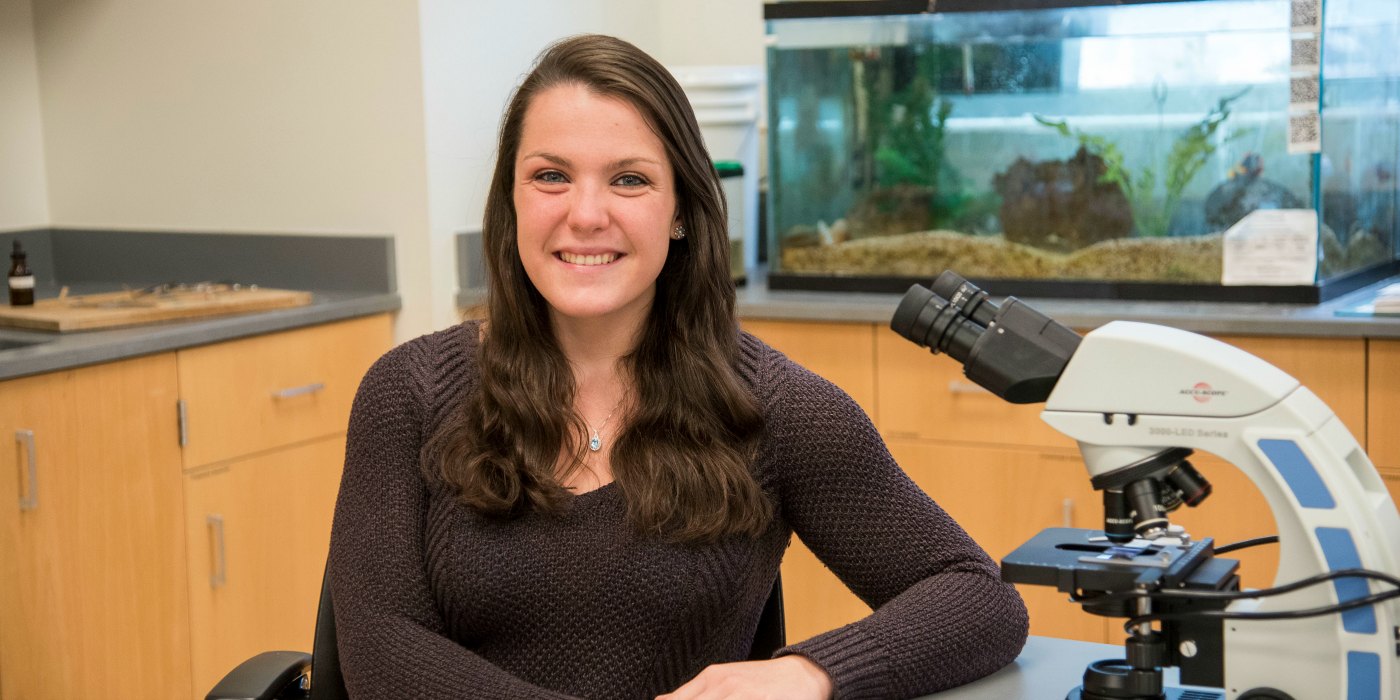 Melissa Wilkinson '17
Preventing food poisoning
Wilkinson researched an environmentally friendly way to prevent food poisoning from shellfish contaminated by toxic algae. Building on only one scientific paper published on this approach, Wilkinson successfully demonstrated that an underwater ocean plant called eelgrass can kill toxic algae in the lab.
Ready for what's next
Wilkinson felt well prepared for the internship since she had done algae research at Nazareth and had used high-tech equipment in Peckham Hall that is typically off-limits to undergraduates at other colleges. She says the internship gave her real world experience and sparked her interest in pursuing a doctorate, which she's doing at Rutgers University with tuition waived and a university-provided salary. Wilkinson says she is excited to continue conducting research and finding out ways to help others through science.
A passion for science
Science has fascinated Wilkinson since she learned about stem cell research in eighth grade. "Someday a little kid could have a heart transplant from his own cells, so he doesn't have to spend his whole life taking drugs and worrying his heart would fail," she says. "That's what got me into science and research."
Why toxicology?
Preventing toxic substances from hurting people makes "a big difference to the world," Wilkinson says. "There are so many different things in the world that scientists do and work toward to make sure that it's safe for everyday people to just not think about." Take ibuprofen, for example: Scientists had to test different doses to figure out the proper milligrams to put in one pill. Wilkinson is not concerned with the limelight. She believes it will be rewarding to work behind the scenes.
Growing as a leader
Wilkinson grew up in a small New York town named Argyle. At Nazareth she has met people of different religions and backgrounds for the first time and realized the value of diversity. "A problem can be solved so many different ways, and the best way usually involves incorporating people from different backgrounds." She has become a leader, someone who can listen and work with others to solve problems and who is committed to her goals. "A lot of that came from swimming and Undergraduate Association (UA) and the amount of dedication and commitment you need to be in a rigorous science program and be an athlete." Flexibility and support made it possible to do so much, such as her swim coach letting her swim earlier so she could also fit in the UA. "Everybody is encouraging you to be the best thing you can be."