#NazGivingDay 2019 is Huge Success
On April 3, Nazareth College held its second ever Giving Day and the College community worldwide came together to make it a huge success. #NazGivingDay's theme was Sunrise to Sunset: the difference a day can make, and the extraordinary response throughout the 24-hour challenge helped surpass every goal and unlock challenges for thousands of dollars in additional support.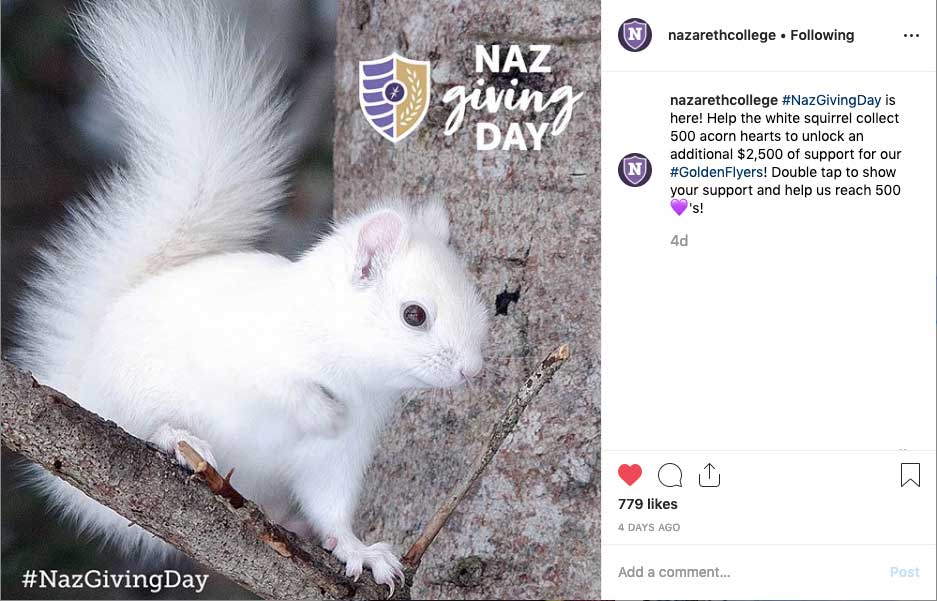 1,680
gifts received in 24 hours
$487,156
raised on Giving Day
Nazareth exceeded its goal of 1,400 gifts for a total of 1,680 gifts, raising $487,156. It also far surpassed last year's Giving Day, when Nazareth donors gave 1,391 gifts totaling $267,473.
"Our alumni and campus community should be extremely proud for what we accomplished on Naz Giving Day," said President Daan Braveman. "Hearing the stories throughout the day about why our Nazareth family gives back to this College is inspiring."
All gifts will help support initiatives such as student financial aid, athletics, the new Golisano Training Center, and the annual fund.
"Our Nazareth College community stepped up in a big way. There was such energy surrounding Naz Giving Day," said Katie Mahoney-Krenzer '98, Nazareth's associate director of Annual & Leadership Giving in Development. "The Giving Day ambassadors were a huge part in the day's overwhelming success."
Current students learned about Giving Day when they stopped at Goodies for Gratitude tables set up at several locations on campus. Students wrote thank you postcards to donors— and gained awareness about philanthropy.
Missed #NazGivingDay?
You can still give a gift: naz.edu/give