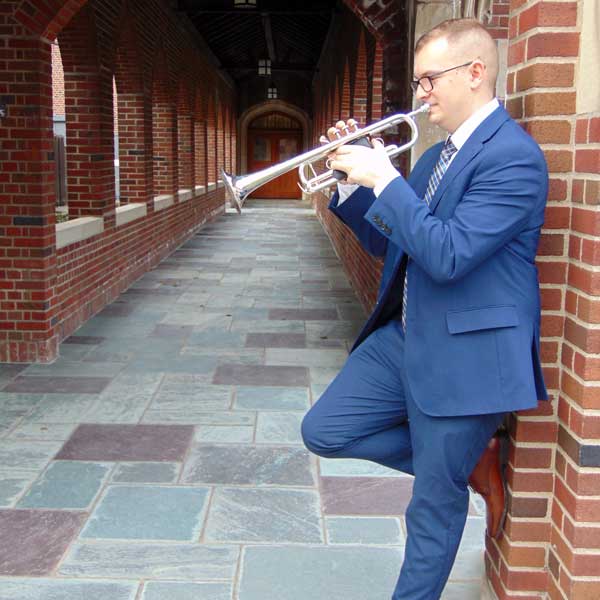 Miles Anglin '20
Major: music education
Quote: "I have learned so much at Naz. Some of my favorite memories are making music with my friends, the College Band Directors National Association (CBDNA) tour with Wind Symphony, all the Trumpet of Naz hangouts! To my favorite professors — Professor (Patrick) Corvington, Professor (Jeanne) Coonan, Dr. (Jared) Chase, Dr. (Keith) Koster, Dr. (Mary) Carlson, to name some of the academic ones — thanks for all the guidance over the years. I wouldn't be who I am today without you. And most importantly, School of Music staff members Pam Griffin and Bernadette (B-Money) Rall!"
What's next: military basic training and the Army School of Music — then playing with the National Guard 42nd Infantry Division Band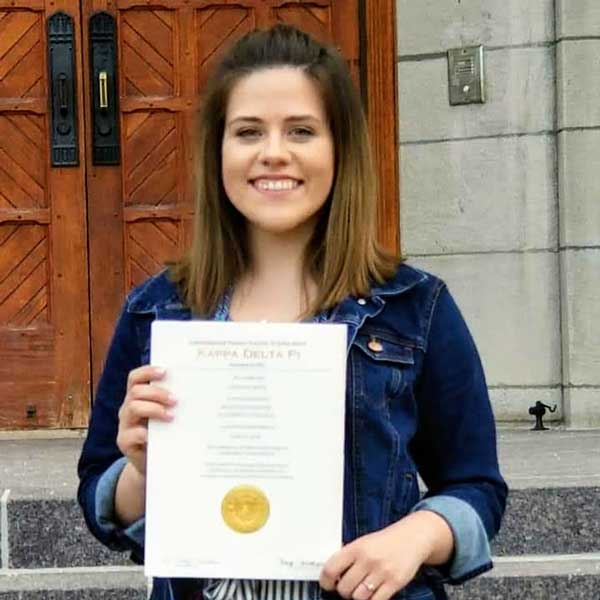 Lindsey Boye '20
Majors: inclusive childhood/early childhood education and history
Quote: "I'm most proud of how far I have come as both a student and a teacher during my college career. I have learned so much about teaching and how to apply theory in the classroom. My struggles to overcome obstacles as a student fuel my desire to teach students skills and strategies that push them to reach their full potential. I have made great friends and worked with some incredible professors who have pushed me to do my best."
What's next: "Teaching first- and third-grade special education as a long-term substitute for the teacher I worked with during student teaching in Marion, New York. As teaching has turned digital, I will be instructing the students through Zoom, emailing parents regularly, and collaborating with both of the general education teachers."
Majors: dance studies and public health
Quote: "I am very grateful for all the opportunities that Nazareth College has given me as part of the dance and public health departments. Everything I have accomplished here would not have been possible without the knowledge and mentoring of my teachers, such as Heather Roffe, Heather Acomb, Michelle Pritchard, Dr. Mary Maher, and many more who have supported and helped me to become who I am today and where I want to go."
What's next: "I am very passionate about the health of women and children, and I will be applying to graduate school to obtain a master's degree in public health and develop programs focused on preventive care in conjunction with the arts — such as dance to build strong and healthy communities. In the meantime, in my hometown in Puerto Rico, I want to continue performing and teaching dance and Pilates and possibly audition for a modern dance company there."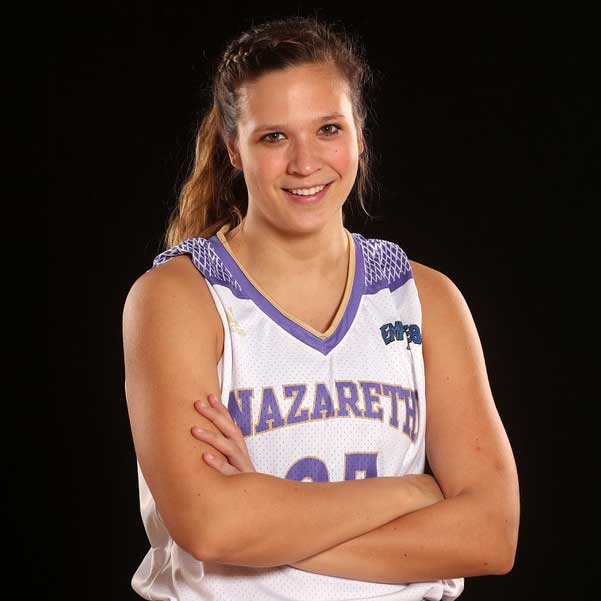 Erica Bradley '20
Majors: Early childhood/childhood education and communication and media
Quote: "Naz prepared me for grad school with all of the field work I completed during my undergrad. I've been able to take what I have learned in class and apply it to the placements I was in, giving me valuable real-world experience."
What's next: Grad degree at Canisius College, Buffalo, in physical education and athletics
Majors: finance and accounting
Quote: "I enjoy just being able to work through problems or issues involving money and seeing how certain items will get financed and how long it will take. Favorite memory? I do not have just one story I can pick, but anything involving my teammates on the hockey team is a favorite."
What's next: Ford Motor Company in Nashville, Tenn., Leadership and Development Program