Global Connections
Paul Figueroa-Lippert '16 graduated from Nazareth as a skilled, confident leader who's prepared for a life of guiding and influencing others.
Whether he teaches English in a bilingual school or becomes a professor teaching comparative literature, the English-Spanish double major is sure to challenge and encourage his students and his peers to get involved in important issues — just as he's done at Nazareth. Among his efforts: Panel discussions and petition drives on issues such as the debt crisis in Puerto Rico, where his grandparents are from.
"When Paul came here, he didn't know he would single-handedly organize a service trip to Puerto Rico and bring together Latino groups from multiple colleges to have a larger advocacy role," says Esperanza Roncero, professor and chair of the Foreign Languages and Literatures Department. "Nazareth faculty and staff give students the freedom, the push, and the resources to try things, discover talents, and become more than they knew was possible. Each time Paul had an idea he wanted to pursue, we said yes. He is a natural leader, and here he has had the space and the opportunities to take his skills to a new level."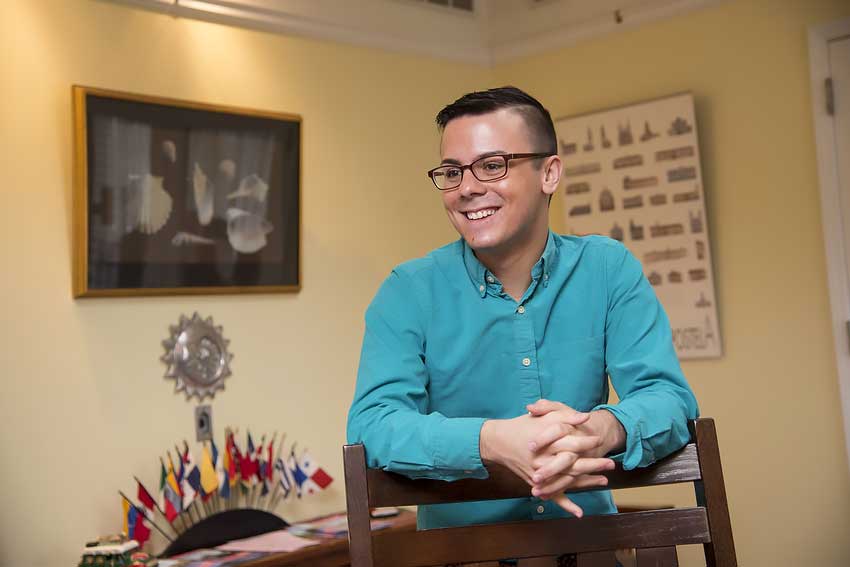 "The opportunities to study abroad, to meet new people, to develop leadership skills, are plentiful. The opportunities to get involved in the community are plentiful as well," Figueroa-Lippert says of Nazareth. "It's the cornerstone of my experience here."
Forming global connections
The small-town native credits the diverse, global connections he has formed in college and through his many hands-on civic engagement experiences for shaping his attitudes.
By tutoring international students on campus in writing and in English, and by volunteering as a conversation buddy for English language learners, Figueroa-Lippert says he's "made friends with people from every continent except Antarctica. I love learning about different cultures and different people."
Through work at the Casa Hispana on campus, he has connected with Latinos from the Rochester community and from other colleges.
Studying for a semester at University of Puerto Rico was a powerful opportunity to better know and understand his heritage.
Speaking up for rights
While leading the Latino club at Nazareth, he's forged connections and organized events with other area college Latino clubs — and encouraged them to speak up for the rights of residents of Puerto Rico, who are American citizens but can't vote for U.S. leaders and aren't represented in Congress.
Being a leader
A Protestant himself, he's gotten to know Muslims and Jews and to discuss interfaith issues through Nazareth's Center for Spirituality events. When Nazareth was recognized as among the top five colleges in the country for community service and interfaith initiatives, Figueroa-Lippert presented at a national conference. There he met Housing and Urban Development Secretary Julián Castro. "He took time to listen and said, 'You're the next generation of Latino leaders. Keep it up,' " Figueroa-Lippert says.
When issues of immigration, refugees, religious intolerance, or rights are in the news, he can put a face on the people affected. "I'm much more aware of the issues that our world faces," he says. "Now that I can connect to these regions of the world in a more personal way, it's made me more inclined to speak out about issues."
Coming from a high school where he was the only openly gay person, he realizes his college experiences have made him more comfortable in his own skin.
As he looks ahead to grad school possibilities, his connections in Chile and Barcelona have told him of opportunities to teach English. "Wherever I go, wherever I am, I'll always know someone."
---
Update, 2017: Lippert was hired as a third-grade English immersion teacher at Academia Santa Rosa in Bayamón, Puerto Rico and is pursuing a master's in Teaching English to Speakers of Other Languages (TESOL) at La Universidad Interamericana, Cupey Campus, in San Juan, Puerto Rico.