Each time you open a can of food to prepare a meal or you drink from a plastic water bottle, there is a risk that you are putting the invisible toxin Bisphenol-A, better known as BPA, into your body. Those used cans and bottles then sit in landfills and leach BPA into the soil near neighborhoods where people live. New research from Nazareth College students and faculty just published in a top-tier international journal, Scientific Reports (part of the prestigious Nature Research journals), is the first to show that a plant called switchgrass (native to most of the U.S. and Canada) can significantly help remove BPA from the environment. 
Plastic wastes polluting the earth's water and accumulating on land, releasing toxic leachates, are one of the greatest global threats of our time. BPA is a synthetic ingredient or a plasticizer, an important component of plastic used in plastic food and drink packaging, kitchenware (like those used to microwave), inner coatings of cans, jar lids, and water bottles. BPA has been found to cause numerous adverse health outcomes, including infertility, tumor growth, obesity, and cancer.
"Our study reports for the first time that switchgrass, a non-edible plant, has the ability to remove BPA at its highest concentration ever reported in any environment, which is much higher than its toxic dose," said corresponding author Padmini Das, Ph.D., director of environmental science and sustainability program and assistant professor in biology. "Our study is the first that demonstrates a plant-engineered technology using switchgrass that can be sustainably implemented to remove BPA from surface water, soil, and landfill leachates where BPA concentrates the most. It's a huge public health problem.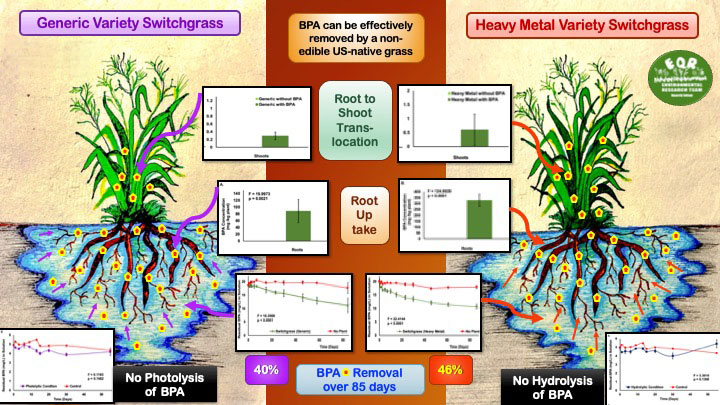 The Findings
A pictorial summary of the findings of the Environmental Quality and Remediation team at Nazareth College: Two varieties of switchgrass, both native to western New York, show excellent ability to clean up BPA from the environment. Within only three months, both varieties removed more than 40% of the BPA. Long-term exposure to BPA can lead to infertility, diabetes, and cancer.
The research started when Das, with more than a decade of experience in phytoremediation research (environmental cleanup using a suitable plant), determined that switchgrass may have the potential to remove BPA. She brought her idea to her students to put into action with their research.
Two Nazareth students who recently graduated are listed as the first authors on the study — reflecting the high-level research experiences that Nazareth provides undergraduate students.
Jacob C. Phouthavong-Murphy '17 and Alyssa K. Merrill '17, founding members of the Nazareth College Environmental Quality and Remediation (EQR) Research Team, started community-focused environmental research along with Das and Stephanie Zamule, Ph.D., director of the environmental toxicology program. They worked on this project for two and a half years and co-wrote the paper with an interdisciplinary team of professors including Das (environmental quality and sustainable remediation), Zamule (environmental toxicology and bioremediation), Carol Roote (developmental biologist) and Beverly Brown (plant biologist) from the Biology Department, along with David Giacherio (organic chemist), a lecturer in the Chemistry & Biochemistry Department.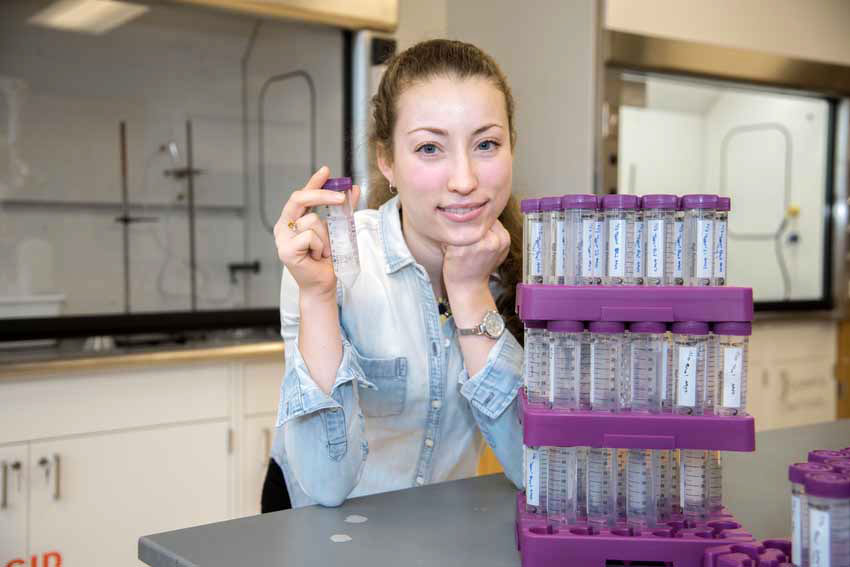 "The research opportunities at Nazareth gave me the experience necessary to apply and be accepted to graduate school. Whether it was through research during the academic year or over the summer, the skills I developed allowed me to show graduate school faculty I was prepared for the rigor of research done at that level. Starting a project from scratch in undergraduate also provided me with the confidence to create my own unique project in graduate school." — Alyssa Merrill '17 (pictured)
Now that switchgrass shows a great potential of removing BPA from the environment, the EQR team's goal is to work with landfill engineers to treat the landfill leachates, to benefit neighborhoods. Switchgrass is particularly suitable for use in any contaminated environment because it is non-edible to humans, it is already widely used for erosion control, and it has great potential as a biofuel source. It's also low-cost and sustainable.
"I don't know of anyone who would complain about planting switchgrass in an area to help stop the further spread of BPA from landfills or other unofficial plastic dumping sites  into neighborhoods to prevent public health risks," said Das. Nazareth's EQR team is also evaluating this grass' potential to remove other toxic components of plastic to see if this approach could address world-wide plastic pollution.
Previously, plants reported in the scientific community to have BPA-removing ability were some algae, a few aquatic plants like water velvet and Illinois pondweed, and very few land plants like Asian rice, broad beans, and wild strawberry. Those plants are all edible, and Das says they should not be used for BPA removal to avoid further human consumption and accumulation of BPA in the food chain.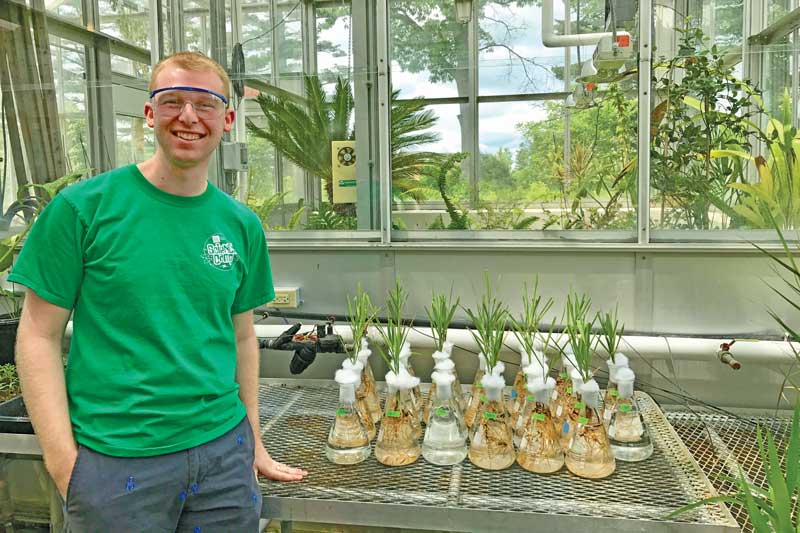 "What I value most from this research is the fact that it can help so many people start other research projects around the world and explore the field of phytoremediation further, maybe even using our techniques described in our paper," said Phouthavong-Murphy, now studying to be a doctor at Touro College of Osteopathic Medicine in New York City.
"Our students involved in this research were part of the project from beginning to end: conducting experiments, analyzing data, and writing the results," said Zamule. "To be such an integral part of the research team as an undergraduate is an experience that few colleges provide, even though it's so valuable to training our future scientists."
Phouthavong-Murphy says this research experience opened up many possibilities for his career and his future as a doctor.
"The instrumentation skills I received at Nazareth were more than other schools because undergraduate students are expected to learn how to run each instrument instead of having a technician or post-doc student doing it. I was able to be the head of my own research. I did every part of my project from the planning, conducting experiments, collecting data, analyzing data, making posters, and writing our paper. Each step of the way, the faculty members were there to assist, but also wanted to give me freedom to learn and explore how to do these things on my own. Publishing a paper as a first author is also a huge step towards achieving my goals of a perfect residency. Even as a medical student, not too many people have published a paper as a first author."
Das added: "I am so glad to mentor them to write this manuscript with us and also very proud that they have deservingly became the co-first authors of this paper. It is rare for undergraduate students to have their names in scientific publications and first authorship is almost unheard of."
Merrill, now a University of Rochester graduate student working towards her Ph.D. in environmental toxicology, says knowing her research helped find a solution that can be used around the globe is incredible and inspiring.
"As a scientist, your whole career is built upon finding solutions and answers to questions that can help as many people as possible," said Merrill. "Having the ability to state that this goal was already achieved on an enormous scale at such an early point in my career is amazing and gives me the motivation to keep researching to accomplish that feeling again."