"It bothers me to see people suffer"
Tinisha Baxter '17 aims to help drug addicts recover

By Katelyn Lugo '16, '18G
Many people lack sympathy for drug addicts and people infected with HIV. But Tinisha Baxter '17 doesn't judge. She sees that often people's challenging environment or upbringing have set them up for difficulties, and she'd like to help people toward a healthier life. After graduating as a double major in nursing and public health, she plans to work in a rehab clinic, supporting addicts to recover and stay on track once they're in the real world.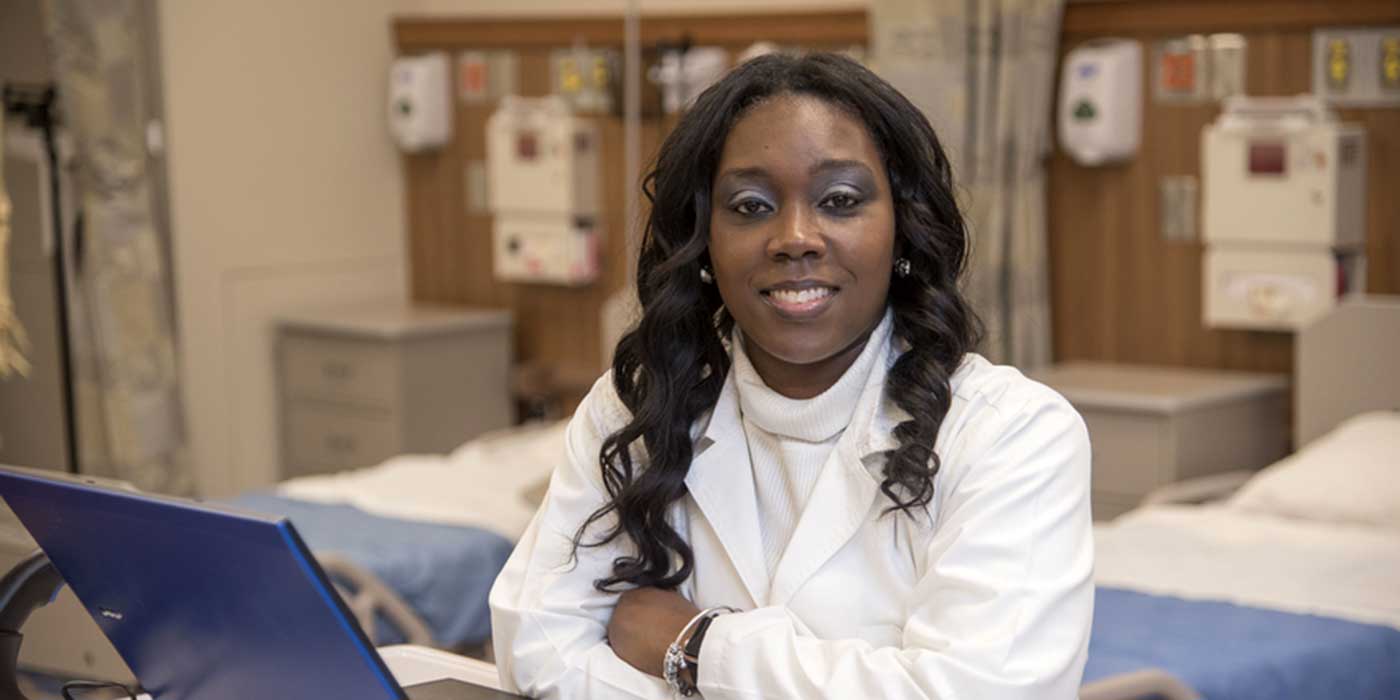 Passion for rehab
"Usually there's a link between people with drug addictions and infectious diseases, because people do whatever to get the drugs," explains Baxter. "I just want to be out there in the community to advocate for them, to help with testing, to get them in rehab, or be the person who follows them after rehab to try to keep them off the streets."
Baxter also wants to volunteer at health drives and direct people to helpful community resources. The motivation to do this kind of work comes from her heart: "It bothers me to see people suffer." At a job she holds at a nursing home, in addition to her full-time school schedule, Baxter has worked with a young patient whose leg was amputated due to diabetes, drug addiction, and lack of self care. "My heart goes out to people like that, and if I can change it for somebody, that's what I would love to do."
Life's a balancing act
Two nursing jobs. A full load of 18 college credits. An internship in public health. You'll find Baxter doing homework on the weekends, late into some weeknights, and even on her lunch breaks at work. Nazareth offers a mix of daytime, evening, and online classes, which Baxter chooses around her work schedule. She manages to prioritize church, family, and friends along with her studies and career. Baxter says everything she's doing now will help her advance her career, which makes it all worth it.
A good push
Baxter began considering going beyond a bachelor's degree because her professors managed to obtain master's or doctoral degrees while balancing family and careers. To encourage her, one of her professors assigned her to research master's programs as homework. Baxter says, "My Naz experience made me want to do more and achieve. It was a good push." After graduation in May, Baxter plans to pursue a master's in public health with a focus on infectious diseases. That degree will raise her pay and open up more advanced career opportunities.
Baxter's professors have been supportive in other ways as well. They share their cell phone numbers, invite phone calls, and readily meet and answer questions. Once, a professor even met Baxter on a Sunday at a Tim Hortons to help her with a difficult topic. "You have these people who are just willing to help and want to see you succeed," says Baxter.
Global perspective
Public health courses on global health have broadened her perspective to understand how health issues interconnect and how countries' health insurance systems and outcomes vary. Some of Baxter's classmates travel to Belize or Rwanda through Nazareth's study abroad options.
Transcultural lessons have been part of nursing coursework because that knowledge is important in any setting, Baxter says. A Chinese-American patient might refuse to take a medication with a cup of water because of yin and yang beliefs that call for drinking something hot before something cold. An Indian man might say he's not in pain while his family is nearby, because of cultural expectations. "You need to learn about different cultures so you can nurse effectively," says Baxter.
Paying for college
Both of Baxter's employers provide tuition reimbursement, dropping her costs to about $500 a semester.