THEIR LIFE'S WORK
Getting the Lead Out
Rebecca Morley '94 translates environmental research into action that improves the health of whole communities.
by Chris Farnum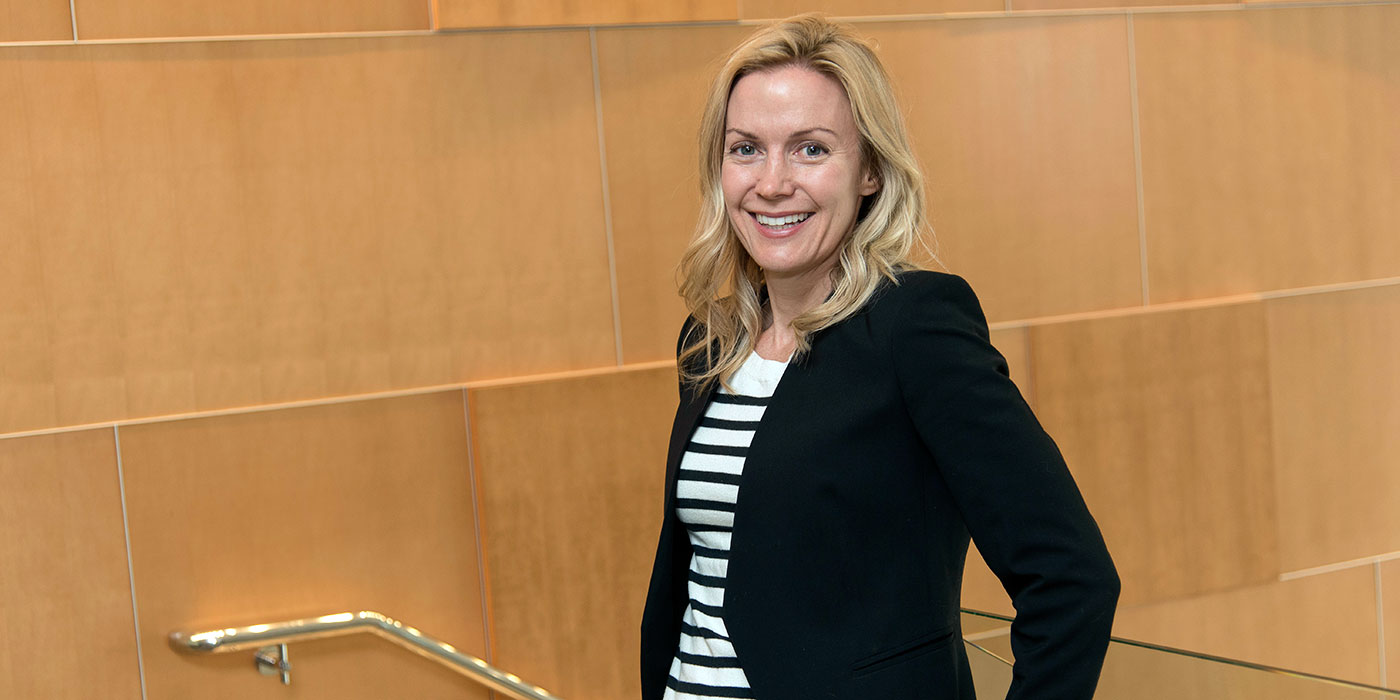 Rebecca Morley visited Nazareth in April 2017 while invited to town to speak at Community Design Center of Rochester's Reshaping Rochester series
Rebecca Morley '94 first thought she'd save lives and improve people's health by becoming a doctor. But she has helped protect the health of many more people by working on environmental health research, policy, and advocacy.
As director of the National Center for Healthy Housing, she worked with advocates in Rochester, N.Y., in 2005 to translate the center's research into provisions of the city's new lead poisoning prevention law. The law, which requires testing for lead dust during inspection of rental homes, was heralded by experts in the field as the "smartest" in the nation. The number of children with blood lead levels of concern — which then was above 10 micrograms per deciliter (ug/dL) — dropped from 900 children diagnosed in 2004 to 206 in 2015.
"The most rewarding part of my job is when the results of our national research and policy work are used to improve community health," says Morley, who now directs the Health Impact Project, a collaboration of the Robert Wood Johnson Foundation and the Pew Charitable Trusts in Washington, D.C. The Rochester lead project, she says, "allowed me to take research we'd developed and published nationally and translate it to policy at the local level in partnership with local experts and advocates. Rochester was going to have a lead law — but the work we did helped to shape it." As a native of Victor, N.Y., she enjoyed being able to help her hometown.
She's been invited back to talk about using data to make decisions that affect neighborhoods and health, from redeveloping brownfields and vacant lots to considering a neighborhood school model. "All have effects on people's health and on children's health," says Morley. "Where and how we build makes a difference for school quality, access to health care, and transportation. It's still too rare for decision-makers to look at the implications of their decisions for health and health equity."
She began at Nazareth as a transfer student in pre-med. "Then organic chem happened: the great weeder," she recalls. Meanwhile, she discovered that what she liked about science was its practical use, so she became an environmental science major — which better played to her natural strengths and interests.
Among her great college experiences:
Summer research on ways to get lead out of soil. That phytoremediation research continues today by professors and students at Nazareth.
Environmental field study on primate ecology in Costa Rica through the School for Field Studies program.
She also studied for a semester in France. Reflecting on her college and work experiences, she offers this advice to today's students:
Do things to stretch yourself. "Being comfortable taking some risks served me well later in life."
Develop good strategies for organizing your time, managing deadlines, and balancing work with time for friends, family, and exercise. "I was forever pulling all-nighters and then falling asleep in class," she admits. (Nazareth's Center for Student Success can help.)
Be proactive and use the college's Career Services (and the new Center for Life's Work) to explore careers, get resume help, and do mock interviews.
"Get real-world experience while in college. Take the job at a non-profit community organization. You'll learn a lot and make a contribution. Consider what you're passionate about, then reach out and ask if they have summer positions and ask if a stipend is available."
The environmental science field is vast. Getting an advanced degree is helpful to distinguish yourself — but work first, so you have that grounding before grad school.
Take time to continue developing your skills. Learning shouldn't end with college graduation.
Morley went on for a master's of science in public policy at the Georgia Institute of Technology with a concentration in environmental science. She has worked in the federal government and the U.S. Senate, where she was responsible for major children's environmental health laws and regulations. Her day-to-day work now includes overseeing grants to community-based organizations, policy, and research work. She is glad to have found her life's work: "Policy gives you the opportunity to reach many people through systemic change."
---
Chris Farnum is the assistant director for web communications at Nazareth.