Teaching and "wow" moments
Teaching is the heart of my work at Nazareth, and my heart is in teaching. Nothing is more exciting than to walk into a classroom on the first day of classes with the hope of making all of our students' academic experience as memorable and transformative as my own has been. What I am most passionate about is creating intellectual "wow" moments. The first ingredient is usually a concept, an idea, or an argument — whether it leaps from recent and cutting-edge scholarship or lies hidden amidst the intricate passages of a 17th century classic — that is quite unexpected, underappreciated, or even stunning! But the more important ingredients are the students themselves who suddenly realize that — "wow!" — this concept, this idea, this argument opens their eyes to something important, something they have not seen before, something that might make them live and act differently in the world.
What's your academic passion?
I love teaching every single one of my courses because there are so many new political developments — here and around the globe — that my courses are never the same twice. And there is both urgency and excitement about multiple political challenges we must rise up to!
Courses taught
Contemporary Political Theory
Healthcare Politics: U.S. Policy in Comparative Perspective
Modern Political Philosophy
U.S. Constitutional History I and II
U.S. Social Policy in Comparative Perspective
Ukraine, Russia and the West: Historical Roots of the Current Crisis
Why Nazareth?

I love my job at Nazareth for so many reasons but the top two are my students and my colleagues.
My students are a pleasure to work with and exhibit elements of character that, as a political scientist, I value highly: politeness and civility. Our students are not avoiding difficult issues or active political participation. Far from it! But they do understand that systematic adherence to the practice of mutual respect is an essential part of life in a successful democratic society. And that is what we need in our future leaders.
It is hard to find a nicer or more interesting bunch of people than my departmental colleagues. And that is a real feat on a college campus that is rightly praised for being super friendly and exciting. I regularly bring up something about my colleagues in my own classes or during meetings with students and  recommend my students take their courses. I hope that all of my students will take at least one course with each of my colleagues because they are truly outstanding teachers with unique perspectives, styles, and insights.
What I'm proud of at Nazareth

When I joined the Nazareth faculty in 2006, I did not plan to offer courses focused on my native Ukraine. After all, my expertise was in American politics and political philosophy, and there were plenty of courses to develop in those areas. But in the fall of 2013, Ukrainians rose up to defend not only their own young democracy but, without exaggeration, the fate of freedom and rule of law in the world. One of my proudest achievements has been to develop a course focused on the historical roots and global implications of Ukraine's Revolution of Dignity and to lead the first student and faculty learning trip to Ukraine in May 2019. The College now has multiple partnerships in Ukraine — from its finest universities to vibrant civil society organizations — and I am confident we will travel to learn in Ukraine again.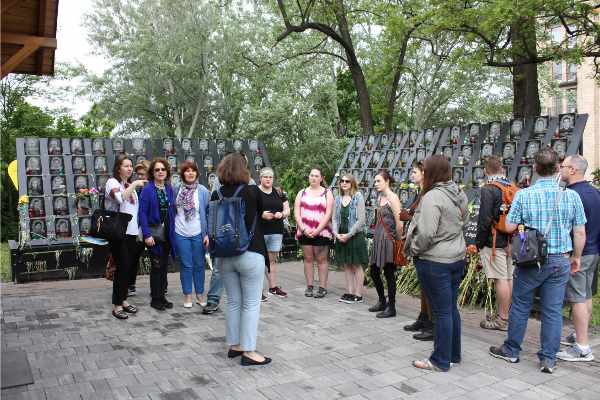 Olena Prokopovych with the Nazareth group at Heavenly Hundred Memorial in Kyiv, Ukraine, one of many commemorative sites for 100+ protesters who gave their lives during the massive 2013-2014 Euromaidan protests — also known as Revolution of Dignity.
Preparing students for life after Nazareth
Our students pursue different career paths after Nazareth, from public service and political campaigns to law and international relations. One thing that unites all of these career paths is that success depends on one's ability to keep up with complex and voluminous bodies of writing produced in these professional fields. For this reason, one of the most important goals in every course I teach is to elevate my students' research, writing, and communication skills. I have invested lots of time into developing consistent and effective tools to reach these goals. Nothing makes me prouder than to see my students become skilled researchers, polished writers, and effective communicators.
Fun Facts
Born and raised in Ukraine, which at the time was part of the USSR. 
Active member of Rochester's Ukrainian-American community. 
Occasionally translates Ukrainian poetry.
Married to a lawyer and loves to advise students who are considering careers in law.
Loves to bring her twin boys to campus for a variety of experiences, from a bike ride on a sunny afternoon to concerts and music lessons at our wonderful Arts Center. When the twins were first-graders with a budding interest in Harry Potter novels, they asked if our campus was like Hogwarts. Our campus — and especially the storied Golisano Academic Center where our department offices and classrooms are located — is magically beautiful.
A recent but passionate fan of Baroque opera.
Enjoys learning Italian through opera and taking voice lessons.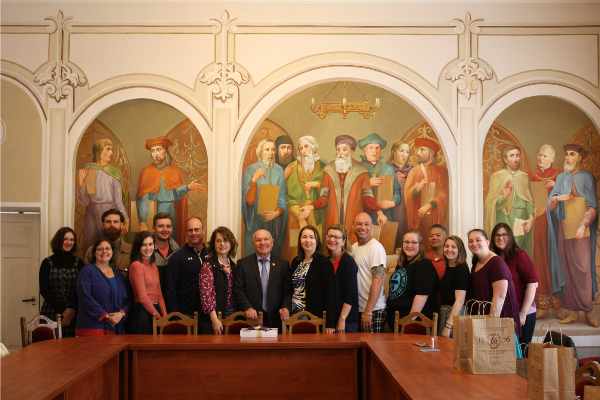 Olena Prokopovych and the Nazareth group at a reception and award ceremony in Ostroh, Ukraine, offered by the rector (president) of our Ukrainian partner institution, the National University of Ostroh Academy, which traces its origins to the original Ostroh Academy, the first institution of higher learning in Eastern Europe, established in 1576. In the center is Dr. Ihor Pasichnyk, rector (president) of the University.