Phi Alpha Theta History Honor Society
Alpha-Kappa-Gamma is Nazareth College's chapter of Phi Alpha Theta. This national professional society's mission is to promote the study of history through the encouragement of research, good teaching, publication and the exchange of learning and ideas among historians. We seek to bring students, teachers and writers of history together for intellectual and social exchanges, which promote and assist historical research and publication by our members in a variety of ways.
Nazareth's chapter participates in the annual West/Central New York State regional meeting of Phi Alpha Theta, a conference that enables undergraduates to present original research for competitive awards.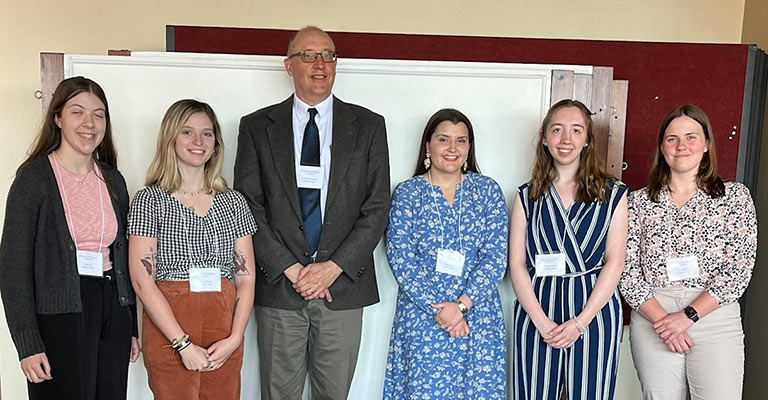 2022 conference
Nazareth students at the Eastern Pennsylvania and Central/Western New York Regional Phi Alpha Theta History Honor Society conference in April 2022 at Mansfield University.
Left to right: Kayla Petri; Chiara Osborne; Nazareth history Prof. Timothy Thibodeau, Ph.D.; Jessica Michels; Emma Baldwin; and Nina Stockman.
Conference presentations
Emma Baldwin, "The Buffalo Pan-American Exposition (1901 World's Fair): An Emblem of Optimism and Influence"
Jessica Michels, "Patroon, Patriot and Major General: Philip Schuyler's Controversial Involvement in the Revolutionary War"
Chiara Osborne, "Reinventing the Wheel: The Judson Dance Theater and Postmodern Experimentation"
Kayla Petri, "Iroquois Women: Gender Roles, Resistance, and Adaptation"
Nina Stockman, "America's Anarchist: The Unintended Consequences of Assassinating William McKinley"
Induction Ceremony
Congratulations to our newest inductees (October 17, 2021):

Caroline Breitweiser, Madison Coline Darrell, Kathryn Elizabeth Emerson, Kayleigh Lynn Hegerle, Zachary Donald Herbert, Jessica Klem, Simone Gorgievski, William Joshua Levesque, Chiara Michelle Osborne, Sarah Jean Smith, Hannah Tulchinsky, Tena Wehrlin
Honor Cords
Want an honor cord for graduation? Members can order them directly from PAT.