Phi Alpha Theta History Honor Society
Alpha-Kappa-Gamma is Nazareth College's chapter of Phi Alpha Theta. This national professional society's mission is to promote the study of history through the encouragement of research, good teaching, publication and the exchange of learning and ideas among historians. We seek to bring students, teachers and writers of history together for intellectual and social exchanges, which promote and assist historical research and publication by our members in a variety of ways.
Nazareth's chapter participates in the annual West/Central New York State regional meeting of Phi Alpha Theta, a conference that enables undergraduates to present original research for competitive awards.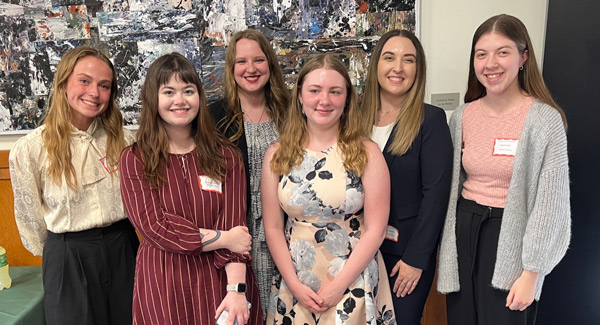 2023 conference
Nazareth students at the Central and Western New York Regional Phi Alpha Theta History Honor Society conference in April 2023 at at Le Moyne College in Syracuse, New York.
Left to right: Isabella Rehermann, Rheanna Barney, Kayleigh Hegerle, Katherine Paulus, Madison Darrell, and Kayla Petri.

Petri earned "Best of the Conference" honors.
Conference presentations
Rheanna Barney, "A Miraculous Failure: The 1616-1619 Smallpox Epidemic of Massachusetts Bay and the Native American Response"
Madison Darrell, "Enslavement Interpretation and Visitor Experiences: A Case Study of Three Sites Joined by a Common History"
Kayleigh Hegerle, "Correcting Our Material Past: The Decolonization of Museum Collections to Establish Diversity, Inclusion, and Community"
Katherine Paulus, "The Horrors of Feminism: Second-Wave Feminism and Horror Movies in the 1970s"
Kayla Petri, "Her Antifeminist Crusade: Phyllis Schlafly's STOP ERA Movement and its Consequences"
Isabella Rehermann, "'Take It Easy' to 'The Sad Cafe': The Eagles and the 1970s"
Induction Ceremony
Congratulations to our newest inductees (April 2, 2023):

Jordyn Suzanne Bagley, Emma Nicole Baldwin, Rheanna Barney, Caroline Farrell Bennett, Joseph Cataldo, Benjamin Chaddock, Emma Gurney, Morgan Jachim, Ashley R. Jenkins, Kaylee Kelly, Devan Ketcham, O.R. Losito, Finnegan Noel McMaster, Liam Miller, Noelle Pappano, Kayla Petri, Aidan Quinn, Isabella Rehermann, Maria Rosato, Robert Soutar and Elyse Yanusas
Honor Cords
Want an honor cord for graduation? Members can order them directly from PAT.