Background and expertise
Teaching full-time at Naz since 1988: "I have spent over three decades in college classrooms sharing my love of history with generations of students."
Why history: "I got hooked on history by wondering about my own roots. Growing up in a French-Canadian, Catholic family (where French was the primary language spoken), I was keenly interested in the history of Catholicism and my ancestors' roots in France. This developed into an academic interest in the history of Medieval France and of Christianity in general. Now I study manuscripts that are more than 1,000 years old and have had the pleasure of traveling to remote monasteries and cathedrals in France and Italy to contextualize my research."
Expertise: Journalists regularly interview Thibodeau about papal history, such as the election of Pope Francis. Thibodeau contributed to a History Channel documentary, commenting on history and forensic issues associated with various relics of the crucifixion of Jesus.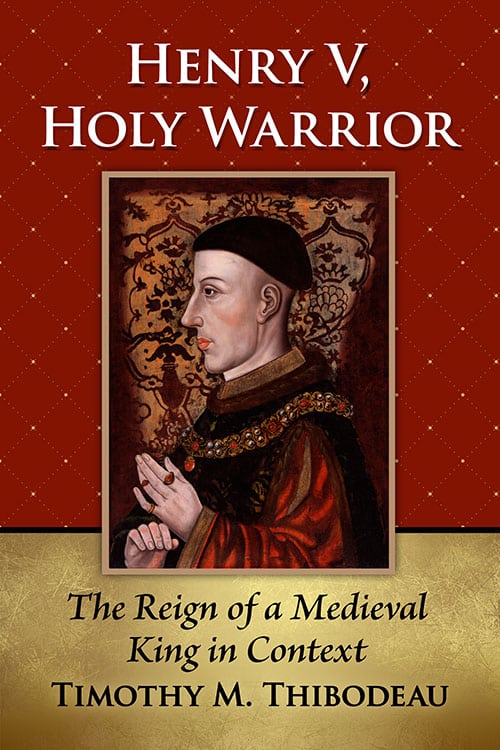 Author
His book Henry V, Holy Warrior: The Reign of a Medieval King in Context (2022) explains how King Henry V of England — who's both renowned and vilified — was guided by a well-thought-out philosophy that united political power, religious devotion, and military success. The book includes the most up-to-date research on Henry V's reign, with a focus on historiography, and shows his role in English history.
Courses I teach
"I teach 'pre-modern European' courses, from Ancient Greece to the end of the Tudor dynasty."
Western Civilization I and II
Tudor England
Roman Empire
The Black Death and the Transformation of Europe
Joan of Arc: Myth, History, Representation
Historical Methods (Ancient Warfare)
The History of the Crusades 
Favorite course: Western Civ. "Western Civilization I has a large number of non-majors and freshmen. I enjoy having students who originally might have no interest in this material, who come to appreciate how rewarding and fun it can be to study the past and to learn important lessons from history."
Newest course: Joan of Arc. "I enjoy examining with students not only her life in a historical context, but how she has been represented and imagined in film and pop culture. I have nearly finished a biography of Joan which will serve as a companion to my forthcoming biography of English King, Henry V."
Why Naz?
Faculty-student community: "Our department has a strong sense of community among the faculty that is generously shared with our majors. We spend considerable time outside of the classroom meeting with our students, sharing social events together and most importantly, sharing good stories and good laughs together."
Faculty-student conference experiences: "I am the faculty adviser for our local, active chapter of the national history honor society of Phi Alpha Theta. Every year, a group of our students present papers at the PAT regional history conference, and we have won quite a few 'best of the conference' awards in the past decade."
Study abroad: "I also encourage students to take advantage of our outstanding study abroad programs. I had the good fortune of being with a group of Nazareth students in Berlin in November 2009 for the 20th anniversary of the fall of the Berlin wall."
More
Download Professor Thibodeau's curriculum vitae (CV) >>