Why do you love social computing?
I find social computing so interesting because it brings super nerdy ideas about computer and data science into the practical realm of how we live, work, share, and play through online technologies.
Why Naz?
I joined Naz in fall 2020 to help launch two new majors:
I'm really excited about launching these programs at Naz. These programs are truly visionary. No one else is offering this caliber of coursework. Other campuses across the nation are watching our progress. Because we're so new, I intend to give students a lot of say in how my classes move forward to best meet their needs and interests.
I bring a broad range of public and private sector experience, from social work and investigative news reporting to technology startups, that grounds my teaching in real-world examples.
Favorite course?
Data science is actually a very creative endeavor which surprises a lot of students.
I love teaching programming to newcomers because for most students, it is their very first time learning to code. Everyone is so supportive of one another and we have so much fun because we're all in it together. The projects are really impressive too. The class is designed so students can use their class projects as portfolio items when applying to internships and jobs to showcase their practical programming and problem solving skills. Among the courses I teach:
Revolutionary Computing: Programming & Problem Solving
Can Computers Think: An Introduction to AI & Machine Learning
Disinformation: The Role of Tech in a Post-Truth World
How do you engage students?
Giving students a big say in how they develop their own projects is such a thrill. To see them think through really hard societal problems and develop creative ways to build knowledge is very rewarding and gives me a lot of hope for our future. 
For example, I had a student design an experiment that tracked and analyzed her own social media data over several weeks to understand whether the platform algorithm was serving up ads based on offline conversations and behavior. Spoiler alert: Maybe; more study is needed.
Fun fact
I am a Peace Corps Response volunteer and was posted to the Republic of Vanuatu, an archipelago nation in the South Pacific that is over 8,000 miles from Rochester. Vanuatu is the world's most at-risk country for natural hazards and faces threats from cyclones, earthquakes, tsunami, sea-level rise due to climate change, and even volcanoes. It was here that I developed my interest in researching humanitarian crisis response.
Machine Learning as an Emerging Social Justice Tool
"How we talk about refugees matters," says computer science Prof. Wendy Norris of Nazareth's Institute for Technology, AI & Society. She's using machine learning to research how news accounts describe refugee crises. See her magazine essay.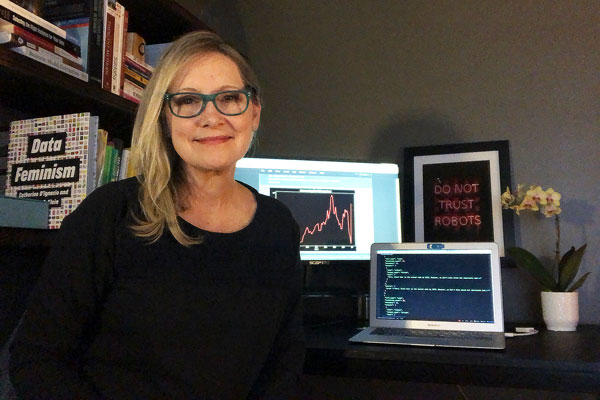 Student View
"Prof. Norris is excellent at breaking down larger, overarching concepts of data science into smaller pieces that make learning much more manageable and fun, especially for those who may not have much experience with the subject matter," said Louise Ly '15, '21G, who's earning a master's in higher education student affairs administration.
"In my Computer Programming class with her, she introduced projects within each module that built upon the previous module. So we were never starting from scratch, and we could practice the skills we were learning. Each student had different outcomes for their final projects because we were allowed the freedom to ask questions of the data that were interesting to us as a person, but still exercised the same skill sets we gained in class."
FACULTY SPOTLIGHTS
Wondering who else you can learn from — and who will support and challenge you? Check out more Faculty Spotlights.