Why religious studies?
"For me, the study of religion never gets old because, in a word, it matters. Woven through cultures around the globe, inspiring mystery and meaning, violence and peace, religion is an important part of what makes us human."
Why international and global studies?
"The beauty of this degree is that it offers students multiple lenses (anthropological, economic, historical, sociological, political, and religious, to name a few) through which to explore global issues and processes. At the same time, in-depth language learning and study abroad enables a deeper, more experiential, dive into regional areas of interest." Dempsey is the director of the program.
Since 2011
Dempsey has been teaching at Naz since 2011, after teaching in Wisconsin for 12 years.
World traveler
"My adventures in religious studies have taken me across the planet. During graduate school, I spent a year in tropical south India where I studied similarities between ancient Christian and Hindu practices at local shrines and temples. After that, I focused my attention on a south Indian Hindu temple here in upstate New York where the head priest, in defiance of the rules, trains women to be priests. Most recently I have been spending time in northern Iceland where I have been interviewing healers and mediums who work with spirits." Read Dempsey's essay about spirit practices in Iceland.
Stories to tell
"Thanks to the very fortunate world-hopping life I lead, I have stories to tell. Because I love to write, many of these have ended up in books and articles, some of which I use in courses. Most enjoyable for me, however, is bringing students to religious sites near or far, where they can make discoveries of their own. In the past five years, my husband and I have twice led Naz students to our favorite religious sites in south India. While classroom encounters can provide deep learning, there is nothing like first-hand experience to bring religious concepts, in all their human richness, to life."
Courses I teach
"Strangely enough, my favorite course is the introductory Exploring Religion (RES 101) that all of us in the department teach. I know that many students arrive into this class with a sense of uncertainty, wondering, 'Why is Nazareth making me take this course? Is she going to try to convert me to (fill in the blank)?' By our second week, after discussing how ignorance about religions has led to violence and exploitation historically and, alarmingly, through the present day, most students are on board. With this, we are given a sense of common purpose. Although it's a tall order to cover the world's religions in one semester, I consider teaching RES 101 — especially when faced with those who would otherwise have no interest — to be one of the most important things I do as a professor."
Upper-division courses I teach:
Hinduism Practiced: Yoga, Emotion, and Devotion

Women and Goddesses in India

Mysticism and Spirits: Altered States across Cultures

War and Peace in World Religions

Religious Pluralism in Practice: Kerala, South India

Global Asia

Religion, Healers, and Healing across Cultures (new course I'm developing)
Why Naz?
"Faculty in the religious studies department at Nazareth College take their work seriously. We tend to go the extra mile to bring our students with us in a variety of ways both inside and outside the classroom. Whether focusing on matters such as human rights, genocide, U.S. politics, or the environment, we are eager to consider the many ways religion impacts the world around us, for better and for worse. At the same time, through our partnership with the Hickey Center for Interfaith Study and Dialogue here at Nazareth, we aim to acquaint ourselves deeply with individual faith traditions. We do this with an eye to promoting understanding and, in our own small way, to paving a much-needed path to peace."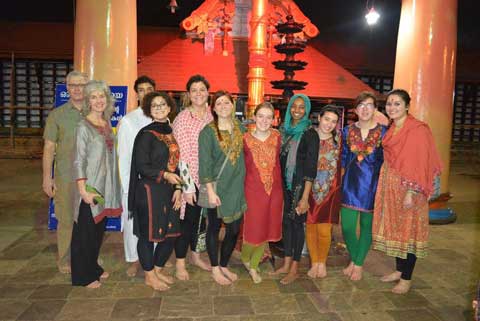 "The aspect of religion that most fascinates me is how religion and culture intertwine and inform one another. This has led me to explore religious practices typically thought to be 'out of place,' such as Christian pilgrimage and saint devotion in south India and Hindu temple worship in North America. My work has led me to the joys and challenges of comparison, a process that looms large in my courses, my writing, and in my recent adventures with Icelandic trance mediums and spirit healers."
— Corinne Dempsey (second from left) with students and others in front of a Hindu temple in Ernakulam, Kerala, India, in 2016
"Dr. Dempsey created a 14-day academic experience that allowed students to jump into the religious, social, and historical culture of Kerala, India, not as tourists but experiencing traditions that have been going on for thousands of years. We learned from her local friends, professors, and religious leaders. We visited temples and experienced traditions that began thousands of years ago. Dr. Dempsey will go to great lengths to ensure that her students are receiving the most authentic and enriching experience."
— Angela Tona '17, a social work major with minors in religious/interfaith studies and music
Books by Dempsey
The Goddess Lives in Upstate New York: Breaking Convention and Making Home at a North American Hindu Temple (used in Hinduism Practiced class)
Kerala Christian Sainthood: Collisions of Culture and Worldview in South India
Bringing the Sacred Down to Earth: Adventures in Comparative Religion
Bridges Between Worlds: Spirits and Spirit Work in Northern Iceland (October 2016, used in Mysticism and Spirits class)
"Dr. Dempsey doesn't just lecture. She professes her life's work and experiences as a thoughtful, elegant, and engaging story. While her unparalleled excitement is enough to make class enjoyable, I walked away each day learning so much more than was promised in the syllabus. Dr. Dempsey provides insight, challenges you, asks the tough questions, and encourages you to think about the world and the way it works on a larger level. Dr. Dempsey also makes herself relatable to students, treating you as a peer and providing a sense of inclusion. I never felt nervous to speak up in class, or ask questions, and I always felt appreciated for thoughts I shared. In one religious studies course, I gained years worth of learning."
— Megan Matott '14, a biology major and religious studies minor who went on to medical school at West Virginia School of Osteopathic Medicine
Faculty Spotlights
Wondering who else you can learn from — and who will support and challenge you? Check out Faculty Spotlights.