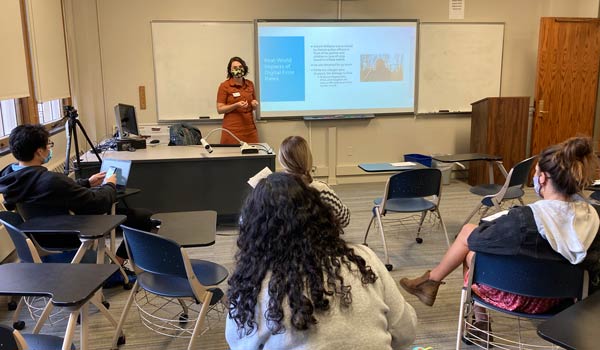 Student View
"Dr. Wahl is an outstanding professor! She creates an atmosphere where students not only learn directly from her, but from one another. She provides students with relevant materials that keep the class interesting and enriching! You feel comfortable having relevant discussions on important issues that we tend to forget about. She gives outstanding feedback on assignments to help you learn and grow."
— Korinne Shaver '21, psychology major
Why sociology?
I like sociology because it is a discipline that explains behavior in a way that encourages empathy. There are many things about the world that I found confusing before I took a sociology class: Why do we care so much what other people think of us? Why is our family upbringing so important for our future? Why do some people have so much more money and privilege than others? The sociological perspective encourages us to consider the social structures that influence our behavior. It deploys data and methods to dismiss overly simplistic explanations for social patterns. In short, it explains a lot of things that may delight or trouble us on a daily basis — it's like the science of everyday life. And I think that's cool.
Technology and you
My biggest goal is to educate students, or consumers since we all consume technology, about how impactful and important they are to technology and how it's used.
Many people and students believe that if they are not coding software or working in Silicon Valley that they can't control the narrative of technology. That's just not true! You can work to demand accountability on how these companies use your data and also work to help protect it. The United States is severely behind in regulations and accountability for big tech and data protection.
What's your teaching style or philosophy?
When it comes to technology, most students are incredibly tech literate and savvy regardless of what they're studying or interested in, but they may not realize it. I aim to empower students of other disciplines and invite them to the table to learn about tech, how it impacts our lives, and how, as users, we can all enact change. It's easy to make these courses relatable as social media and tech have become such integral parts of everyday life and social interaction. I try to give students assignments that put them in the view of the researcher analyzing their use of social media and technology. We all use this stuff every day but very few realize the impact and importance of our actions. Awareness is the first step and I want to spread that to everyone, not just technology students.
How might technology affect education in the future?
Technology has already had profound impacts on education and that will continue to grow exponentially in the years to come. (Case in point, this faculty interview was conducted over Zoom!) As more education and learning move online, my biggest concern is that snow days will be a thing of the past. You can't call a snow day if all you need to go to class is a laptop!
All kidding aside, I believe technology has the ability to positively impact education in an enormous way but there are also some troubling trends. Surveillance software that is being implemented in many grade schools does not create an environment of trust and accountability that is needed in education. People need to want to learn, not be coerced or threatened to.
Burnout is also a very real thing to educators currently, along with everyone else. Working from home or online creates the mentality that you should always be available and productive. Not separating work and home severely leads to burnout. Couple that with a phone that is designed to demand your attention and that can dramatically impact the efficacy of not just teachers but students as well.
In short, technology will be (and has been) critical for educators going forward, but we should be mindful of how we use it. More advanced technologies in the classroom do not always result in better learning.
Why Naz?
I grew up in Fairport and graduated from Fairport schools. I love Rochester and upstate and couldn't be happier that I'm able to pursue my work so close to home.
I also wanted to be at a teaching-focused institution while also pursuing research, and Nazareth encourages this balance.
Plus, both of my parents graduated from Nazareth! They were music theater majors back in the day.
This was the perfect position at the perfect time, and I feel so grateful to be able to join this community and grow a new field of technology studies at the college.
Advice I would give to students
Read widely and don't be stuck in your major or background. So many disciplines are trying to teach you the same thing in different ways. You can learn as much by looking across disciplines as you do inside your own. A varied and liberal arts education is the bedrock for critical thinking and being successful in anything you pursue.