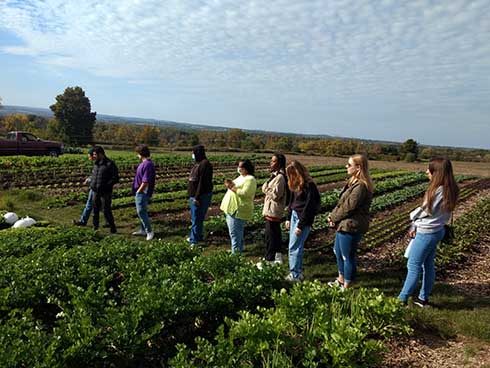 Environmental Sociology
Roy and her Environmental Sociology class students visited a farm where the farmer practices regenerative agriculture. Read more ≫
Find your passion
"In sociology, you can choose to investigate your passions — such as social inequality, concentration of wealth in the hands of the powerful few, and social movements related to climate change. If you are interested in more pointed subjects, such as questioning whether high school and college students in the United States are responding better to the Swedish teenager Greta Thunberg's message on climate change than they are to (U.K.-based) Roger Hallam and the Extinction Rebellion's message on climate change, then you can research that topic."
Always search for the why
"I love that sociology topics can be current or historical; we can study all topics related to society! The issues we study in sociology may affect only a small community, or they can include the most difficult problems that have always existed at a global level. In sociology we like to know the why. If that is the case, why? And why does this even matter?"
Nazareth is committed to social justice
"I love teaching at Nazareth College for two reasons: First, it was founded by a community of courageous women about 100 years ago, and the feelings of community solidarity are still very strong today at our college. Second, since the beginning, Nazareth College has had a strong commitment to social justice. I am passionate about social justice and I chose to become a sociologist because of my commitment to social justice issues. I am really glad that Nazareth faculty, and our department in particular, talk the talk and walk the walk when it comes to teaching and learning about social justice issues."
Naz students are open-minded
"What I particularly like about Naz students is that they share the commitment of the faculty to social justice issues. I really like that Naz students are truly open-minded and enthusiastic about learning new information about a topic. Most Naz students are willing to listen to those with opposing views or opinions and are willing to view new data and evidence."
Case studies bring learning alive
"I like to use case studies to bring to life concepts that can be very abstract and difficult to understand. Most people make claims about social issues — such as "Drinking too much soda-pop leads to obesity and diabetes" or "Vaccines cause autism."
In my class on Social Problems, we learn about the process of creating or constructing claims. Some claims effectively draw public attention and lead to collective action and new policies to solve social problems. Other types of claims — such as pro-life or pro-choice abortion positions — typically generate resistance and don't change minds.
The course helps us understand our times and our society better."
Focus on important issues
"In my course Race, Ethnicity, and Society, we discuss whether environmental racism (by which we mean the phenomenon of a community of color, often poor, having to bear the brunt of environmental toxins, as happened with the recent drinking-water contamination in Flint, Michigan) is a phenomenon that has appeared in only the last 50 years or so, or whether it has existed since colonial times.
"After we provide the context, we deconstruct the issue further by asking probing questions: Why did people install lead pipes to carry drinking water in the first place? When did we discover that lead is poisonous? What is the maximum permissible amount of lead in drinking water and who decides that? Should the limit be zero? Is there really a safe limit to the amount of lead in drinking water? We also think of solutions. What can we do as a society to make sure that very young children are not harmed by lead poisoning in Rochester, NY; Flint, MI, and everywhere else?"