By Katelyn Lugo '16, '18G
Passion for design
"Both of my parents were working artists — an opera singer and a jazz musician — so I started acting professionally on my third birthday. It was cheaper than a babysitter! Design found me when I was an undergraduate. I was naturally handy with tools, and my work study position was in the scene shop. The work I did there really informed how I approached moving on stage because I knew how everything was built. When I started to seriously focus on design, all the choices I made as a designer were informed by what muscle memory taught me when I was acting."
Prior to obtaining his Master of Fine Arts degree, says Shannon, "I left the corporate world and started what became my journey to Naz, landing here in 2010. I took about a 20% cut in salary with a 95% increase in happiness. This position was always my dream as a baby designer. In college, I had three amazing, mind-blowing professors who worked hard for me, and I believe I work really hard for my students. This is how I pay those professors back. I'm trying to do my miniscule bit to pay it forward and continue the art of theater."
Call me Allen
"I insist students call me Allen. I think I come off as genuine, and I believe students find that engaging. I never let myself forget what it's like to be that butt in the chair." Despite his casual attire and approachable manner, Shannon expects students to do their best.
Scene shop is for everyone
Shannon believes that working in the scene shop is beneficial to both theatre majors and non-majors. He has seen several non-major students use lab time in the shop as a de-stressor from their regular workload. Shannon has even hired a few to work in the shop part-time. Having non-majors in the shop allows theatre majors, who practically live in that space, to meet other students with different backgrounds, says Shannon.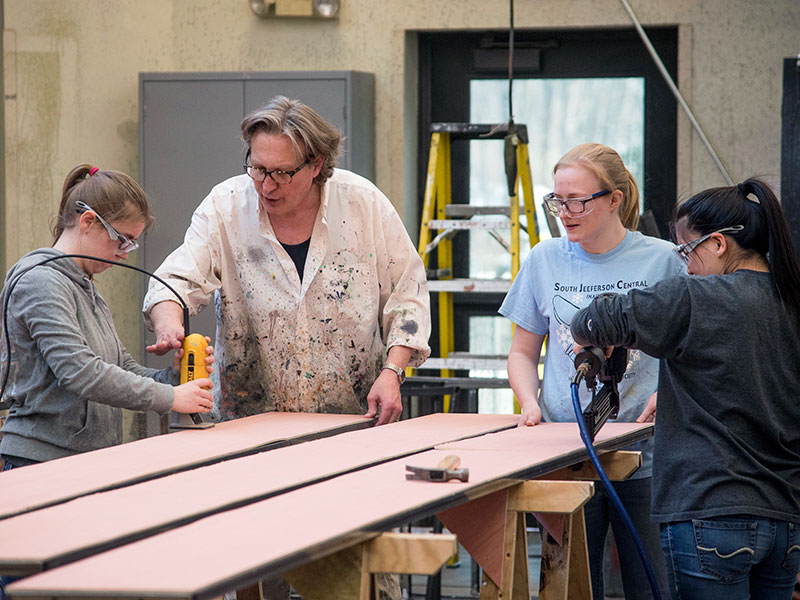 Allen Shannon and students prepare scenery for 9 to 5, The Musical spring performance in Callahan Theater at Nazareth College
Hands-on work in the shop
Shannon says at a college like Naz, "Students get into the shop and start working hands-on right away and much sooner than at a larger college. They get direct and frequent access to full-time professors from day one. We teach students everything from carpentry and scene painting to equipment usage and electrics. They will get a really broad understanding of design, along with specialized knowledge depending on their degree program. This creates a really well-informed and well-rounded artist."
"Students have school work and lab work. When they have production work on top of all that, they have to learn time management and setting priorities. I think our students have a leg up because they have the opportunity to do things earlier on in their academic careers at Naz."
Learn to think
"Students have to know how to think and not be afraid to question. I'm not interested in what they believe, I'm interested in why they believe what they believe. They need to think for themselves." To truly understand theatre, "One must appreciate politics and religion, geography and geology, history and economics — for the literature to make sense," says Shannon. "We need to understand what created the art before we can give it a place to live onstage."
Courses I teach
Intro to Theatre Analysis
Scene Design I and II
Scene Painting
Styles and Ornamentation for the Theatre
Portfolio Seminar
Rendering for the Theatre
"Each course is specifically targeting a goal, and all of those various goals are critical to the artform and to learning in general. The common thread in all these courses is sound research and critical thought."