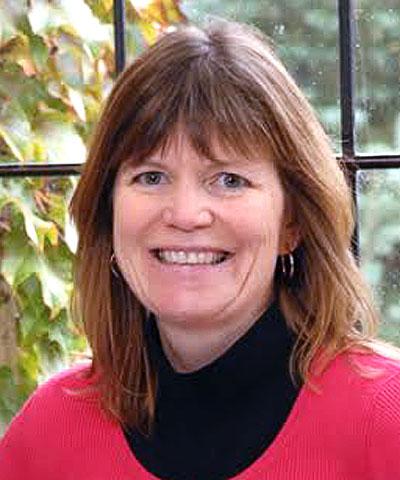 Lynn O'Brien

Professor of Biochemistry in Chemistry and Biochemistry
Bio

Education: B.S., St. John Fisher College (Chemistry); Ph.D., University of Rochester (Biochemistry).

Teaching and Research Interests: Biochemistry, molecular biology, and organic chemistry. Students in my laboratory and chemistry courses demonstrate an understanding of the flow of biological information from DNA to RNA to protein.
Why Biochemistry?
"I chose to study biochemistry because it probes the fundamental question of 'What does it mean to be alive?' Biochemistry looks at how a collection of inanimate atoms such as carbon, hydrogen, oxygen, phosphorous, and nitrogen interact to build the biomolecules necessary for the development, maintenance, and reproduction of organisms as diverse as E. coli and human beings. New and exciting discoveries are made each day that advance our understanding of the processes that occur in living organisms and how we may impact their quality of life. With each discovery the ethical scientist should consider not only 'Can we do it?' but also 'Should we do it?' "
Courses I Teach:
Biochemistry I
Biochemistry II/Molecular Biology
Scientific Research
Fundamentals of Organic and Biochemistry
General Chemistry
Background and Expertise
From postdoc fellow to Nazareth professor: "I began teaching at Naz in 1997 after completing a postdoctoral fellowship in the Department of Hematology at the University of Rochester where I studied the interaction of two proteins involved in the blood coagulation pathway that may be defective in the disease hemophilia. My expertise lies at the interface of biology and chemistry, specifically in the areas of protein biochemistry and enzymology."
Collaboration in health sciences: "Recognizing the interdisciplinary nature of science and its application to human health, we recently developed a new degree program in Biomedical Sciences that I co-direct with my colleague, Stephanie Zamule. This program prepares students for technical careers in research and industrial settings as well as graduate/professional studies in health and life sciences areas such as medical, veterinary, dental, pharmacy, physician assistant, chiropractic, optometry, or podiatry programs."
Student research tackles gastrointestinal illness: "Currently, my research with undergraduate students at Nazareth looks at the interaction of two bacterial proteins, intimin and the translocated intimin receptor (Tir), which play an essential role in the attachment to the intestinal epithelial cells by enteropathogenic and enterohemorrhagic E.coli (EPEC and EHEC). EPEC is the cause of severe infantile diarrheal disease that occurs in many parts of the developing world, whereas EHEC results in foodborne illness that can lead to gastroenteritis. My students are using the tools of molecular biology to produce these proteins in cell culture and study their binding interactions in an effort to design a small molecule that might disrupt this binding and lead to methods for disease detection and treatment. My students have presented the results of their research at professional conferences both locally and nationally."
Real-life problem solving: "I like to make my classrooms very interactive by incorporating opportunities for student discussions, group activities, and case studies illustrating the ways that understanding the theory of biochemistry can apply to solving real-life problems. Many of my students are interested in careers in the health care profession, so it is important that I help build their critical thinking skills as well as providing them with a foundation of knowledge."
Science discoveries: "New discoveries in the fields of biochemistry and molecular biology are made each day, so it is exciting to see how these new discoveries fit with our current understanding and it challenges us to be committed to lifelong learning."
Favorite course: Biochemistry. "Biochemistry provides insight into the related fields of genetics, immunology, microbiology, cell biology, and physiology. It explores how advances in our understanding of the chemical reactions and molecular interactions that govern living organisms make important contributions to the fields of medicine, agriculture, nutrition, and even our criminal justice system. The exponential rate at which our biochemical knowledge is expanding ensures that biochemistry will continue to have a profound influence on the quality of our lives."