LEARNING BY DOING
Cutting-edge Science
Unusual research and conference opportunities shape careers for Nazareth undergraduates.
by Julie Long and Joanie Eppinga
"It's almost a shocked feeling, like 'I can't believe I just did that!'"
Making discoveries in the lab and seeing something brand new invigorates biology major Alyssa Merrill '17. "All I want to do is tell everyone what I've just done."
Merrill got a chance to do just that, along with four fellow Nazareth seniors — Jacob Murphy '17 (biology), Sarah Izzo '18 (biology), Julia Widmer '18 (toxicology), and Gannon Connors '18 (toxicology) — at the prestigious 2017 Geological Society of America National Conference in Seattle, Wash. The students presented four environmental quality and remediation research projects at the conference, and their posters were well received, according to Assistant Professor of Biology Padmini Das, Ph.D., who mentored and accompanied the students.
"Many people stopped by to see the students' posters," Das reported. Presenting and being questioned by other scientists for nearly four hours gave the students "a lot of insight into future experiments."
"Many professionals from academia, industries, as well as government sectors stopped by to see the students' posters, applauded their research, and contributed excellent ideas for future proceedings and implementation of these projects," Das reported. "Our students were especially praised for the depth of research they achieved at the undergraduate level. Most of the other posters in the session were presented by graduate students or postdoctoral fellows."
The experiments that led the students to attend this conference were all about discoveries that may help to protect the planet. Along with 10 other current students, seven alumni, and 24 high school students who participated in hands-on summer research at Nazareth, and with the support of Das and of Toxicology Program Director Stephanie Zamule, Ph.D., and Visiting Assistant Professor in Chemistry and Biochemistry David Giacherio, Ph.D., the students worked on projects with the potential to protect lakes and bees:
Finding ways to remove excess nutrients to prevent harmful, beach-closing algae in Lake Ontario and the Genesee River;
Using microorganisms to break down pesticides that harm bees, to lessen the effects; and
Discovering that a western New York native grass has the potential to remove harmful BPA from water systems, possibly leading to a way to remove the toxin from the environment before levels become high enough to hurt people.
The Geological Society of America (GSA) is an international scientific society that encourages cooperative research and public dialogue on geoscience issues and supports all levels of earth-science education. The students' projects will be presented to journals for publishing.
After the conference, several of the student researchers presented their findings to Nazareth President Daan Braveman and College of Arts and Sciences Dean Dianne Oliver, Ph.D., expertly fielding questions about the hard science and the real-world implications of the work. "So you shouldn't go swimming in Lake Ontario?" Braveman asked. "Not during the summer," replied Murphy.
Hands-on research and presentations at academic conferences are uncommon experiences for undergraduates at most colleges, and Nazareth's unusual opportunities make the students hungry for more. All the conference attendees intend to pursue graduate studies — some of them in fields completely different than they originally expected.
Both Murphy and Merrill came to Nazareth expecting to become physicians, but, as Merrill puts it, "Once I began research, I realized science has more options than just becoming a doctor." Her experiences sharpened her ideas of what she'd like to do for her life's work, and now she plans to study toxicology in hopes of improving pharmaceutical toxicity testing.
Similarly, Murphy has switched his graduate school applications from medical schools to combination M.D.–Ph.D. programs. Spending more than three years doing research at Nazareth showed him that his options were broader than he'd realized, and he notes that those years provide another benefit: "The opportunities we get here to do undergraduate research will give me a leg up in applying to graduate schools."
As the graduating student researchers take their knowledge and experience to new places and problems, their work will continue to have a lasting impact on this region. Nazareth is collaborating with community partners such as Monroe County Pure Waters, seeking solutions to prevent beach closures and environmental harm.
---
Julie Long is Nazareth's chief public relations officer; Joanie Eppinga is a writer and editor in Spokane, Washington.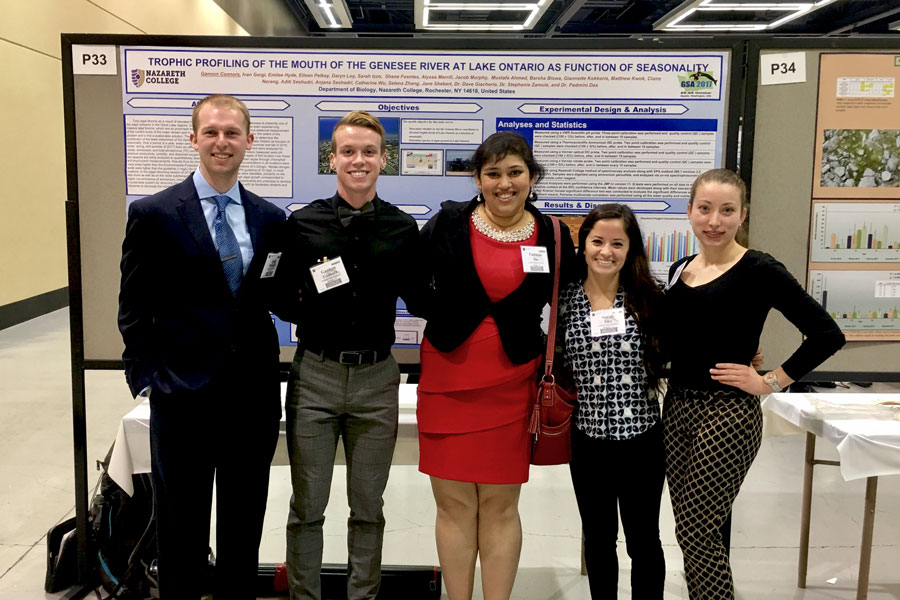 Jacob Murphy '17, Gannon Connors '18, Padmini Das, Sarah Izzo '18, and Alyssa Merrill '17 at the Geological Society of America international conference in Seattle, Wash.