FAQs, Policies & Resources
Below are some frequently asked questions about the Nazareth Archives. If you do not find the answer to your question here, please feel free to contact the college archivist.
FAQs
How do I donate items to the archives?
What hours are the archives open?
Where are they located?
How can I help?
What are the current holdings?
Are they open to the public?
We willingly accept potential items for the collection from current and former faculty, alumni, staff, and community members. Detailed below are the current policies regarding collection development and donations. Please first use the checklist below, to see whether you can easily identify if the item has historical value. If you are still unsure whether an item may have value for the collection, please contact us.
Policies
Materials Acquisition
Checklist for Accession
Ownership
Types of Media
Transfer of Records
Restricted or Confidential Materials
Digitization
De-Accessioning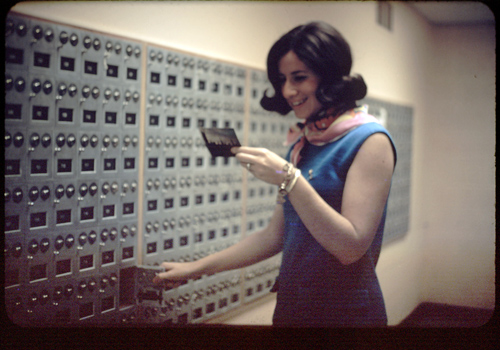 Student Mailroom - 1969
Have old photos? Consider donating them to the archives.
Resources
Alumni Relations
Courtney Autograph Collection
Gleaners Online
Michael and Elaine Lasser Collection
NY Heritage
NYAC New York Archivists Conference
Sigillum Yearbooks Online
Society of American Archivists
The William H. Shannon Papers