Our History
From Catholic women's college to co-ed, 
religiously independent, comprehensive college
At the request of Bishop Hickey of Rochester, five Sisters of St. Joseph — with newly-minted Ph.D.'s  that included graduate study at Oxford University and the Sorbonne — founded Nazareth College in 1924. Committed to academic excellence, these pioneering women inspired the first class of 25 young women to stretch to their potential.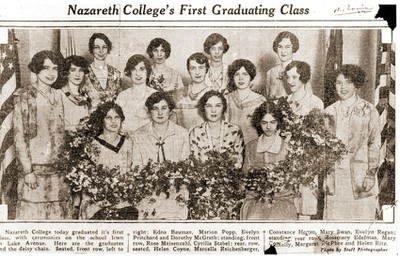 In the 1950s, the college responded to the need for graduate study by adding majors and by the 1970s, Nazareth was renowned for quality teacher education and social work. During this time of monumental change — which included lectures from eminent figures such as John Ciardi, Robert Fitzgerald, Edward Said, Gabriel Marcel, Dorothy Day, Rudolph Nureyev, and Costa Rica's President Oscar Arias — the college became coeducational and governmentally independent of the religious congregation. Nevertheless, it retained its original focus on academic excellence and the charism of the Sisters of St. Joseph: "serving all without distinction." 
Nazareth competed in men's intercollegiate athletics for the first time in 1977. The official nickname of the sports teams became the Golden Flyers — golden for the Nazareth colors, and flyers for the bird-like symbol that was part of the Nazareth logo. Today, Nazareth supports 24 varsity and one junior varsity sports teams. The most recent varsity sport, added in 2013, is men's ice hockey.
In the early 2000s, the college acquired the land adjacent to the campus, including the former Sisters of St. Joseph Motherhouse, which was converted into the Golisano Academic Center, housing classrooms and offices for many of the liberal arts faculty. This purchase doubled the size of the campus and provided faculty, staff, and students with 150 acres of beauty. 
Recent construction of the Clock Tower Commons residence hall, the state-of-the-art Peckham Hall for math and science, and the York Wellness and Rehabilitation Institute for allied health programs and community clinics are further evidence of the ongoing innovation and pursuit of excellence that exemplify Nazareth College.
While still maintaining many favorable connections with the founding religious congregation, Nazareth College has grown to be the inclusive, religiously independent, comprehensive college it is today. Nazareth's internationally known Brian and Jean Hickey Center for Interfaith Studies and Dialogue promotes understanding for living peacefully in a diverse world. Nazareth's Center for Civic Engagement is nationally recognized for meaningful work in the local, national, and global community and for service learning. Experiential learning is part of every student's core curriculum.
Read more about Nazareth.
Latest addition: York Wellness and Rehabilitation Institute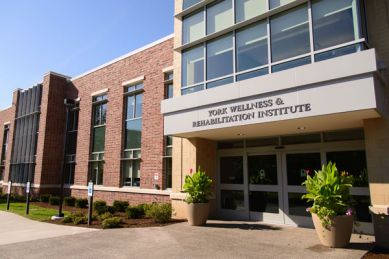 Completed in 2015, the Nazareth College York Wellness and Rehabilitation Institute provides expanded educational and clinical facilities for the School of Health and Human Services dedicated to nursing, physical therapy, occupational therapy, speech and language pathology, social work, creative arts therapy (music therapy and art therapy), and pre-medical and pre-dental studies. This renovated/expanded building provides a better-than-real-world experience for students and clients/patients, enables collaboration across disciplines, and stimulates important research.
College Archives
The Nazareth College Archives collects, organizes, describes, maintains, promotes, and provides access to institutional records of enduring historical and research value as a resource for Nazareth College.
For more information, contact Deborah Janetos at djaneto1@naz.edu or 389-2140.