Nazareth Announces the College's First-Ever Fulbright Grantee for Brazil
Published September 12, 2017
The J. William Fulbright Foreign Scholarship Board announced that Ms. Christina Driessen has been selected for a Fulbright award to teach English in Brazil. She is Nazareth's first-ever Fulbright grantee for Brazil and now the third Fulbright recipient this year, joining Natalie Burrows and Katrina Karlsons as 2017-2018 Fulbright recipients. Driessen '17G received her master's degree in teaching English to speakers of other languages in August 2017 and is assistant to the registrar.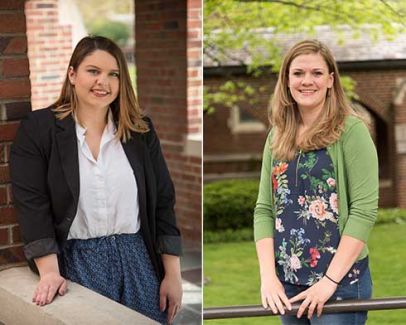 Burrows '17, of Penfield, N.Y., (pictured at left) is a music major who has been granted a Fulbright award to teach English in Germany. Karlsons '17G, a graduate student in inclusive early childhood education, has also been selected as a Fulbright scholar to teach English in Lithuania.
In the past 10 years, there have been 32 Fulbrights awarded to Nazareth College students. In February 2017, the Chronicle of Higher Education recognized Nazareth among the top producers of Fulbright U.S. student awards in its category of master's institutions. This is the 15th consecutive year that Nazareth College has had one or more U.S. Student Fulbright Scholar award winners.
"Our success is due to both the excellence of our student recipients and the support they receive from our faculty and staff," says Nazareth College Fulbright Program Advisor Mark Madigan, "I thank the college administration for its support of our Fulbright program."
Established in 1946 under legislation introduced by the late Senator J. William Fulbright of Arkansas, the Fulbright Program's objective is to build mutual understanding between the people of the United States and the rest of the world. Sponsored by the Bureau of Educational and Cultural Affairs, the Fulbright Program is America's flagship international education exchange. Approximately 279,500 "Fulbrights," 105,400 from the United States and 174,100 from other countries, have participated in the Program since its inception more than 50 years ago.
Nazareth College's academic strengths cross an unusually broad spectrum of 60 majors, including education, health and human services, management, the fine arts, music, theater, math and science, foreign languages, and the liberal arts. The coeducational, religiously independent, classic campus in a charming suburb of Rochester, N.Y., challenges and supports 2,200 undergrads and 700 graduate students. Nazareth is recognized nationally for its Fulbright global student scholars and commitment to civic engagement. Rigorous programs, an uncommon arts and sciences core, experiential learning, career skills, and a global focus prepare graduates for not just one job, but for their life's work.