Tutoring experience led Celine Kristoff to pursue doctorate
Through school psychology, she aims to help kids 'grow and be their best'
Tutoring kids through Nazareth's Partners for Learning program helped psychology major Celine Kristoff '20 realize she wants to go into school psychology. "I found that I loved helping give these students the tools they needed to succeed in their education," says Kristoff. She is completing her psychology degree in May and going on to pursue a Ph.D. in school psychology at Penn State College of Education.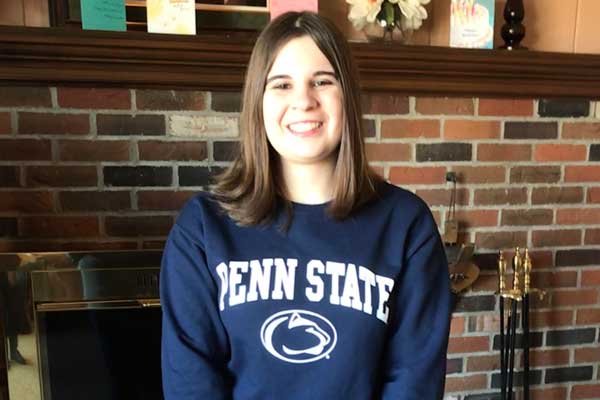 Wearing her new Penn State sweatshirt after finding out she was accepted into the doctoral program.
Her passion: "I love the idea of having a career where I am able to determine which students need extra help and can perform the proper interventions to allow them to grow and be their best so they do not 'fall through the cracks' as unfortunately, many kids do in the current education system," says Celine.
Proud of her leadership role: At Nazareth, she is proud of helping create a new Nazareth Partners for Learning partnership with a middle school in Rochester, Nativity Preparatory Academy. "It was clear that both the staff and students we worked with at Nativity were extremely thankful to have the Nazareth students at the school!" says Celine. Student leaders like Celine are a key part of Partners for Learning, a win-win that enables the program to operate each semester and gives the student coordinators strong leadership skills and experiences.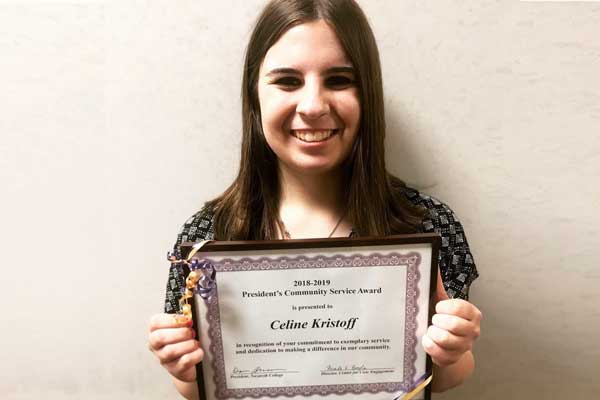 Receiving the 2019 presidential community service award from her work in the Partners for Learning program
Teaching vs. school psychology: Celine had thought of becoming a teacher, but saw that students need other professional help to be successful. "I realized working in the middle school that there is a deficit in the resources some of the children need and those that they are being provided, such as access to a counselor or assessments to determine the type of individualized help they require. As a school psychologist, I hope to be able to provide students with this type of help, especially with younger children. I believe that the earlier one can identify the academic and personal needs of a child, the more it can make a fundamental difference in their success."
Long-term goal: She'd eventually like to make a broader difference in the field by advancing knowledge and teaching future school psychologists. "My long-term goal after working in the field for a number of years is to enter academia, and I hope to continue to perform research while working toward this goal."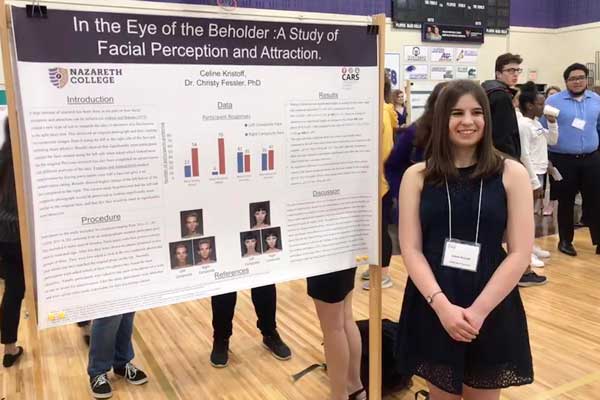 Presenting at CARS 2019. Her research on facial perception also was accepted for presentation at the 2020 Eastern Psychological Association conference.
Research experiences in college: "One of my favorite memories in college was having the opportunity to attend the regional 2019 Eastern Psychological Association conference in New York City. Here I was able to present my research from an independent study I had completed at Nazareth. This conference was really important to me because it was one of the things that solidified my goal to continue studying psychology into graduate school. I learned a great deal at this conference about how to create and present a poster at a professional level and to my peers in the field. I am super thankful to have had this opportunity thanks to the wonderful psychology faculty and program at Nazareth College."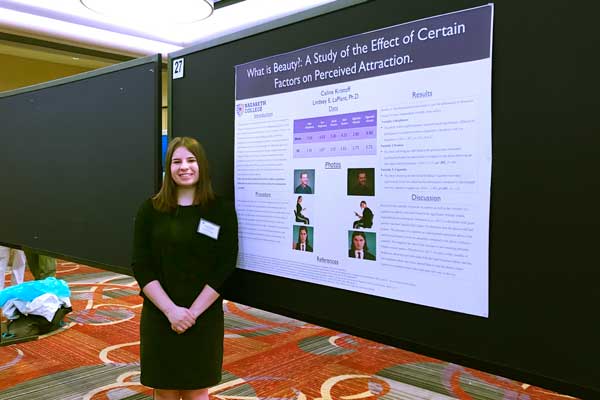 Presenting at the regional Eastern Psychological Association conference. Her study investigated how changes to portrait lighting, posture, and presence or absence of an object such as a cigarette impacted the attraction level of the image.
She also did a summer research project with Nazareth Professor Stephen Hill, assistant professor in the School of Business and Leadership, about intern and supervisor perspectives of internships. She conducted a literature review and compiled the data and results in an American Psychological Association-style manuscript.
She recounts: "The results of the project showed that the frequency of interaction between an intern and their supervisor impacted the interns' perception of career support and that this connection was mediated by the quality of the intern-supervisor relationship exchange. We also found that the intern's level of perceived career support predicted their own clarity of professional identity. We submitted this project to the national 2020 Society of Industrial-Organizational Conference and were accepted to present a poster. I was extremely honored to have been accepted into such a professional and prestigious conference. We are also working on the possibility of submitting this research study to a journal for publication."