Unbridled Leadership: Harrison Kane Guides Horses and People
 
Civic award winner finds purpose in volunteering on and off campus
By Julia Smith '20
Leadership started early for Harrison Kane '21. At about 4, mimicking his mother Amy, he handed out worksheets to children in his mom's child care business, saying, "Do this. Do this."
He also led kids to collect frogs along the creek on their property. "I saw that people were following me," he remembers. "It started there." By age 13, Harrison had become a volunteer riding instructor and horse trainer in his mom's Meadows of Mendon Stables business.
Why Horses?
Harrison's sister Hannah (pictured below) was diagnosed with special needs as a child. Their mother began offering horseback riding programs to allow children of varying abilities the opportunity to ride horseback. Harrison, who has been riding since age 2, finds purpose in his volunteer work training horses and teaching student riders. Parents and others tell him how much they've seen young people open up and gain confidence from learning to ride.
He's learned patience from working with the 1,500-pound animals, who don't always do what the humans want. "I tell clients: 'They don't speak English. We have to work through it.' "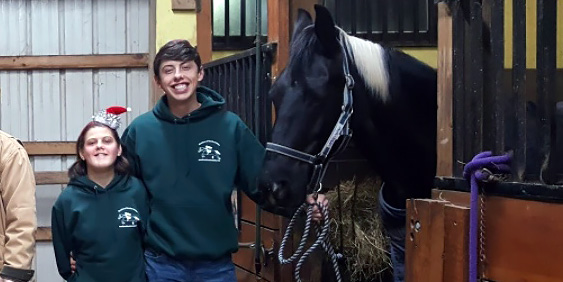 Seeing Results
Harrison has seen the difference that horse riding can make in children's lives, mentioning one boy with autism, attention deficit hyperactivity disorder, and impaired fine-motor skills who started at the stable at age 6, when Harrison was 12. "He came in completely terrified, and his mother had to walk alongside him for years. I learned it takes patience and a positive attitude to help those who lack confidence in riding. Eight years later, he is 14 and canters by himself on our more advanced horses. He still has his moments when he loses confidence, but I am there to help him build back up when needed. He not only has benefited from our horses but he has become more social — interacting with the other students at the stables. He has made so many friends that he may not have made if he had not continued to ride."
Nazareth Opportunities
At Nazareth, Harrison has taken advantage of multiple opportunities — being elected president of his class, recruiting students to be election inspectors for the county, volunteering as a new-student orientation leader and working as a peer mentor in a new-student Academic and College Success class.
He finds it satisfying to work with others to make good things happen, and he always includes a community service activity in events that he and fellow Class of 2021 leaders organize. One gathering included an ugly sweater contest, decorating holiday cookies, and writing cards to veterans. At Thanksgiving, students secured donations to buy enough food for 130 meals for families in need, delivered in boxes the students decorated.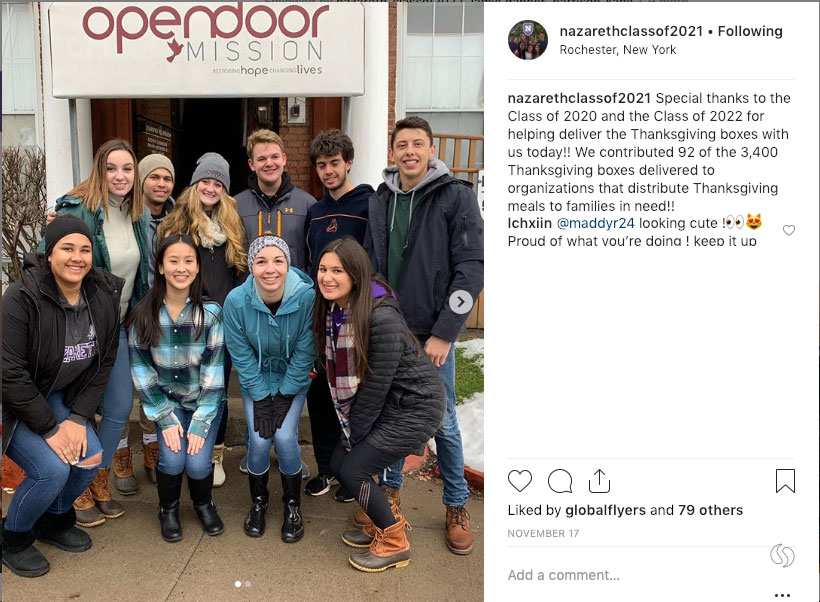 "How do you not want to help other people?" says Harrison. "I feel like I've made such a big difference at Nazareth." When you get someone involved in the community, he adds, "I think they get hooked. You see the difference on someone's face when you make an impact."
His Class of 2021 leader team spurred students to donate school supplies to Rochester City School District students in exchange for horse riding time at the stables. The effort collected hundreds of items for seven schools, distributed through Nazareth's Partners for Learning civic engagement program.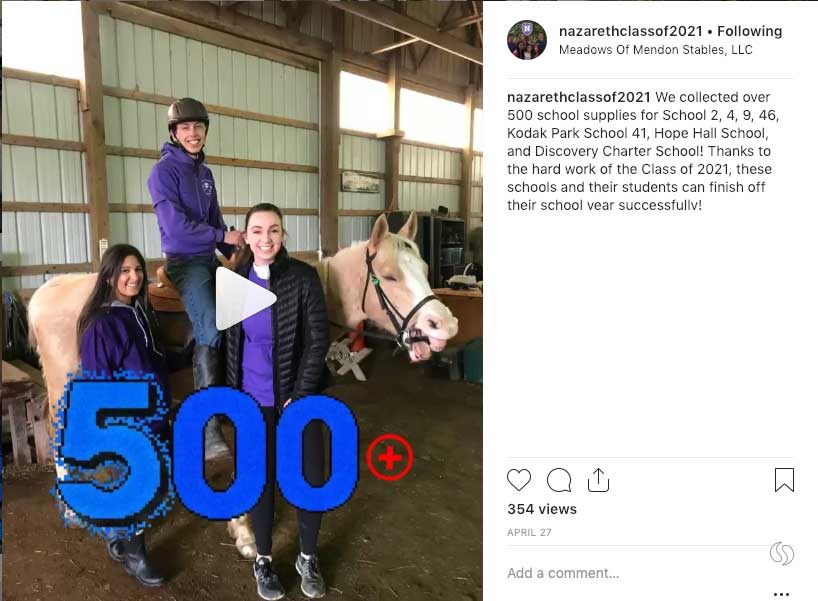 Growing as a Leader
"I feel natural in my position as a leader in the community and in college," Harrison says. "I enjoy immersing myself in large groups of people to lead them to do extraordinary, positive, and productive projects in the community. Bringing out the positive side of people to help others, and putting others first before myself, is enjoyable. This college has given me opportunities to go above and beyond the normal college experience. Nazareth has encouraged me to tap into my leadership abilities and fine-tune my leadership skills. With all of the activities and programs provided, everyone at Nazareth College can be a leader."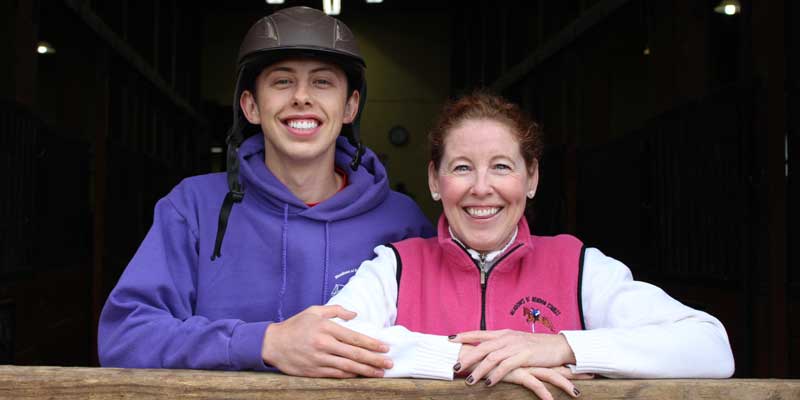 Community Service Award
Harrison's dedication to service won him a 2018 President's Community Service Award for Students at the President's Civic Engagement Awards. When asked about his achievements, Harrison said, "If one person cares enough about a cause, it spreads."
What's Next
Harrison — a legal studies major — will spend the fall 2019 semester at the Washington Internship Institute in D.C., where the staff are securing him a role focused on public policy and law.
He's lined up a future semester of study in Scotland at a partner university with a law school. He says Nazareth's connections and the support to link students with relevant, career-building growth opportunities are what drew him to the College.
He was selected for a 2019-20 Newman Civic Fellowship, which provides training, resources, mentoring, networking, and scholarship opportunities.