Why Choose Nazareth for Environmental Science and Sustainability?
Studying ocean health. Protecting endangered species. Measuring the effects of development on vanishing habitats. Advocating for public policy. An environmental science and sustainability degree from Nazareth College gives students a broad view of environmental issues in their political, social, and economic contexts as well as the scientific skills to become effective stewards of the planet.
Our students acquire a solid foundation in ecology, chemistry, and biology, with field study a priority. Classes make regular field trips to nature preserves, local streams, and the Adirondacks to identify organisms and measure pollution impact. Majors are also required to complete a field study project or internship. For example, students have measured the effects of human impact on local streams and participated in internships at the Genesee Land Trust and N.Y. Department of Environmental Conservation.
Today, environmental scientists are being hired in every industry—from parks and forestry, to government research, to the development of "green" technology, even to environmental law. By combining scientific and liberal arts perspectives, Nazareth gives students the flexibility to pursue any number of careers in this rapidly growing field.
Program Highlights
Research-driven program with an emphasis on field study.
Small classes; individual attention from faculty.
Learn research methodology and laboratory techniques, as well as how to apply biological principles to solving environmental problems.
Expanded lab space at the new Peckham Hall supports faculty-guided student research. Nazareth's facilities have been ranked among the top 20 science labs in the nation by The Princeton Review.
Program Options, Requirements, and Course Descriptions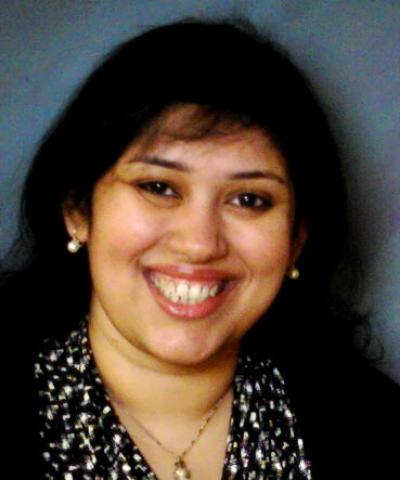 Padmini Das

Assistant Professor in Biology
Bio

Education: Ph.D., Montclair State University, environmental management; M.S., University of Texas, San Antonio, environmental science and engineering; M.S., University of Pune, India, environmental science; B.S., Modern College, University of Pune, microbiology

Research: My multidisciplinary research in environmental quality and remediation focuses on cleaning up nature using its own means. We develop natural techniques such as bioremediation (using microbes) and phytoremediation (using plants) to remediate soil and water pollution. Ongoing projects: Investigate the potential of eutrophication of Lake Ontario (evident in massive algal bloom in summer). Develop sustainable techniques to reduce the Great Lakes' eutrophication potential, to clean up lead-contaminated backyards, and to clean up bisphenol A (BPA). I train undergraduates to think like independent researchers, using cutting-edge research skills and a deep understanding of research goals, hypotheses, and future applicability.