Why Choose Nazareth for Physical Therapy?
Physical therapists today must be more than clinicians with excellent hands-on skills. They must be effective communicators, reflective and analytical professionals, and compassionate and engaged caregivers. Nazareth University's  physical therapy degree program stresses all of these, giving students the knowledge and skills to treat the whole client. 
Our D.P.T. program combines classroom studies with hands-on clinical experiences beginning in the first full semester, allowing students to practice skills under the supervision of faculty and community-based physical therapists. These clinical experiences both provide authentic learning environments and supply much-needed services to the community. All students complete a full, two-year research project with a faculty member, and more than 70% of these are accepted for presentation at state and national professional conferences.
Program Highlights
The only one of its kind in Rochester, Nazareth's physical therapy major attracts students from all over the country. The curriculum offers you a wide range of interprofessional academic and clinical experiences, including on-campus PT clinics and clinical service outreach that supports community service and professional experience with organizations such as Fun Fitness Special Olympics, WNY Wreckers Wheelchair Basketball, and GROW Screenings for child development.
Outcomes are excellent. For 2021-22: 95% two-year graduation rate, 90% first-time two-year licensure exam pass rate, 100% ultimate two-year licensure exam pass rate, and 100% employed (of those seeking employment) within six months of passing the licensure exam.
Graduate assistantships (tuition reduction) are available for more in-depth experiences in research, teaching, and health promotion. Graduate assistants work in the PT clinics and as PT tutors. 
The program is accredited by the Commission on Accreditation in Physical Therapy Education (CAPTE).
Graduates are eligible for the National Physical Therapy Examination (NPTE) and licensure in all states.
If interested in working with children and adults with disabilities, you have the option to apply for the interprofessional University of Rochester Leadership Education in Neurodevelopmental Disabilities (LEND) Fellowship during your sixth year, and Nazareth's Interdisciplinary Specialty Program in Autism (I-SPAN) Program during your sixth year.
Students fluent in French can participate in a clinical education experience at IFPEK Institute in Rennes, France. 
Students use cutting-edge equipment to help patients/clients regain mobility. Research at Nazareth guided the development of Gorbel's SafeGait trainer, and students work in our motion analysis lab. 
You'll complete a minor in psychology giving you added skills to develop and apply psychological principles to understand behavior and how to improve relationships with patients and clients.
100
100% of physical therapy students in 2022-23 received financial assistance.
Program Details
Options, Requirements, and Courses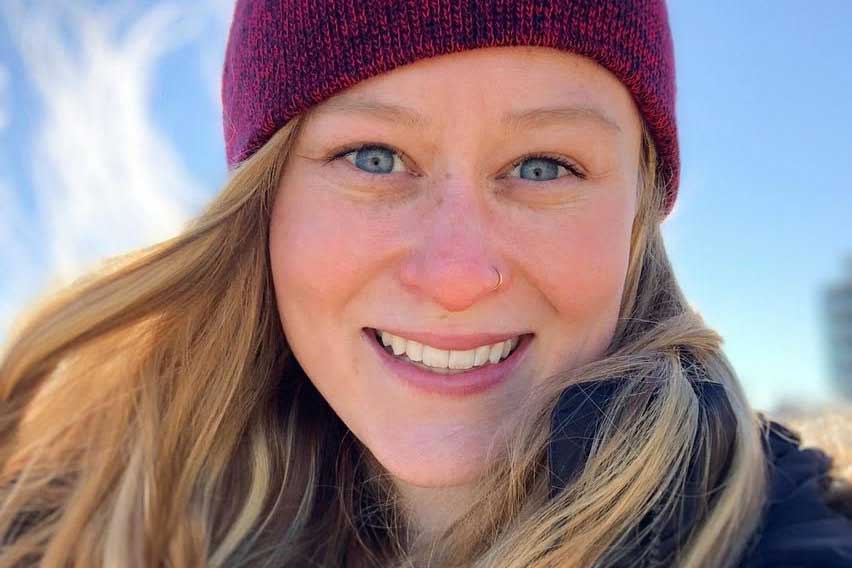 At a clinical experience at Kessler Institute for Rehabilitation in Saddle Brook, New Jersey, physical therapy student Reilly Smyth '19, '21G worked with an 18-year-old who needed help after a car accident that obstructed his breathing, tore his liver/spleen, and caused multiple fractures. At that acute care hospital, Smyth worked with him on treadmill training with overhead harness systems, gait training with music, therapeutic activities with the facility dogs, and dual-task activities toward his goals to get home, finish his senior year of high school, and apply to colleges. "By the end of his stay at Kessler, he was independent with walking and stairs using one axillary crutch," says Reilly. She writes about that memorable experience and more in a post on the PT blog. Read about her experience >
Contact Information
Andrew Opett, PT, DPT, OCS
Clinical Associate Professor, Department Chair
For questions, contact PT@naz.edu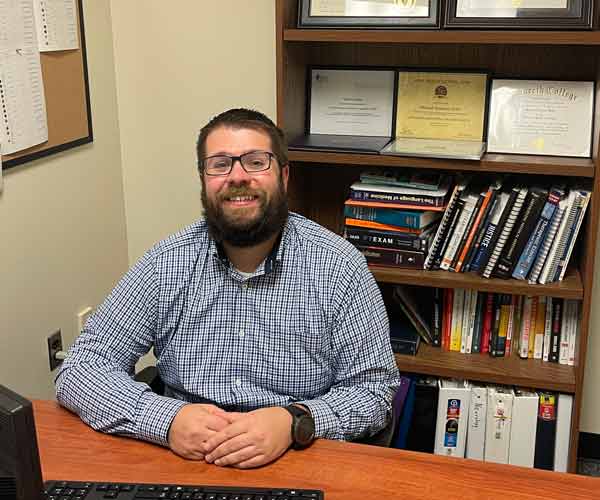 Alumni Spotlight
"The Nazareth PT program is exceptional. The faculty members all have diverse backgrounds and areas of expertise. The on-campus clinics provide services to the Rochester community and opportunities for students to perform PT on real patients, while professors provide mentorship and guidance in a clinical setting. I had the privilege of working with patients of various diagnoses in the clinics and this helped prepare me for my internships and career. Nazareth prepared me for complex neurorehabilitation, leadership, research, and academia."

— Mike Seils '11, '13G, who went on to teach physical therapy as an assistant professor at Daemen College and to conduct research on interprofessional collaboration and neuromuscular rehabilitation.
Field Experiences
In addition to on-campus clinical experiences, field experiences include:
St. Jude's Children's Hospital (pediatric oncology)
Ranchos Los Amigos National Rehabilitation Center (neurological rehabilitation)
EXOS (sports and human performance)
Kessler Institute for Rehabilitation
University of Rochester Medical Center
Employers
Pediatrics: Rochester City School District, Clinical Association of the Finger Lakes
Hospitals, clinics, and medical groups: University of Rochester, Strong Memorial Hospital, Highland Hospital, Upstate Medical Center, Erie County Medical Center, Dignity Health (CA)
Acute rehabilitation: Golisano Brain Injury, TIRR Memorial Hermann Brain Injury (Houston, TX)
Home care: HCR Home Care, University of Rochester
Outpatient: Lattimore PT, Onondaga PT, Limitless PT, Epic PT (Raleigh, NC)
Skilled nursing facilities: Highlands Living Center, Episcopal Senior Life
Schools and research laboratories: San Diego State University (Extremity Trauma Amputation Center of Excellence)
Advanced Degrees/Residencies
Our graduates are well prepared for, and have pursued, residencies and advanced degrees such as:
Boston University (Ph.D.)
University of Rochester Medical Center Neurology physical therapy residency
Golisano Neurological physical therapy residency
University of Rochester Sports Medicine physical therapy residency
Ohio State University Wexner Medical Center women's health residency
University of Central Arkansas pediatric physical therapy residency
The Physical Therapy Program at Nazareth University is accredited by the Commission on Accreditation in Physical Therapy Education (CAPTE), 3030 Potomac Ave., Suite 100, Alexandria, Virginia 22305-3085; telephone: 703-706-3245; email: accreditation@apta.org; website: http://www.capteonline.org.
Professional Licensure Disclosure