Why Choose Nazareth for Technical Production?
The B.F.A. in Technical Production is a pre-professional degree offered in three emphasis areas:
costume design
lighting design
set design
You'll put classroom studies into hands-on practice in all areas. Beginning your first semester, work hands-on in a lab setting to build and paint scenery, create costumes from beginning sketches to a fitted garment, and prep stage lights and props. Fulfill show positions such as carpenter, master electrician, or wardrobe and makeup crew — all while taking an active part in mounting the department's plays and musicals.
Upon completion of the program, Nazareth graduates are skilled and employable. In addition to a four-year resumé and a topnotch portfolio, you'll build professional credits and critical contacts for this networking-heavy industry.
In the state-of-the-art Arts Center and Callahan Theater, receive training through practical daily experience in our shops. Hone your skills in your area of emphasis and enjoy the opportunities to explore other areas of technical theatre.
Program Highlights
Professional internship opportunities before your senior year.
Study in all the design areas with small class sizes for optimal student/instructor time.
You can tailor the program to include any area of design specific interest, technical theatre courses, theatre history, play analysis, fundamentals of acting, and art history.
Have opportunities to work in design or leadership roles on department productions.
Option: Train with professionals on London's West End through short-term study abroad.
You are encouraged to attend industry conferences and pursue related summer work, while regularly using faculty referrals.
Learn from faculty members who work professionally in their fields and attend and present at professional conferences to keep current with trends and technology.
Program Options, Requirements, and Course Descriptions
Contact Information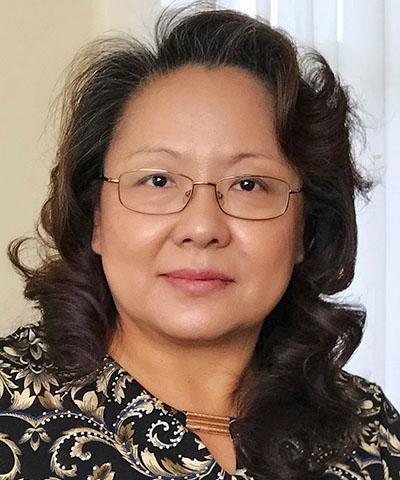 Yuanting Zhao

Professor and Chair of Theatre & Dance / Costume Design / Chairperson in Theatre and Dance
Bio

Native of Jinan, China. Upon graduation from Shandong University of Art, she was offered a role teaching acting and makeup. She was frequently invited by Shandong provincial TV stations to host a variety of TV shows and she acted in several motion pictures and made-for-TV films. After earning her master's degree in costume design in 1996, she became a faculty member and a costume designer at Nazareth College. She has facilitated Nazareth's partnership with Finger Lake Musical Theatre Festival (formerly known as Merry Go Round Playhouse), doubled the enrollment of the last two classes, and doubled the audience for our productions. Many NYC-based practicing artists and agents come on campus to conduct master classes and workshops. She has designed costumes for more than 70 productions, and supervised student designers for more than 10 productions. She also has designed costumes for Rochester City Ballet's original production of Blood Countess, and Nine Parts of Desire for Geva Theatre Center.