Nazareth in the World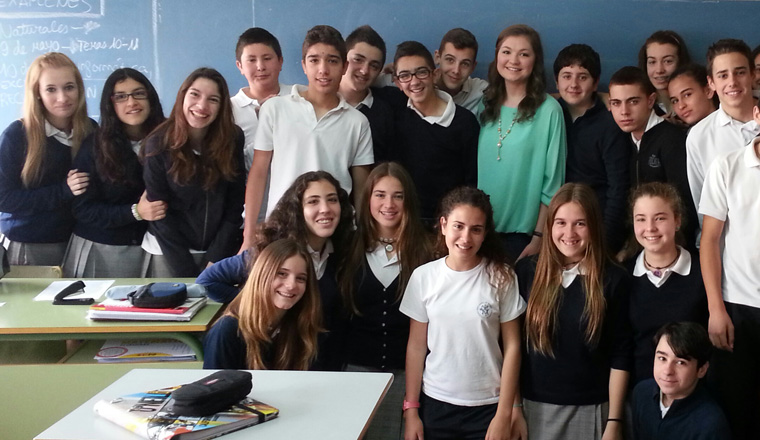 Jessica Wojcinski posing with a class at a school where she's interning in Valencia
International Interns
Students gain global mindsets along with career skills
by Chris Farnum
---
Quinton Harvey '15 wants to be a musicologist and further develop as a classically trained vocalist. His fall 2013 internship with a music society during a semester in Berlin showed him he can do it — even in German. "I was able to hold my own," he says. "The whole experience boosted my confidence completely. I'm much more open to trying new things."
Annemarie Tiburzi '12 learned a lot from her marketing internship at a language school in Valencia, Spain. "The internship was an unforgettable, unique, and helpful experience. I gained confidence, and also it assisted me with landing other work both domestically and abroad," says Tiburzi, an international business major who now teaches English in Madrid city schools.
In addition to confidence, connections, and language skills, interning internationally provides work experience, cultural insights, and global perspective.
Nazareth is one of the only colleges nationwide to require experiential learning for all students as part of its revamped core curriculum, and internships are one way to meet that goal. Many of Nazareth's academic programs require 120-hour, for-credit internships. Even in majors that don't, students see the benefits of real-world engagement.
The Nazareth-in-Berlin semester program includes four-week, full-time internships after coursework is completed. Nazareth's programs in Pescara (Italy), Valencia (Spain), and Rennes (France) offer part-time, semester-long internships suited to various majors/interests. The combination of language immersion, classwork, and career development provides a comprehensive study-abroad semester, says George Eisen, Ph.D., executive director of Nazareth's Center for International Education and associate vice president for academic affairs. "In order to be competitive, you have to learn the culture of the workplace."
Employers want college graduates who can be flexible, adapt to change, work independently, and communicate well, says Emily Carpenter, internship director for Nazareth. "Companies and organizations increasingly work internationally, so they need employees who can speak more than one language, understand the perspectives of others, and relate to different cultures, religions, government structures, and global issues."
In Berlin, Karla Jackson '13 helped with social media at Sirius Facilities, creator of more than 30 business parks, and improved the English wording of slide shows that had been translated badly from German to English. A workshop on Google adwords sparked her interest and provided knowledge that led to her current job as digital marketing coordinator at FireHost, a secure cloud hosting company in Richardson, Texas.
"Learning about adwords in Germany helped me figure out what I want to do as a profession," says Jackson, who works to optimize keyword selection so her company pays only for the best-match clicks to its website.
Devin Kelly '13 had such a great internship in Leeds, England, that she ended up getting a job there. The sociology major with a minor in community youth development is a youth support worker for both Leeds City Council and for a charity called Getaway Girls, where she interned in fall 2012.
Jessica Wojcinski '15, who is interning at a Catholic school in Valencia in spring 2014, has found laid-back attitudes about time in Spain. Meetings often start 15 to 30 minutes late and she is given a lot of freedom rather than deadlines, structure, or requests for updates.
Knowing about cultural differences eases work interactions, says Wojcinski. "If you are aware of the basics of what other cultures find normal, it's just as easy to interact with someone from another culture as it is to interact with someone from your own."
---
Chris Farnum is the content writer and editor in Nazareth's marketing department.