Oak Tree Food Pantry
We are Nazareth's on-campus food pantry, serving students, staff, and faculty.
IMPORTANT UPDATE (9/8/20)
During this stressful time the Oak Tree Pantry is here to support you. WE WILL BE OPENING THIS SUNDAY 09/13/20! Check below under "hours" to see when you can stop by. 

We also encourage you to utilize the resources and services in the  Pittsford and Greater Rochester community.

During this time, the Pittsford Food Cupboard is welcoming anyone with a Nazareth ID. We recommend calling them before you go to pick up items. As always, if you have any questions or concerns, you can reach us by email. 
Need resources?
We have a fully stocked pantry complete with all of the staples you need! You can find everything from granola bars, to pasta, to peanut butter, or soap on the pantry shelves. 
Community members can come to the pantry and take any five items at no cost every week! 
Don't need food? Volunteers can connect community members to outside resources based on a number of needs including:
housing 
food 
community centers 
transportation
Location: Colie's Cafe Kitchen, Lower Level of George Hall
The pantry is located just off of Colie's Cafe, and can be accessed from the George Residence Hall Parking Lot (O Lot) or through the main entrance of George Hall - just follow the signs to Colie's Cafe.
Hours: (Start Date: 9/13/20)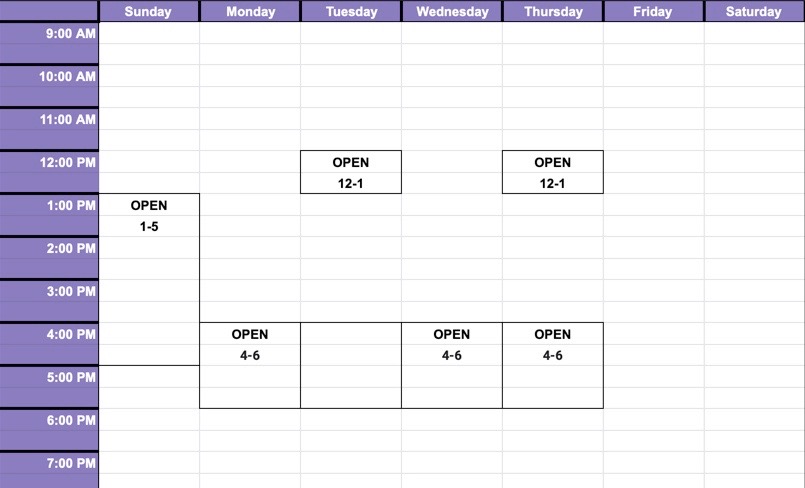 If none of these times work for you, please send us an email at oaktree@mail.naz.edu to schedule an appointment. If you are in need of food, we will make sure you get it! 
Want to help?
The Oak Tree Food Pantry is completely volunteer-run. We rely on the help of dedicated faculty, students, and staff to keep the pantry running.
Sign up to volunteer using our Oak Tree Volunteer Form!
Thank You!
We would like to thank Campus Operations and Brian McGahan for helping open and maintain the pantry, and the Social Work Department, Center for Civic Engagement, Health and Counseling Center, and Sodexo for their continued support.