Nazareth Breaks Ground on New Wellness and Rehabilitation Institute
Published April 28, 2014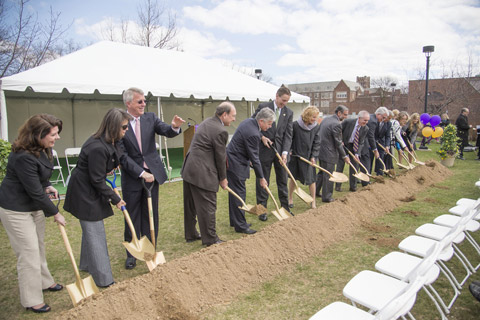 Nazareth College ceremoniously broke ground in April on the Wellness and Rehabilitation Institute (WRI). New York State Lt. Gov. Robert Duffy joined Nazareth College President Daan Braveman and members of the College's board of trustees. The new $16.5 million expansion has received new gift commitments of more than $3.4 million dollars bringing total funds committed to the project to $15.5 million. WRI will double the School of Health and Human Services clinic and collaboration space, bringing Nazareth's wide array of health and wellness fields under one roof. WRI's expansion and reconfiguration will help boost HHS enrollment by an estimated 30 percent and equip Nazareth graduates with the skills needed for the rapidly changing world of health care. The building is set to open in fall 2015, in time for new students' clinical work.
"The new Institute will be a national model for the inter-professional training of the next generation of health care providers. At the same time, it will create opportunities for research and provide clinical services that address the wellness and rehabilitation needs of members of the larger community," said Nazareth College President Daan Braveman. "Nazareth is proud to be a forward thinking leader in the rapidly changing world of health care and in the training of the health care professionals who will serve our region and communities around the country."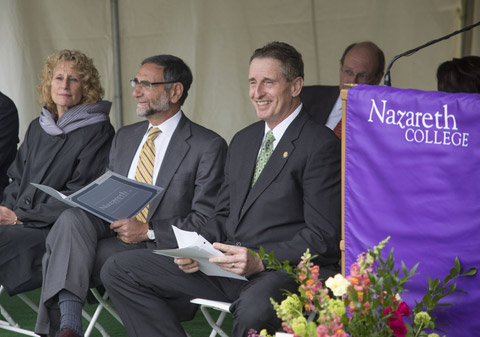 Nazareth is close to raising the full $16.5 million needed for the WRI expansion including generous gifts from the William and Sheila Konar Foundation, the Wegman Family Foundation, the Duda Family Foundation, the Finger Lakes Regional Economic Development Council, and Alden Trust. The Emerson Foundation has provided a Challenge Grant intended to raise the final $1 million and close the campaign.
The Finger Lakes Regional Economic Development Council (FLREDC), a key component of Governor Cuomo's bottom-to-top approach to economic development, committed $250,000 in the state funding to the project.
 
"This expansion will help us continue to grow the healthcare industry in the Finger Lakes and create high quality jobs for New Yorkers," Governor Cuomo said. "The Regional Economic Development Councils are cultivating new industries for upstate communities, and this expansion is another great example of utilizing the potential of New York's higher education facilities to revitalize our economy."
 
Lieutenant Governor Duffy said, "This expansion is a clear example of the Regional Economic Development Councils working to invest in our state's future, keeping students competitive and prepared to enter tomorrow's job market. Governor Cuomo's vision to rebuild regional economies from the bottom-up allows communities across the state to make the best possible investments. I thank the members of the Finger Lakes Regional Economic Development Council for their continued work and success, and Nazareth for their dedication to serving the Rochester community with state-of-the-art healthcare and education facilities."
Few colleges offer Nazareth's array of health and human service programs including art therapy, music therapy, nursing, occupational therapy (OT), physical therapy (PT), social work and speech-language pathology. Nazareth students can complete a master's degree in OT in five years and a doctorate in PT in six years.
When the Wellness and Rehabilitation Institute opens in Fall 2015, it will:
    •    Double the clinic and collaboration space to 66,700 square feet, bringing all Nazareth's health and wellness fields under one roof.
    •    Promotes learning and collaboration across disciplines such as nursing, speech-language pathology, occupational therapy, physical therapy, art and music therapy and social work.
    •    Facilitates student-faculty research through proximity and new meeting spaces to improve health and wellness outcomes and clinical practice.
    •    Clients benefit from high-quality, person-centered services at minimal to no cost.
Nazareth College's academic strengths cross an unusually broad spectrum of 60 majors, including education, health and human services, management, the fine arts, music, theater, math and science, foreign languages, and the liberal arts. The coeducational, religiously independent, classic campus in a charming suburb of Rochester, N.Y., challenges and supports 2,300 undergrads and 700 graduate students. Nazareth is recognized nationally for its Fulbright global student scholars and commitment to civic engagement. Rigorous programs, an uncommon arts and sciences core, experiential learning, career skills, and a global focus prepare graduates for not just one job, but for their life's work.