Community Service Connection for Trio of Nazareth Students
Published August 12, 2014
A group of three Nazareth College students spent part of their summer break doing community service work in Williamson, West Va., after their first experience was so rewarding.
"We came down for the first time in March on an Alternate Spring Break trip and we enjoyed it so much that we decided we had to come back," said Claire Sobraske, a junior biochemistry major (pictured middle in photo at left). "We loved how close-knit and hospitable the community was. The community collaboration throughout the entire area created a positive atmosphere, which allowed for a productive working environment. We learned so much the first time we came, so we knew we could be even more beneficial if we came back a second time." 
Sobraske was joined by Meaghan Porter, a junior who is in the physical therapy doctoral program (pictured at top in photo at left), and Tori Gac, a junior music therapy major (pictured in red jacket in photo at left), for a week-long trip working with the Mingo County Diabetes Coalition, a nonprofit organization that focuses on public health and sustainability within the community. They helped to maintain a community garden, assist local farms, and even took part in providing workshops that encourage community members to have a healthier lifestyle.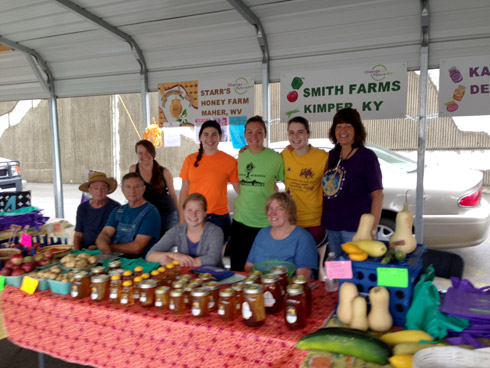 In a week's time in August, they achieved quite an ambitious "to-do" list which included visiting two local farms to help them harvest, weed, and plant fall crops, along with preparing for the local farmers market.  They also worked at the community gardens at Ramella Park, improving existing raised garden beds and compost bins.
The women worked on a fall planting workshop with community members and helped people who rent raised beds for the season clean up their gardens and prepare for fall planting.
Sobraske, Porter and Gac also worked with children at a local childcare center to help teach the kids how to plant fall crops and assisted with the set up and cleanup of the local Farmer's Market.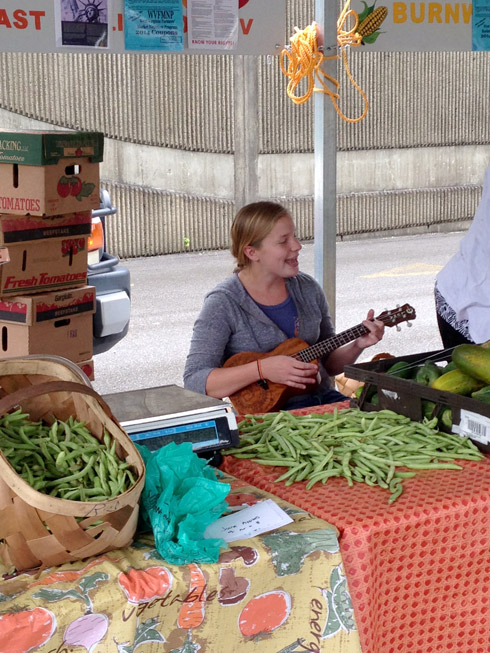 Gac also provided live music on the ukulele at the market. 
The three also gave back to the Sacred Heart Catholic Church, where they lived during their stay in Williamson, by maintaining the gardens.
"It was great to see how much we helped in March and how much of a difference it made for the gardens," said Sobraske. "We loved being able to help with some new tasks around the gardens (planting, harvesting), as well as seeing the farmers market in action. Being more self-sufficient the second time in Williamson allowed us to be more productive with our time helping the community. We were able to get a lot done in such a short time." 
For More Information
Julie Long, Nazareth Chief Public Relations Officer: (585) 389-2456
Nazareth College's academic strengths cross an unusually broad spectrum of 60 majors, including education, health and human services, management, the fine arts, music, theater, math and science, foreign languages, and the liberal arts. The coeducational, religiously independent, classic campus in a charming suburb of Rochester, N.Y., challenges and supports 2,300 undergrads and 700 graduate students. Nazareth is recognized nationally for its Fulbright global student scholars and commitment to civic engagement. Rigorous programs, an uncommon arts and sciences core, experiential learning, career skills, and a global focus prepare graduates for not just one job, but for their life's work.