Performing for Peace and Justice: Nazareth College's Eighth Annual Poetry and Music Contest
Published October 03, 2017
Nazareth College's Foreign Languages and Literatures department will launch its 2017 Social Justice series featuring a creative writing workshop followed by a music and poetry contest. The workshop will be led by Rochester poet Kathryn Jospé on October 6, at 5:30 p.m. in room 38 of the Golisano Academic Center. The performance date will be November 16, at 5:00 p.m. in Linehan Chapel of the Golisano Academic Center. Nazareth College is located at 4245 East Avenue, Rochester, N.Y., 14618. Both events are free and open to the public.
Creative Writing Workshop, Oct. 6: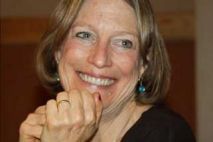 Kathryn Jospé is a former teacher of French and a poet. She has published four books of poetry, leads two weekly poetry appreciation classes, and offers weekly courses at Writers and Books. Since 1998, she has been a docent at the Memorial Art Gallery in Rochester, and has been presenting lectures on "Ekphrastics" guiding people to see art and word created by the imagination. In her workshop on October 6, Jospé will lead students to examine the power of poetry to express, convince, and engage with the role of voice, sound, rhythm, and visual arrangement being as important as vocabulary.
Eighth Annual Poetry and Music Contest, Nov. 16:
Participants will then create their own poems, songs, or instrumental pieces (original creation or existing) that speak of peace and justice, and perform it on November 16 for over 100 high school and college students from the Rochester area. The event's keynote speaker will be Ariane Baer Harper who is a writer, translator, and director of global engagement as well as a teacher of French at Allendale-Columbia High School. She will speak on The Power of Words in the French-Speaking World. The November event will also feature a performance by the French-American Choir of Rochester. The November event will also feature a performance by the French-American Choir of Rochester, and introductory remarks from Mireille Le Breton, professor of Francophone Studies, and Nuala Boyle, director of Civic Engagement at Nazareth. Nazareth students studying French will join our Lady of Mercy School for Young Women to introduce the guest speaker and share about their service-learning project.
Submission Details:
The deadline to submit a poem, song, or musical piece for the contest will be October 30. Submissions can be emailed to nazarethpoetry2017@gmail.com. For more information please contact Mireille Le Breton at mlebret5@naz.edu, or call (650) 644-8600.
The Social Justice Series is sponsored and hosted by the Nazareth College Foreign Languages and Literatures Department. These two events are co-sponsored by the Peace and Justice Program, the Center for Civic Engagement; the Center for Service-Learning; the Center for Spirituality; the Religious Studies Department; the Faculty Film, Lecture, and Associates Committee; the French Club;  the Office for Diversity and Inclusion, and community partners: Alliance Française de Rochester, the Rennes-Rochester Sister City Committee, and the American Association of Teachers of French - Rochester Chapter.
.
Nazareth College's academic strengths cross an unusually broad spectrum of 60 majors, including education, health and human services, management, the fine arts, music, theater, math and science, foreign languages, and the liberal arts. The coeducational, religiously independent, classic campus in a charming suburb of Rochester, N.Y., challenges and supports 2,200 undergrads and 700 graduate students. Nazareth is recognized nationally for its Fulbright global student scholars and commitment to civic engagement. Rigorous programs, an uncommon arts and sciences core, experiential learning, career skills, and a global focus prepare graduates for not just one job, but for their life's work.