Nazareth College Dedicates the Garen Peace Garden
Published September 18, 2017
Nazareth College celebrated the dedication of the Garen Peace Garden during its Homecoming and Reunion weekend on Sept. 16. The garden, funded by Frank York and Kathy Garen, is named in honor of Jim and Judy Garen by the couple's four daughters and their families. The centerpiece of the garden is a renovated stone fountain, accessed by naturalized stone and brick pathways and surrounded by a striking stone amphitheater. Landscaping crews worked all spring and summer to create the amphitheater. Behind the amphitheater are lush gardens, with some of the Garens' favorite perennial flowers, designed to bloom year after year.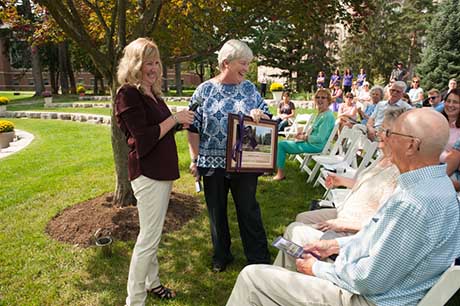 Jim and Judy Garen receiving a plaque from two of their daughters, Kathy Garen and Karen Guidarelli, during the fountain's dedication.
The Garen Peace Garden fountain was built in the first half of the 20th century by a mason hired by Nazareth's founders, the Sisters of St. Joseph. The mason used fieldstone of varied sizes, which he brought over from an old barn on French Road to create a handsome, rustic concrete-lined fountain pond in the southwest lawn of the Motherhouse, which is now the Golisano Academic Center.
Over the years, the fountain fell into disuse. Dirt and debris collected, resulting in tree saplings growing through cracked concrete.The fountain was rediscovered in 1989 and the grounds crew became intrigued with its restoration. For nearly a decade the crew worked in their spare time, restoring the fountain to its former beauty. After only a year or two of operation the fountain once again was abandoned until its current restoration in the spring and summer of 2017.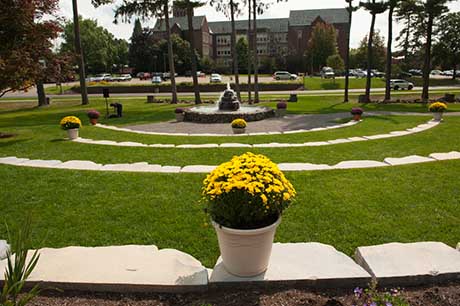 Today, the Garen Peace Garden warmly greets visitors as they enter campus via North Campus Drive. For the Nazareth community, it provides a beautiful and serene setting for outside classes, informal student gatherings, small concerts, and quiet moments of study or reflection.
Nazareth College's academic strengths cross an unusually broad spectrum of 60 majors, including education, health and human services, management, the fine arts, music, theater, math and science, foreign languages, and the liberal arts. The coeducational, religiously independent, classic campus in a charming suburb of Rochester, N.Y., challenges and supports 2,200 undergrads and 700 graduate students. Nazareth is recognized nationally for its Fulbright global student scholars and commitment to civic engagement. Rigorous programs, an uncommon arts and sciences core, experiential learning, career skills, and a global focus prepare graduates for not just one job, but for their life's work.