Nazareth Holds Strong Presence at 2017 Rochester March of Dimes Nurse of the Year Gala
Published September 28, 2017
The Nazareth College Nursing program was honored at the 2017 March of Dimes Nurse of the Year Gala this past weekend with awards. Alumna Sarah Insalaco Rector '11 was named nurse of the year in the Emergency Room category. Lisa Bonnlander '11 won the Critical Care category, and Bonnie Walden took the top spot for Quality & Risk Management. Jenna Marchese '15 was also a finalist for the Emergency Room category.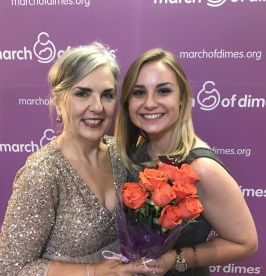 Nazareth Chair of Nursing Mary Maher (left), and Jenna Marchese '15 (right)
The March of Dimes Nurse of the Year Gala is held annually to honor those outstanding nurses who have shown excellence in their profession. Nazareth College's nursing program is devoted to producing graduates who are passionate about helping others, and was the only Rochester area college to sponsor the event.
"Thanks to all of you who work tirelessly to make this an accomplishment which, not only gives us pride, but serves the people of our community in their healthcare needs," said Nazareth President Daan Braveman.
Nazareth College's academic strengths cross an unusually broad spectrum of 60 majors, including education, health and human services, management, the fine arts, music, theater, math and science, foreign languages, and the liberal arts. The coeducational, religiously independent, classic campus in a charming suburb of Rochester, N.Y., challenges and supports 2,200 undergrads and 700 graduate students. Nazareth is recognized nationally for its Fulbright global student scholars and commitment to civic engagement. Rigorous programs, an uncommon arts and sciences core, experiential learning, career skills, and a global focus prepare graduates for not just one job, but for their life's work.