Teaching is such an opportunity
It is said that teaching is the one profession that creates all other professions. What an opportunity! By helping prepare teachers we can help them have an expanding positive impact in future.
Courses I teach
They are all my favorite courses! More seriously, when I am teaching a particular course... that becomes my favorite.
Introduction to Planning and Teaching
Differentiated Instruction, Cooperative Learning, and Co-Teaching
Learning Strategies and Instructional/Assistive Technology
Positive Approaches to Classroom Management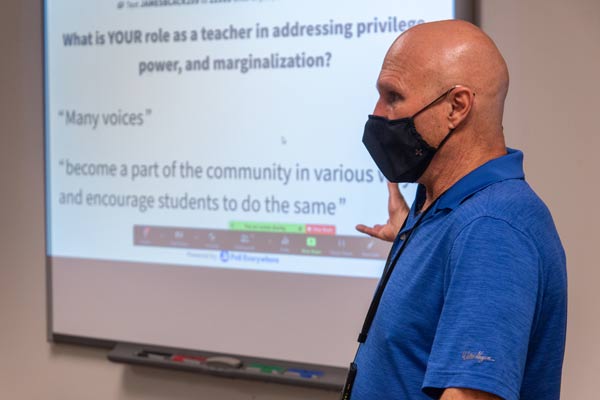 In the classroom
Jim Black teaches a spring 2021 evening class for adolescence education graduate students.
My teaching style
I like to use a variation of the "I do, we do, you do" approach in my teaching. This approach provides opportunities for modeling and lots of scaffolded practice. For example, when sharing the concept of an interactive lecture in my class, I will:
teach the principles of the practice using an interactive lecture
have students analyze some good (and not so good) videos of lectures
form partners or small groups in which students quickly sketch out an interactive lecture and share their ideas with the class
and then assign an individual (graded) interactive lecture lesson plan
I am also a big fan of the practice of micro-teaching, in which students actually teach a brief segment of their lesson plan to their peers for constructive feedback.
Trends in innovative technologies
Learning first, then technology. That said, the future of education will be closely tied to emerging technologies. Online learning, interactive whiteboards, chromebooks, ipads, Kahoot, and Quizlet are just a few examples of current technologies. I work hard with our teacher candidates to support their thoughtful integration of these tools in their planning and teaching. Off-the-shelf technology is now available that allows students (with and without disabilities) to dictate their writing (speech to text) and listen to their reading (text to speech). We must be lifelong learners so we can ensure that students have access to the best digital tools now and in the future.
Cool Project
I was able to secure a small grant to purchase some high-end virtual reality (VR) headsets to create a learning center on the topic. While this innovation is clearly being driven by immersive gaming, there is a slowly growing collection of educationally oriented apps and experiences. My teacher candidates will use our headsets to critically evaluate current and future VR software.