Addressing Big Problems Takes Collaboration, Knowledge, Humility, and Boldness
Nazareth's social innovation conference inspires and challenges students
If you want to improve the world, where do you start? With collaboration, knowledge, skills, humility — and a boldness to challenge the status quo, said leaders who spoke to students at Nazareth College's latest Social Innovation Hack-A-Thon.
Definition
Social innovation = coming up with new solutions that are more effective, efficient, just, or sustainable than current solutions.
Addressing problems can improve both social justice and the bottom line. "Inequality is expensive," said Adrian Hale, senior manager of workforce/economic development & education initiatives at the Greater Rochester Chamber of Commerce, Inc. Poverty leads to crime, and law enforcement and courts cost a lot of money, he added.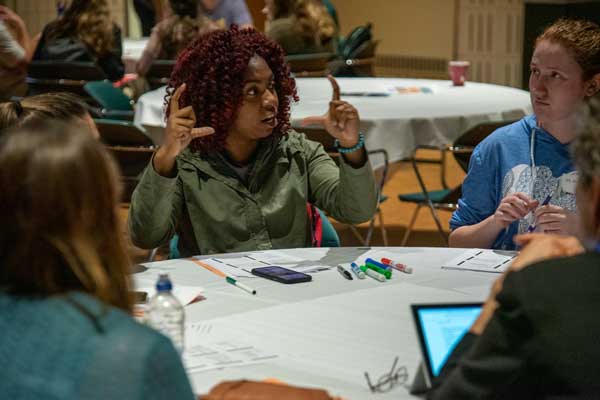 At the all-afternoon, conference-style event, students brainstormed and presented ideas to address community challenges such as reducing harmful microplastics in the environment and getting life-saving vaccinations to rural children.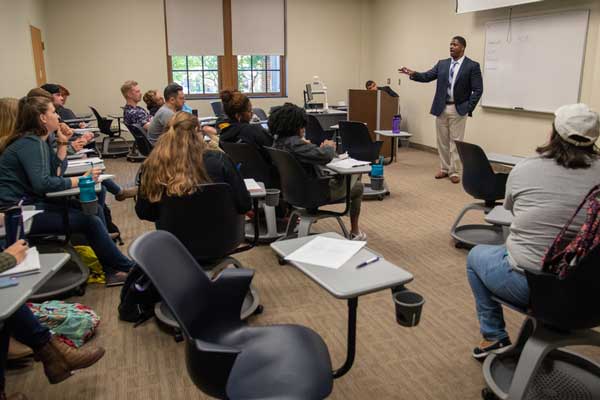 "We have to be the generation that ... applies scrutiny. Don't be shy. Ask bold questions." — Adrian Hale (standing), an executive at the Greater Rochester Chamber of Commerce, Inc., who also is a U.S. Marine Corps veteran who served twice in Afghanistan.
Sara Bode '20 enjoyed teaming up with a half dozen other students to brainstorm how to intervene early to help children who have serious vision problems. She is double majoring in business management and legal studies and attended the Hack-A-Thon as part of her management ethics course. She says the experience made her see the value of social innovation — "being able to recognize a problem in our society and being able to come up with a solution or idea through collaboration that could solve it."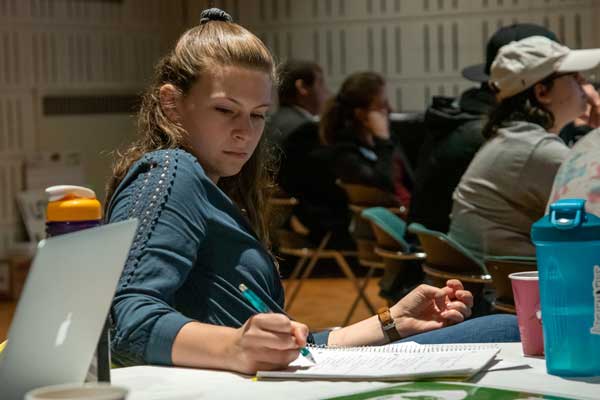 Sara Bode '20 (left) said one take-away message was the need to collaborate with people affected by a problem, or your solution won't be applicable. Situations are ever changing, and only the people immersed in the situation know it best and know what's needed to solve it.
Brainstorming and some quick research led one student group — including Sara Bode '20 at far left — to think of making an instructional video to get the word out about a mobile app vision test that helps people who lack access to an optometrist get eyeglasses.
After the nearly-5-hour event, Sara says, "I told my roommates about it and said: Do this next year."
Spurred by her management ethics course, Sara also applied to attend the 2020 Clinton Global Initiative University (CGI U) conference in Scotland, which requires proposing a social innovation project and committing to pursue it. CGI U has accepted more than 30 Nazareth students in recent years. Sara's idea: Promote wellness and overcome new-exerciser intimidation by creating interactive stickers for gym equipment with QR codes that lead to videos of physical therapy students showing how to correctly and safely use the equipment.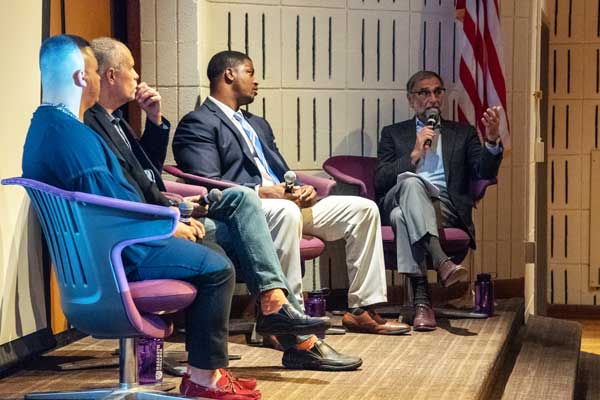 "You need to be listening to people affected," said Daan Braveman, Nazareth president, who co-leads a community anti-poverty effort. He noted that when people proposed deconcentrating poverty in the city, Rochester residents said, "We don't want to move to the suburbs. We want our community fixed."
Before breakout sessions, students listened to a panel that included a data specialist from the U.S. Census Bureau and a program coordinator from Ibero-American Action League.
Students also learned how to find data to see potential connections between root causes of issues. David J. Kraiker, a data dissemination & GIS specialist for the U.S. Census Bureau, showed ways to use census data to map neighborhood annual household income, housing costs, and health insurance access in less than 10 minutes.
Shalym Nater, Aspira youth mentoring program coordinator for the Ibero-American Action League, guided attendees to understand yourself, develop the self-awareness to understand why you choose to engage with the community, and consider what your talents and abilities are to support change.
Hale told students that he grew up in challenging circumstances in Rochester, affected by domestic violence and drug and alcohol abuse around him, as well as by having a close relative who was in and out of jail. He went to Rochester schools, Monroe Community College, earned his bachelor's in political science from Yale University, and became the first black executive at the Chamber of Commerce.
Diverse leadership and involving people who are directly affected by the problems you want to address are critical to address bias, blindness, and well-intentioned efforts that otherwise would be ill informed, says Hale.
Promoting Social Innovation
The event was co-sponsored by these Nazareth departments/programs: