Nazareth College community responds for the greater good during COVID-19
The Nazareth community has responded to the COVID-19 public health emergency with the College's long-standing focus on community service — including donating personal protective equipment, providing some allied health clinic services virtually, and volunteering with the county's emergency management efforts. Faculty and staff have shared their expertise. Alums are working on the front lines and in supportive roles.
Along the way, Nazareth staff, faculty, and students have lifted each other's spirits with messages of encouragement and a reminder that we all can get through this #NazBetterTogether — including social media messages of support to our alums who work on the front lines. 
Working on the front lines
Nazareth has more than 2,000 alumni in health care, including those on the front lines of the pandemic and others in support roles — such as working at the Centers for Disease Control and Prevention. Gavin Shaner '18 says he was well prepared to care for seriously ill COVID-19 patients at Cleveland Clinic Abu Dhabi (United Arab Emirates).
"I am thankful to the Nazareth Nursing Department for preparing me to handle anything clinical and critically think through every situation," he says. Shaner also credits his Naz lacrosse coaches: "I became a better leader, more confident, and most importantly a team player who is able to work in a hospital-based team atmosphere."
Many alumni from the pre-med program work as physicians. December 2019 graduate Autumn Bell, a biomedical sciences major and pre-med and psychology minor, is working in a hospital emergency department before going on for a physician assistant degree.
"Nazareth instilled many key qualities in me about compassion and preparedness for the world of medicine as a pre-med minor, and I'm proud to exemplify that every time I go to work," says Bell (pictured below). "Thank you Naz for preparing me for the next chapter in my life!"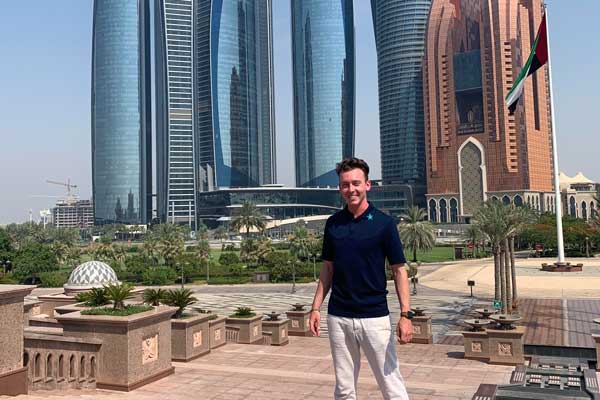 Gavin Shaner '18 cared for seriously ill COVID-19 patients at Cleveland Clinic Abu Dhabi. See his experience >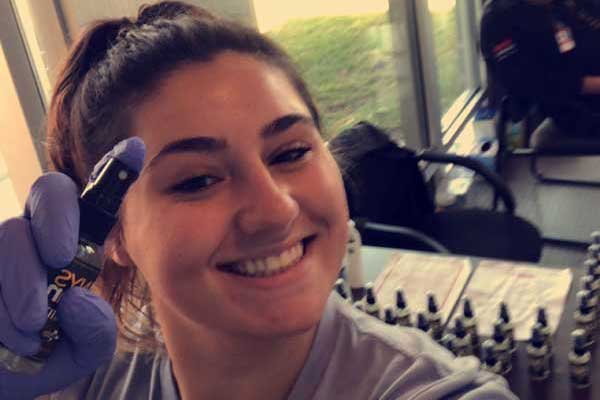 Rebecca Kebernick '20 volunteers at the Office of Emergency Management, taking temperatures of workers and visitors and providing public health information to sheriff's office and fire rescue personnel.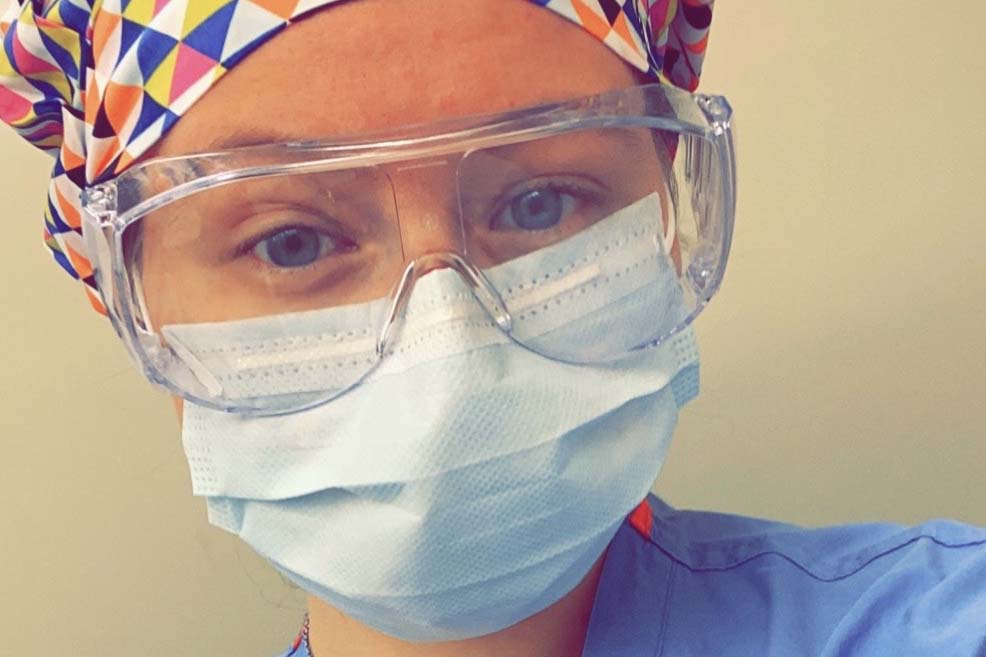 Autumn Bell '19 is using her semester off before physician's assistant school to work on the front line at Highland Hospital Emergency Department as an patient care technician.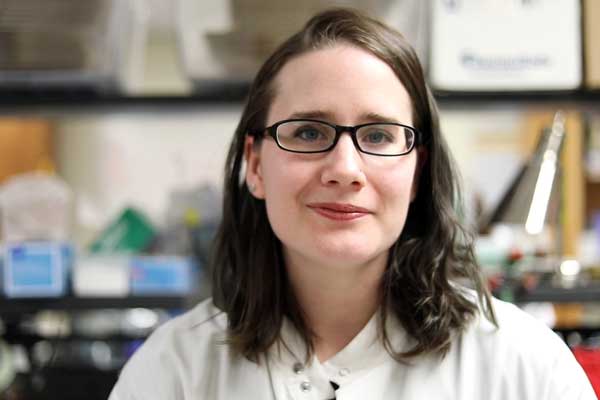 Nazareth Prof. Lauren Brooks, Ph.D., at work as a medical laboratory technologist at University of Rochester Medical Center clinical labs (photo taken 2019). See her April 2020 Q&A >
Serving clients in the region
Meanwhile, during this time when Nazareth's on-campus clinics must be closed, speech-language pathology graduate students, supervised by faculty, are continuing to work with clients with Parkinson's disease through teletherapy. "I am so happy to continue to connect with our group, especially at a time when everything is being cancelled, postponed. and changed. Like everything right now, the online transition has not been easy, but it has been comforting to have one small amount of normalcy and an hour to laugh and come together," said Lydie Moens '18, '20G.

Silly hat day and sunglasses day are among the themes for the teletherapy speech therapy groups provided by supervised speech-language pathology grad students.
Achieving this continuity presented challenges, including making sure everyone had the technology to complete sessions online, but the experience is also offering its own lessons. "Having the opportunity to continue my speech-language therapy session through telepractice is an eye-opening experience," says Victoria Calandriello '20G. "The use of technology, sense of community, and being socially connected during an unpredictable time proves that the great work ethic of a team can defy all odds."
Michael Chen, assistant professor of public health, and his public health students adapted an in-person Fit Club fitness coaching program to become an inclusive eFit Club for Special Olympics athletes, other individuals with intellectual disabilities, and their families. Social distancing and the closure of fitness venues and activities can decrease health, fitness, and well-being, and these negative effects are likely to be even more pronounced among people with intellectual disabilities, says Chen. "The virtual version includes digital content created by students on nutrition, fitness, and mental health, plus virtual 'office hours' when participants can drop in online to chat with students who designed each eFit Club session. Also, students are evaluating program outcomes and impact."
This spring was the debut of a new Dance & Collaboration class with Aquinas Institute of Rochester, taught by Allison Bohman and Mariko Yamada, Nazareth dance lecturers. They couldn't hold all of the planned in-person meetings nor the two live performances due to social distancing guidelines. But a dozen college students and a dozen high school students still had the planned discussions and worked on choreography about community. They also shared digital collaborations exploring paired, overlapping concepts — such as unity and strength, love and connection, and strength and connection — through dance from their separate homes, as shown in this video.
Meanwhile, Heather Coles and Melissa Johnson, assistant professors in communication sciences and disorders, in collaboration with adjunct clinical educators, are offering Neurogenic Communication and Cognition (NC3) Clinic services to adults via telepractice. Graduate students are providing the teletherapy through videoconferencing and receive 100% supervision with each session. "Many clients are participating and the student and client feedback has been very positive," says Coles.
A senior seminar class led by Lisa Hiley, assistant professor in communication sciences and disorders, is continuing to partner with the Rochester Public Library, the Rochester Early Childhood Education Center, AutismUp and the NC3 clinic online, creating resources and hosting social events for the organizations. Hiley is also working clinically with the GROW-Rochester partnership to roll out e-GROW telepractice — providing speech-language, motor, social-emotional, and other screenings and enrichment groups for preschool-aged children.
Volunteering for emergency needs
Students and faculty have volunteered to help support public health efforts. "When I heard there was an opportunity to jumpstart my career by volunteering for the county, my first thought was, 'Where do I sign up?' " says Macala Gallow '18, '20, who has a public health degree and is graduating in May with a nursing degree.
Gallow, who's already accepted a nursing job at Highland Hospital, is among 40 Nazareth nursing and public health students, along with their faculty, who trained at Monroe County Emergency Response Center for public health needs such as making screening phone calls, preparing quarantine kits, and doing direct COVID-19 test swabbing.