Olivia Fontana '17 uses 3+3 to Right Wrongs and Advance Legal Career
Olivia Fontana '17 — Nazareth's first 3+3 law student — graduated cum laude from Syracuse University in 2019, passed the New York State bar exam, and works at Legal Services of Central New York as a staff attorney in the Syracuse office.
As planned, she spent 3 years at Nazareth and 3 years at Syracuse University College of Law. She says her college experiences made her a "zealous advocate" prepared to help people who are disenfranchised.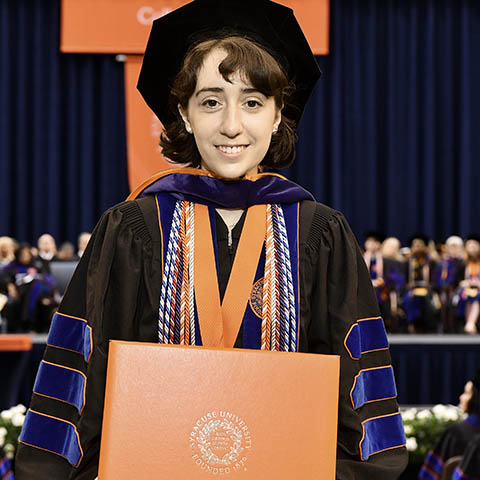 Graduating from Syracuse University College of Law (SUCOL), 2019. She received a National Association of Women Lawyers Award and a SUCOL Outstanding Pro Bono Service Award.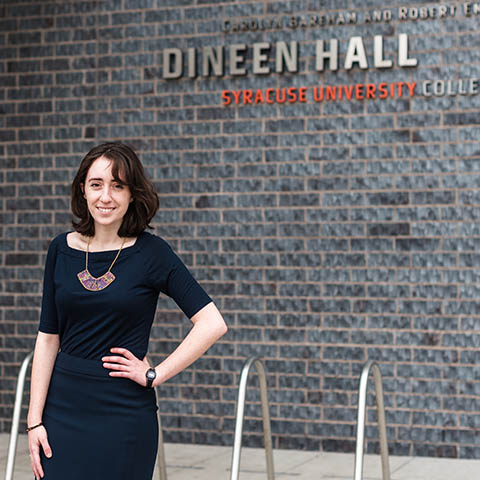 "I am super thankful for the 3+3 program!" Olivia Fontana said in May 2019. "Syracuse has been an amazing fit and has really transformed me into a zealous advocate."
Well Prepared
This story was written while she majored in legal studies at Nazareth.
In her for-credit role at a legal aid program while at Nazareth, Olivia Fontana '17 helps clients rebuild lives — and propels her career.
She works alongside attorneys who provide critical legal support to clients who can't afford a private attorney but are navigating complex legal issues concerning housing, employment, health care access, or consumer debt.
In recognition of her commitment to the social justice work, Fontana was honored as a 2018 Pro Bono Champion by The Volunteer Lawyers Project of Onondaga County (OnVLP).
"She has gone way above and beyond the duty of a usual extern, really stepping up to keep our reentry program going strong while one of our staff attorneys was out on leave," said VLP Executive Director Sally Fisher Curran. "She is an outstanding, professional, and consistent worker here at OnVLP."
"The emergency room of the law world"
"Working in legal aid is like the emergency room of the law world," says Fontana.
At OnVLP, Fontana works closely with people who have served time in jail and are now rebuilding their lives, facing roadblocks due to errors in their court records such as convictions appearing "open" or being unable to receive state licenses or clearance to work with certain vulnerable populations such as in schools or hospitals.
"I've had a really hands-on role," she says. Fontana meets with clients for an intake session, gets their fingerprints, reviews their criminal record documents, helps fix the records, and helps them apply for a certificate of rehabilitation. She finds that often people have the appropriate training or degree — such as a nursing license or a bachelor's degree — to work, but their convictions prevent them from getting employed or getting permission to work in certain facilities. Or employers don't understand that they can't ask about past arrests, youthful offender adjudications, or sealed records. In New York State, an employer may not discriminate against an applicant because of their criminal convictions unless they can show that the conviction is related in some way to the duties of the job.
"A lot of times it's really sad," says Fontana, such as someone's ability to earn a living blocked by a record of marijuana possession from years ago. "It's definitely really rewarding work. The hard thing about this is it takes a long time."
Feeling ready
Fontana — who can get guidance from a supervising attorney — was ready to pursue these appeals thanks to similar work she did last year during a summer Equal Justice Works AmeriCorps Legal Fellowship Program at Legal Aid of Western New York in Geneva.
In preparing her, she also credits experiences while at Nazareth College, where she majored in legal studies and earned a minor in peace and justice. Volunteering with sociology Professor Harry Murray to serve meals to people who are homeless or low-income, she developed a better understanding of people whose life experiences differ from hers.
Whether people have appropriate legal representation makes a huge difference in their legal cases and in their lives, says Fontana. "You should have a right to that type of counsel, and it shouldn't be whether or not you can afford it."
Being an advocate
Fontana was excited to spend a summer working for the American Civil Liberties Union in Vermont. "It's a dream for me," she says, because the nonprofit organization has participated in critical, history-making court cases. Its targeted litigation approach can "dramatically change cultures, society, and the law," Fontana says. Pursuing cases all the way to the Supreme Court can lead to results that help countless people.
As Fontana puts it: "When you go into the legal field, you're not just following the law, you can help change it."